How New Species Evolve
---
How New Species Evolve is Focus of Public Lecture at UC Riverside
Free lecture by biologist David Reznick to address how evolution is like any other science
(April 23, 2009)
NEWS MEDIA CONTACT
Name:

Iqbal Pittalwala


Tel:

(951) 827-6050


E-mail:

iqbal@ucr.edu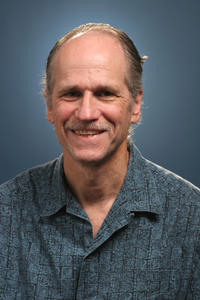 Enlarge
David Reznick is a professor of biology at UC Riverside. Photo credit: UCR Strategic Communciations.
RIVERSIDE, Calif. – What is a species and how does speciation – the evolutionary process that results in the formation of new species – come about? How have Charles Darwin's ideas contributed to our understanding of speciation?
Evolutionary biologist
David Reznick
will address these questions in a public lecture he will give at UC Riverside at 7 p.m., Thursday, April 30, in the
University Theatre
on campus.
The title of his talk is "The Evolution of Evolution: Darwin Then and Now."
"In this talk, I will explain how evolution is an evolving topic like any other science," said Reznick, a professor of biology at UCR. "I will introduce concepts of species and speciation that came before Darwin, show how he changed our understanding of these concepts, and then discuss the modern concept of species. I will show, too, that there are actually many different ways to define species."
Reznick's hour-long talk, which includes a question-and-answer session, is free and open to the public. Doors open at 6:45 p.m. Seating is open.
At UCR, Reznick studies evolution as a contemporary process and performs experiments on natural populations of organisms. He also studies how complex traits evolve in organisms. In addition, his lab conducts experiments for testing predictions from different facets of modern evolutionary theory in natural populations of guppies (small fresh-water fish that biologists have studied for long).
Reznick decided to take up a career devoted to evolutionary biology when he was a senior in Washington University, Mo., from where he graduated in 1974.
"It was a time of high ideals and I was looking for a type of research that could give ultimate answers to why the natural world is the way it is," he said. "Evolution seemed to fulfill that ideal."
Early in his career, Reznick succeeded in experimentally testing predictions of evolutionary theory in natural populations of guppies. He showed that the rate of evolution in nature can be very high, on the order of 10,000 to 10 million times faster than had been inferred from the fossil record.
Reznick obtained his Ph. D. in biology from the University of Pennsylvania in 1980. Subsequently, he was a research associate at the University of Maryland, supported by funding from the National Science Foundation. He joined the UCR faculty in 1984.
He was the Faculty Research Lecturer for UCR in 1998. In 2003, he was a
recipient of the prestigious E. O. Wilson Prize
from the American Society of Naturalists, which honors an active investigator who has made significant contributions to the knowledge of a particular ecosystem or group of organisms.
He has authored or co-authored more than 100 publications in internationally peer-reviewed scientific journals and edited books on evolutionary biology.
His book "The
Origin
Then and Now: An Interpretive Guide to the
Origin of Species
" (Princeton University Press) will appear in November, coinciding with the 150th anniversary of the publication of Darwin's
Origin of Species
.
Reznick's talk is being hosted by UCR's
College of Natural and Agricultural Sciences
and the Science Circle, a group of university and community members committed to advancing science at UCR and in Inland Southern California.
The talk is the third of
five lectures scheduled this year
. The lecture series, titled "
The Science of Evolution: Life, the Earth, and the Universe
," aims to boost the public's awareness and understanding of how science works and break down some of the misunderstandings about what scientists do.
More information about the lecture series can be obtained by visiting
www.cnas.ucr.edu
, calling (951) 827-6555 or emailing
Carol Lerner
.
Teachers interested in receiving professional development credit for attending the lecture series must make arrangements in advance with University Extension.
For information about UCR parking, please see "Related Links" below.
RELATED LINKS
ADDITIONAL CONTACTS
The University of California, Riverside (www.ucr.edu) is a doctoral research university, a living laboratory for groundbreaking exploration of issues critical to Inland Southern California, the state and communities around the world. Reflecting California's diverse culture, UCR's enrollment has exceeded 21,000 students. The campus opened a medical school in 2013 and has reached the heart of the Coachella Valley by way of the UCR Palm Desert Center. The campus has an annual statewide economic impact of more than $1 billion.
A broadcast studio with fiber cable to the AT&T Hollywood hub is available for live or taped interviews. UCR also has ISDN for radio interviews. To learn more, call (951) UCR-NEWS.