Alexander Raikhel is Elected to National Academy of Sciences
---
UC Riverside Professor Receives Top Scientific Honor
Entomologist Alexander Raikhel is elected member of the prestigious National Academy of Sciences
(April 28, 2009)
NEWS MEDIA CONTACT
Name:

Iqbal Pittalwala


Tel:

(951) 827-6050


E-mail:

iqbal@ucr.edu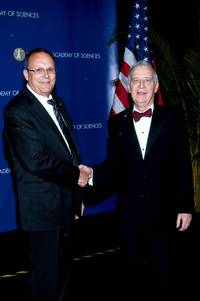 Enlarge
Alexander Raikhel (left), a distinguished professor of entomology at UC Riverside, and Ralph Cicerone, the president of the National Academy of Sciences (NAS), at the NAS induction ceremony, April 24, 2010. Photo credit: NAS. (Additional images below.)
RIVERSIDE, Calif. – UC Riverside's
Alexander Raikhel
, a distinguished professor of entomology, has been elected a member of the
National Academy of Sciences
(NAS) for his excellence in original scientific research.
Membership in the NAS is one of the highest honors given to a scientist or engineer in the United States. Raikhel will be inducted into the academy next April during its 147th annual meeting in Washington, D.C.
"Dr. Raikhel's election to the National Academy of Sciences is a wonderful tribute to his standing in his field," said Thomas Baldwin, the dean of UCR's College of Natural and Agricultural Sciences. "This is a well-deserved honor and a tremendous source of pride for the entire college and university."
Raikhel, elected along with 71 others, brings the number of current UCR faculty elected to NAS to three. Four additional UCR faculty members who received the honor are deceased; one faculty member who received the honor when he was at UCR is now at UC Irvine.
There are currently just over 2,000 active NAS members. Among the NAS's renowned members are Albert Einstein, Robert Oppenheimer, Thomas Edison, Orville Wright, and Alexander Graham Bell. More than 180 living NAS members have won Nobel Prizes.
"This extraordinary honor recognizes Dr. Raikhel's groundbreaking contributions to understanding mosquito physiology, particularly the molecular and genetic basis of events in the mosquito's reproductive cycle that are linked to utilizing a blood meal to develop eggs, and to transmission of human diseases such as malaria and dengue," said Ring Cardé, chair of UCR's
Department of Entomology
.
Raikhel was raised and educated in the Soviet Union. He obtained his M.S. in zoology from Leningrad (St. Petersburg) University and his Ph.D. in biological sciences from the Zoological Institute of the Russian Academy of Sciences. He and his family immigrated as political refugees to the United States in 1979.
He is recognized internationally for his significant contributions to insect science and vector biology. A leader in insect and mosquito reproduction and immunity, he is the author or coauthor of more than 150 research papers in international peer-reviewed scientific journals and books.
At UCR, his research focuses on genetic studies of blood-feeding arthropods, especially mosquitoes, which are responsible for transmitting many different diseases to animals and humans. His accomplishments include being among pioneers of genetic engineering of disease-resistant mosquitoes for the purpose of mosquito control.
Raikhel has deciphered in great molecular detail a chemical chain reaction and genes which prompts disease-spreading mosquitoes to produce and mature their eggs. Manipulation of this process may be key to controlling the mosquito populations responsible for the spread of disease.
His laboratory also uncovered how a female mosquito's first blood meal triggers its reproductive system to produce eggs, a finding that could lead someday to new ways of controlling disease-spreading mosquito populations.
His research team recently identified a pathway by which the mosquito's immune system recognizes some pathogens and protects the mosquito from disease.
Raikhel came to UCR's Department of Entomology in January 2002 from Michigan State University. He is a recipient of many awards, including a Distinguished Faculty Award from Michigan State University and the Entomological Society of America Recognition Award in Insect Physiology, Biochemistry and Toxicology. In 2002, he received a prestigious ten-year, $4.3 million research merit grant from the National Institutes of Health to carry out research on mosquito reproduction.
Raikhel was thrilled and humbled by his election to the NAS.
"I am delighted to see that the NAS recognizes the importance of insect science and vector biology by honoring a researcher in this field," he said. "I am deeply grateful to members of my laboratory, past and present, who contributed to my success and recognition. My thanks go also to my beloved family, Natasha, Eugene, Vincent, Iris and Eli, for their love and support."
The NAS is a private, nonprofit honorific society of distinguished scholars engaged in scientific and engineering research, dedicated to the furthering science and technology and to their use for the general welfare. Established in 1863, the academy has served to "investigate, examine, experiment, and report upon any subject of science or art" whenever called upon to do so by any department of the government.
The University of California, Riverside (www.ucr.edu) is a doctoral research university, a living laboratory for groundbreaking exploration of issues critical to Inland Southern California, the state and communities around the world. Reflecting California's diverse culture, UCR's enrollment has exceeded 21,000 students. The campus opened a medical school in 2013 and has reached the heart of the Coachella Valley by way of the UCR Palm Desert Center. The campus has an annual statewide economic impact of more than $1 billion.
A broadcast studio with fiber cable to the AT&T Hollywood hub is available for live or taped interviews. UCR also has ISDN for radio interviews. To learn more, call (951) UCR-NEWS.