Asian Pacific Islander Heritage Month
---
Asian Pacific Islander Heritage Celebrated
Concerts, films and speakers will be featured at UC Riverside throughout May.
(April 28, 2009)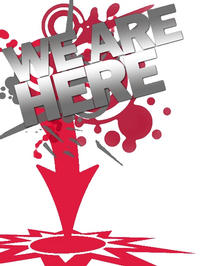 Enlarge
RIVERSIDE, Calif. – UC Riverside will celebrate the experiences and achievements of the Asian and Pacific Islander community in a monthlong observance that begins May 1.
The celebration, "We Are Here: Asian Pacific Islander Heritage Month 2009," will educate and entertain through an array of concerts, films, speakers and other activities.
"Our goal is simply to share who we are, what we're about, and what we laugh and cry about," said Emilio Virata, director of the UCR Asian Pacific Student Programs Office. "We're hoping to create opportunities for making connections across differences, and help promote a little more understanding about the beauty of diversity here at UCR and beyond."
A coalition of student organizations, campus departments, and community groups working together to present "We Are Here" includes the Asian Pacific Student Programs Office, Lesbian Gay Bisexual Transgender Resource Center, Associated Students Program Board, Ethnic Studies Department, Save Our Chinatown Committee, Pi Delta Psi Fraternity, Vietnamese Students Association, Katipunan, Chinese Students Association, Senryu Taiko, Martial Arts Alliance, Artistic Compulsive Disorder, Student Special Services, Student Disability Union, and Circle K.
"We really wanted to get the students' point of view on what they felt Asian Pacific Islander Heritage month was all about," said Frank Hiroyasu, one of the co-coordinators for the Cultural Educational Programs Unit and a co-chair of the API Month Committee. "We're in a time where the younger generations are really working to empower their own voices, and we wanted API month to reflect that movement."
Events and activities scheduled throughout the month of May include:
May 1: Music for Chinatown.
8-10 p.m., at Back to the Grind, 3575 University Ave., Riverside. This evening of acoustic world music is a fund-raiser for the Save Our Chinatown Committee, which has filed suit to block a construction project that could destroy the archaeological site of Riverside's Chinatown. $15 suggested donation, cash only. For more information, go to
www.saveourchinatown.org
or call (951) 333-8121.
May 5: Martial Arts Demonstration.
5-8:30 p.m., on the speaker's mound and lawn at UCR. Various UCR clubs will demonstrate martial arts skills.
May 6: A3M Bone Marrow Drive.
10 a.m.-3 p.m., bell tower. Register to be a bone marrow donor.
May 6: Infesting the Mind.
7 p.m.-midnight, Pharaoh's Den, 3575 University Ave. Artists from the university and community will display their visions and dreams in a variety of mediums. Free admission, free food, live art and live music.
May 7: Mia Mingus.
7-8 p.m., Highlander Union Building 355. Mia Mingus is a disabled, gay, South Korean transracial adoptee, organizer and a co-executive director of SPARK Reproductive Justice Now in Atlanta, Ga. Through her work on disability, race, reproductive justice, gender, sexuality, and transracial adoption, she recognizes the urgency for oppressed communities to work together.
May 9: "Under One Roof."
7-9 p.m., University Theatre. A collective of student groups at UCR will present a production exhibiting the capacities to educate, appreciate and celebrate culture, not just their own, but culture in general. Admission is free.
May 11-15: "A Walk through Asia."
Tomás Rivera Library Arches. Pi Delta Psi will present a display about events that have shaped and changed Asian culture over the decades.
May 12: "A Song for Ourselves."
2-4 p.m., Highlander Union Building 367. This film by Tadashi Nakamura uses animated photographs, home movies, archival footage and songs of the late Chris Iijima. "A Song for Ourselves" shows how Iijima's music unleashed the energy of the Asian American Movement in the 1970s with a passion for social justice and a life well lived. Admission is free.
May 13: Chol Soo Lee – A Question of Justice.
5 p.m.-6:30 p.m., Watkins 1000. Chol Soo Lee, who was wrongfully convicted of murder in the 1970s and spent almost 10 years in San Quentin, tells his story, weaving in his experiences facing racism in the criminal justice system, the personal costs of institutionalization, and how dedication and the human spirit can overcome life's toughest obstacles.
May 14: Behind the Artists.
3-4 p.m., Highlander Union Building 367. A panel discussion will focus on the personal issues and struggles faced in trying to break into the music industry. Panelists include hip-hop violinist Paul Dateh; pop songwriter David Choi; indie singer/songwriter Jane Lui; and acoustic pop singer Kina Grannis. The four will perform together in a 6 p.m. concert,
"Side By Side,"
in front of the bell tower.
May 16: Scarlet Thread, CSA Culture Night.
7 p.m., University Theatre. Chinese Culture Night is a tradition that presents the Chinese American identity in a live stage performance.
May 17: Senryu Taiko Presents: Spring Concert 2009.
3:30-5 p.m. Doors open at 3 p.m., University Theatre. Senryu Taiko presents the traditional art of Japanese drumming. Tickets: $12 general admission; $10 students; $8 children.
May 18: "When They All Still Lived."
6-8 p.m., Humanities 1503. This film, directed by Peter Lang and James T. Brown, uses photographs, personal diaries and rare footage from the 1984-1985 Chinatown dig to tell a poignant chapter in the history of the Chinese in California – the decline and disappearance of Riverside's Chinatown. The film screening and a question-and-answer session are hosted by the Save Our Chinatown Committee. Admission is free.
May 21: "Freedom of the Mind."
7 p.m., bell tower. Poet and spoken word artist Beau Sia headlines this open mic space where students can express themselves through musical talent, spoken word, poetry or dance, or voice concerns about issues concerning their community.
May 30: eRACEing the Lines.
9:30 a.m.-3 p.m., Highlander Union Building and Interdisplinary CHASS Building. This multicultural youth summit strives to achieve unity among youth in the Inland Empire using discussions and workshops that promote participation, leadership and awareness. Students from UCR and area high schools will work together to address questions high school students have about the college experience. To register, call (951) 827-7272.
For more information about any of these events contact the UCR Asian Pacific Student Programs Office, (951) 827-7272, or go to
http://www.apsp.ucr.edu
.
RELATED LINKS
ADDITIONAL CONTACTS
The University of California, Riverside (www.ucr.edu) is a doctoral research university, a living laboratory for groundbreaking exploration of issues critical to Inland Southern California, the state and communities around the world. Reflecting California's diverse culture, UCR's enrollment has exceeded 21,000 students. The campus opened a medical school in 2013 and has reached the heart of the Coachella Valley by way of the UCR Palm Desert Center. The campus has an annual statewide economic impact of more than $1 billion.
A broadcast studio with fiber cable to the AT&T Hollywood hub is available for live or taped interviews. UCR also has ISDN for radio interviews. To learn more, call (951) UCR-NEWS.