UCR Celebrates 2009 Graduates with Six Ceremonies
---
UCR Celebrates 2009 Graduates with Six Ceremonies
More than 3,000 people will pick up a diploma during the 55th annual commencement
(May 19, 2009)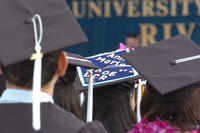 Enlarge
More than 3,000 graduates will celebrate the accomplishment of earning a degree during six ceremonies in June.
RIVERSIDE, Calif. (www.ucr.edu) -- An impressive array of speakers including a Nobel Laureate in Chemistry and a Pulitzer Prize winning editorial cartoonist will inspire and inform graduates at University of California, Riverside's, 55th annual Commencement.
An estimated 3,086 out of 3,830 eligible graduates are expected to participate in one of six ceremonies June 12, 13, 14 and 15.
All ceremonies will take place on Pierce Lawn near the carillon tower at the center of campus. Each guest including infants must have a ticket and seating will be on a first-come basis.
Following is a schedule of ceremonies:
Friday, June 12, 6 p.m. — A. Gary Anderson Graduate School of Management and Business Administration Program. Ted Weggeland, senior vice president of the Entrepreneurial Corporate Group, is keynote speaker. Weggeland represented Western Riverside County in the State Assembly in the mid-1990s.
Saturday, June 13, 8 a.m. -- College of Humanities, Arts and Social Sciences, Departments of Anthropology, Economics, History, Philosophy and Political Science. Keynote speaker will be former UCR Chancellor Raymond Orbach. Under Orbach's leadership, UCR doubled in size, achieved national and international recognition in research and led the University of California in diversity. Orbach became the nation's first Under Secretary for Science at the U.S. Department of Energy in June 2006.
Saturday, June 13, 6 p.m. — College of Natural and Agricultural Sciences. Keynote speaker is Richard Schrock, a professor of chemistry at Massachusetts Institute of Technology, and Nobel Laureate in Chemistry. Schrock received his bachelor's degree from UCR in 1967.
Sunday, June 14, 8 a.m. — College of Humanities, Arts and Social Sciences: Departments of Psychology, Sociology, Religious Studies and Women's Studies. Stephen Breen, a two-time Pulitzer Prize winner for editorial cartooning, will be keynote speaker. He works at the San Diego Union Tribune and his nationally syndicated political cartoons appear in USA Today, The New York Times and Newsweek.
Sunday, June 14, 6 p.m. — College of Humanities, Arts and Social Sciences: Departments of Art, Art History, Comparative Literature and Foreign Languages, Creative Writing, Dance, English, Ethnic Studies, Media and Cultural Studies, Hispanic Studies, Interdisciplinary Programs and Liberal Studies, Music and Theatre. Keynote speaker will be Joel Reynolds, senior attorney for the National Resources Defense Council's Los Angeles office. Reynolds is an expert on environmental protection and conservation specializing in issues of coastal protection, land use, marine mammal protection, environmental justice and transportation. His father, William Reynolds, was a founding faculty member in music. Joel graduated from UCR and has been named one of UCR's distinguished alumni.
Monday, June 15, 8 a.m. — Graduate School of Education. UCR Chancellor Timothy P. White will be keynote speaker. White was appointed eighth UCR chancellor in May 2008. Before that, he was president of the University of Idaho for four years. He is internationally recognized for his work in muscle plasticity, injury and aging.
Monday, June 15, 6 p.m. – Bourns College of Engineering. Keynote speaker will be Gordon Bourns, CEO of Bourns Inc., an international electronics company founded by his parents in Riverside. The Bourns family's involvement with UCR has been ongoing since 1989 and includes a major endowment gift from the Bourns Foundation.
Guests are reminded that alcohol, drugs, weapons and animals, except for registered guide dogs, are prohibited on campus. In addition, strollers, balloons and air horns will not be allowed at the commencement site.
Free parking will be available in all lots except lots 6, 19, and residence hall lots 14,15, 21 and 22. Parking for disabled persons will be available in Lot 6.
Guests who are sensitive to the heat and sun may view the ceremony inside Watkins 1000 where a live, video-feed of the ceremony will be shown on a large screen. No tickets are required for entrance to Watkins.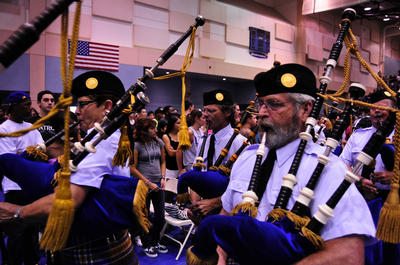 Enlarge
UCR's Pipe Band always leads the procession of graduates at commencement
RELATED LINKS
The University of California, Riverside (www.ucr.edu) is a doctoral research university, a living laboratory for groundbreaking exploration of issues critical to Inland Southern California, the state and communities around the world. Reflecting California's diverse culture, UCR's enrollment has exceeded 21,000 students. The campus opened a medical school in 2013 and has reached the heart of the Coachella Valley by way of the UCR Palm Desert Center. The campus has an annual statewide economic impact of more than $1 billion.
A broadcast studio with fiber cable to the AT&T Hollywood hub is available for live or taped interviews. UCR also has ISDN for radio interviews. To learn more, call (951) UCR-NEWS.