A Tribute to Professor Noel Keen
---
UCR Loses Distinguished Scientist to Cancer
(April 19, 2002)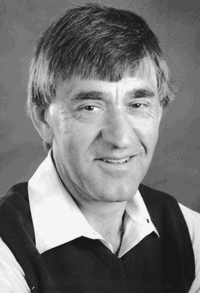 Noel T. Keen, a distinguished professor of plant pathology at UCR who earned many friends with his humble and folksy manner, died Thursday at his home in Riverside after a two-year battle with leukemia. He was 61.
A member of the National Academy of Sciences, Keen spent his entire academic career at UCR. He arrived in 1968 and earned a stellar reputation with research that examines how plants recognize disease agents or pests, a trait that can be implanted in other crop varieties to boost food supplies.
He was an academic star with an amazing talent for turning the attention away from himself. When he found out that his picture would be featured on a mural of UCR history on the Highway 60 underpass near campus, he quipped, "I suppose they have to have someone to fill up the wall." Keen, in his white lab coat, is pictured next to a corkscrew-shaped bacterial enzyme he discovered with former UCR biochemists Fran Jurnak and Marilyn D. Yoder. The new variety of protein is responsible for rot in potatoes, tomatoes, apples and tropical plants.
The holder of the Johnson Endowed Chair in Molecular Biology, Keen displayed a favorite Mark Twain quote on his office wall: "I have never let my schooling interfere with my education."
A native of Marshalltown, Iowa, Keen earned his degrees in botany and plant pathology at Iowa State University, with a Ph.D. from the University of Wisconsin.
He served as chair of the UCR Department of Plant Pathology from 1983 to 1989, on the editorial boards of several scientific journals, and as keynote speaker at numerous conferences. At the time of his death, Keen was serving as President of the American Phytopathological Society (APS), an international scientific organization devoted to the study of plant diseases and their control.
His innovative work influenced the research directions of many laboratories worldwide. His research showed that plants have chemical recognition systems, much like animals have immune systems, which trigger a defense response. His work provides the scientific foundation for breeding or genetically engineering plants with disease resistance, which could help reduce the use of chemical pesticides.
Keen was UCR's 1996 Faculty Research Lecturer, the highest honor granted by the campus for research. He has more than 170 technical publications, a string of honorary titles and a legacy of training accomplished graduate students.
Robert Horsch, who earned his doctorate at UCR, credited Keen with sparking his interest in science during a high school internship. Horsch later won the National Medal of Technology as a top scientist at Monsanto. "It was Keen, personally, more than any other person, who taught me what the scientific process is," Horsch said at the time of his award in 1999.
In 1997, Keen was elected a member of the National Academy of Sciences, an honor considered one of the most prestigious in academia. He was the fifth UCR scientist elected.
Most recently Keen was a leading figure in efforts to connect UCR with industry, including serving as acting director of UCR's Center for Biotechnology. He was a leader with Connecting Research and Economic Development for the 21st Century (CORE21), a consortium of universities bringing technology to the marketplace.
After a serious car accident put him in the hospital two years ago, doctors told Keen that they had found evidence of leukemia. Most of his colleagues were unaware of the diagnosis until just a few weeks before he died. He said he wanted no memorial services, and no outpouring of sympathy. He wanted to die simply, the way he lived.
He is survived by his wife, Diane, head of Access Services in the UCR science library. In lieu of flowers, the family requests donations to the Noel T. Keen Memorial Fund, in care of the UCR Foundation, University of California, Riverside.
The University of California, Riverside (www.ucr.edu) is a doctoral research university, a living laboratory for groundbreaking exploration of issues critical to Inland Southern California, the state and communities around the world. Reflecting California's diverse culture, UCR's enrollment has exceeded 21,000 students. The campus opened a medical school in 2013 and has reached the heart of the Coachella Valley by way of the UCR Palm Desert Center. The campus has an annual statewide economic impact of more than $1 billion.
A broadcast studio with fiber cable to the AT&T Hollywood hub is available for live or taped interviews. UCR also has ISDN for radio interviews. To learn more, call (951) UCR-NEWS.