Guiding Young People on the "Pathways to Success"
---
Guiding Young People on the "Pathways to Success"
Among the Pathways leaders supporting Coachella Valley students are several local residents who have traveled their own pathways to higher education through UC Riverside. They now are helping others achieve.
(July 15, 2009)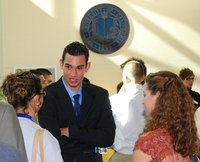 Enlarge
Chris Thompson, UCR alumnus, meeting with scholarship recipients from the Coachella Valley.
RIVERSIDE, Calif. (www.ucr.edu) -- Some 280 Coachella Valley students just received more than $1.4 million in college and university scholarships, but this is just the beginning for a program called Pathways to Success.
The program's key tool for improving the economy is higher education. The more than a dozen partners in Pathways to Success, which include UC Riverside, aim to create tomorrow's skilled workforce in Coachella Valley by helping students pursue a college or university education now.
Being a "partner" with Pathways means that UCR is raising matching money so the scholarships can be given.
Among the Pathways leaders supporting Coachella Valley students are several local residents who have traveled their own pathways to success in higher education, including at UC Riverside. They now are helping others achieve.
For the students receiving scholarships of $2,500 or $5,000, along with academic and other support services to help them succeed, it's a dream come true.
"When I found out, I was crying," Arlete Pichardo of Coachella said.
The first one in her family to graduate from high school, Pichardo was in her second year studying history at University of California, Los Angeles. She was struggling to continue. "I'm from a single-parent home and my mom can't fund my way … I was having difficulties." She was forced to drop out of summer school. Her life changed recently when she received a two-year Pathways university scholarship for $5,000 each year.
Pichardo said it's important to her that the program is more than a scholarship, also promising academic and emotional support and essentially investing in her. She said she's now inspired to work even harder, knowing, "They have that much faith in me."
The Pathways to Success goal is to build the region's economic future with one success story at a time. No one has tried before to change an entire region this way, Pathways executive director Terry Green said.
Pathways to Success operates under the umbrella of the nonprofit Coachella Valley Economic Partnership and has offices on UC Riverside's Palm Desert campus. Most key staff members are graduates of UC Riverside. The program recently celebrated its first year with a ceremony honoring those who received the first $1.4 million in awarded scholarships; 158 attend College of the Desert, and 122 are university students.
Most funding comes from College Access Foundation of California, which gives grants to community-based college advising and academic support programs.
In an unprecedented move, the foundation has committed $1 million a year in scholarships for 10 years and challenged Pathways to Success to develop a model for transforming an entire region, Green told UC Riverside Chancellor Timothy White in a recent meeting. White was enthused about the program and the university's role.
But the obstacles are many, and much work is needed on the road ahead for the Pathways program to succeed, Director Ernesto Rios said:
• Many Coachella Valley students cannot afford a higher education. This remains a huge unmet need, he said, even with the $1 million a year promised in Pathways scholarship money.
• Many Coachella Valley youths don't see the value of more studies. "It's just not expected," Pathways program assistant Chris Thompson said.
• Many students are tied to their families and often need to help support them. Students who do manage to continue their education often have to leave Coachella Valley because their chosen field of studies isn't offered locally.
• Typically, those who leave for higher education don't come back — "because," Thompson said, "there are no jobs." A big goal is to ensure that once new industries arrive, they would not be forced to recruit skilled and educated workers from outside the Valley.
Green, the executive director, said he deliberately recruited Pathways staff members from the region who "have lived this story." For example, Rios, the director, is a Coachella Valley High School graduate who first went to College of the Desert and then on to a film degree and a second degree in history and political science from UCLA, but returned to the region and UCR's Palm Desert campus where he received his master's in business administration. Thompson, the program assistant, graduated from high school in Palm Springs and from UC Riverside with a bachelor of arts degree in business economics, and then received a master's, business administration in entrepreneurial management, from the Palm Desert campus. Green himself is a three-time UCR graduate.
"It's very much a UCR-created product of a lot of people who have commitment to building the community," Green said.
Pathways Partners besides UC Riverside include Desert Healthcare District Foundation; College of the Desert Alumni Association and Foundation; California State University, San Bernardino, Foundation; Thermal Chamber of Commerce; Palm Springs Soroptimist International; Palm Desert Rotary Club; Our Lady of Soledad Parish; Coachella Valley Housing Coalition; The Ophelia Project; Riverside County EDA Character Counts; Dr. Reynaldo J. Carreon M.D. Foundation; The Girlfriend Factor.
For student Caesar Hernandez of Palm Desert, studying for a business administration degree at UC Riverside has meant juggling two full-time jobs, a tedious commute, a full course load and time with his new family, wife-to-be Marissa Gapia and their now two-year-old son, Caesar. Besides working really hard, "I've been working really hard to make sure I balance family, school and work," he said.
Now in his junior year, and president of UCR's chapter of the Association of Latino Professionals in Finance and Accounting, Hernandez was thrilled to receive a two-year scholarship from Pathways to Success, for $5,000 a year. Without it, "things would be a lot harder," he said.
Now Hernandez can dream of graduate school and a professional job. "Eventually," he said, "I see myself coming back to the Valley, and starting my own business."
The University of California, Riverside (www.ucr.edu) is a doctoral research university, a living laboratory for groundbreaking exploration of issues critical to Inland Southern California, the state and communities around the world. Reflecting California's diverse culture, UCR's enrollment has exceeded 21,000 students. The campus opened a medical school in 2013 and has reached the heart of the Coachella Valley by way of the UCR Palm Desert Center. The campus has an annual statewide economic impact of more than $1 billion.
A broadcast studio with fiber cable to the AT&T Hollywood hub is available for live or taped interviews. UCR also has ISDN for radio interviews. To learn more, call (951) UCR-NEWS.