UCR Students Have the Right Formula for Competition
---
UCR Students Have the Right Formula for Competition
Bourns College of Engineering seniors get the checkered flag in building a race car from the ground up as part of the annual SAE Collegiate Design Series.
(July 2, 2009)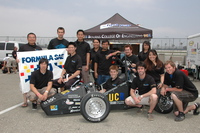 Enlarge
UCR's team from (Right to Left) Christopher Maceyko, Vivian Le, Rianne Garrido,(behind Vivian) Alex Khaykin,(in front of Vivian)Eugene O'Neill, Clayton Stothers,(in the car)Ravi Kurani, Adriana Figueroa, Jeremy Chen, Ryan Kim, Quillan Trombley, David Lim, and Jun Wang.
RIVERSIDE, Calif. (www.ucr.edu) – A team of 13 UCR graduating seniors took a victory lap at the California Speedway in Fontana to end a year-long project. The Society of Automotive Engineers (SAE) at the Bourns College of Engineering successfully completed a competition to design and build a formula-style race car for the Formula SAE competition. A total of 81 universities from around the world made the trek to Fontana's Auto Club Speedway from June 17 through 20 to be judged on design and endurance.
Out of the 81 entries, 35 passed the safety and technical examination, including UCR's team. Teams participating this year came from the United States, Canada, China, Korea, India and Mexico.
UCR's team includes SAE members: Christopher Maceyko, team leader, Vivian Le, secretary/treasurer, Rianne Garrido, member, Alex Khaykin membership president, Eugene O'Neill, member, Clayton Stothers, president, Ravi Kurani, vice president, Adriana Figueroa, member, Jeremy Chen, member, Ryan Kim, formula driver controls leader and engine lead, Quillan Trombley, past member, David Lim, formula suspension leader, and Jun Wang, professional development officer at Bourns College of Engineering.
"None of us had any auto experience," said Clayton Stothers, recently graduated UCR engineering student and president of the local chapter of SAE. "I worked on an old Mustang in high school, but that's it. It's the most challenging project any undergraduate could undertake in college."
The 13-member team began designing and building their formula racer during their senior year. The team was larger at the beginning but when students realized how many hours the project took some bowed out. Those participating didn't receive any credit for the work with the exception of job satisfaction. However, having this kind of project on a resume is sure to get noticed by large automotive carmakers, Stothers said.
"A lot of people in the auto industry probably worked on this project themselves," he said. "GM and Ford will recognize the amount of work it takes."
Stothers noted that the range of cost to build this racer is between $30,000 and $90,000. However, UCR's team spent $10,000. The team began with funds from Bourns College of Engineering and raised the rest from outside sponsors.
The students were able to purchase the frame, differential, wheels, shocks and tires. The rest had to be built from scratch. The team started at the end of the 2008 school year and finished just shy of the four-day competition, which begins with a technical inspection.
"It's very thorough," Stothers said. "The judges ask lots of questions, such as how much it costs to manufacture. If it passes, then the car goes through to the endurance competition."
During the endurance competition the race car must be tested as it maneuvers a 10.5 mile race track to see how it fares against the extremes of racing. The UCR team's racer made it through with flying colors even though the team ran into some last-minute roadblocks.
"We had some problems," Stothers said. "A wheel bearing failed and we needed to find one quickly. We finally found one through a local retailer but it arrived the day of the competition. We didn't know how fast our car was, but we were able to pass a few of the other cars ont he track during the endurance race."
Although quite time consuming, Stothers recommends the experience to engineering students
"Students often come up with designs that are too complex," he said. "All of us know how things are built. Overall it's an excellent program because it links theoretical knowledge with building."
The University of California, Riverside (www.ucr.edu) is a doctoral research university, a living laboratory for groundbreaking exploration of issues critical to Inland Southern California, the state and communities around the world. Reflecting California's diverse culture, UCR's enrollment has exceeded 21,000 students. The campus opened a medical school in 2013 and has reached the heart of the Coachella Valley by way of the UCR Palm Desert Center. The campus has an annual statewide economic impact of more than $1 billion.
A broadcast studio with fiber cable to the AT&T Hollywood hub is available for live or taped interviews. UCR also has ISDN for radio interviews. To learn more, call (951) UCR-NEWS.