UC Riverside Rates as a "Best College Buy" in Forbes 2009 Rankings
---
UC Riverside Rates as a "Best College Buy" in Forbes 2009 Rankings
Forbes.com ranking tries to see it from a student's point of view
(August 7, 2009)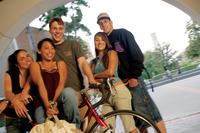 Enlarge
Students gathered near the arches at UC Riverside
RIVERSIDE, Calif. (www.ucr.edu) – At a time when parents are scrutinizing college costs, UC Riverside ranks in the top "25 best college buys" in the nation according to the Center for College Affordability and Productivity. The results were published this week on Forbes.com, which is affiliated with Forbes magazine.
UCR's ranking of 25 places it behind UCLA (8), UC Berkeley (10) and UC San Diego (23), but ahead of several other UC campuses. The campus at Merced is too new to be included in this ranking.
"We are working extremely hard on behalf of students to ensure they receive as much financial assistance as possible, as much transitional support to navigate the business side of their educational experience as possible, and as much academic support as possible to succeed in the UCR classroom," said LaRae Lundgren, assistant vice chancellor of enrollment management. She said this kind of ranking can be helpful to show just how cost-effective it is for California families to have the UC system as an option. A high quality education comes with a reasonable price tag.
"I think the key factor here is that we offer hefty grants to our students, and we have more students getting federal Pell grants than other UC campuses," said Jose Aguilar, the associate director of financial aid at UCR. "Our students are succeeding and graduating at rates higher than predicted by their socio-economic status. So it means our faculty and our student support services are doing a good job."
Housing costs at other campuses are going to be different than they are in Riverside. The cost of attendance would include room and board and if you live off campus in Santa Barbara it is going to cost more than in Riverside," Aguilar said.
There are 200 universities on the full list of "America's Best College Buys." Forbes and the Center for College Affordability ranked UCR at 49th among public universities in the larger rankings focused only on quality. They rank only the top 15 percent of the nation's colleges and universities. Their ratings are based on quality perceived by students and available from public records, such as graduation rates, self-reported student ratings of professors, student awards and faculty awards.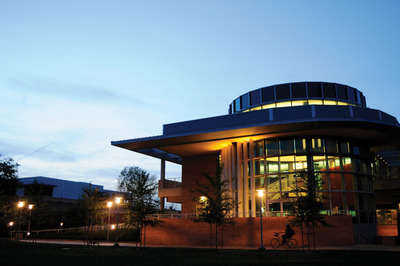 Enlarge
The Highlander Union Building, known as the HUB, at twilight
The University of California, Riverside (www.ucr.edu) is a doctoral research university, a living laboratory for groundbreaking exploration of issues critical to Inland Southern California, the state and communities around the world. Reflecting California's diverse culture, UCR's enrollment has exceeded 21,000 students. The campus opened a medical school in 2013 and has reached the heart of the Coachella Valley by way of the UCR Palm Desert Center. The campus has an annual statewide economic impact of more than $1 billion.
A broadcast studio with fiber cable to the AT&T Hollywood hub is available for live or taped interviews. UCR also has ISDN for radio interviews. To learn more, call (951) UCR-NEWS.