Washington Monthly Ranks UCR 16th
---
Washington Monthly Ranks UC Riverside 16th in Nation
The magazine's annual College Guide evaluates universities based on what they do to benefit the country.
(September 2, 2009)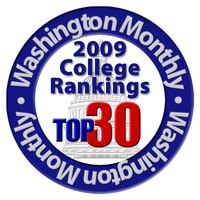 Enlarge
RIVERSIDE, Calif. – The University of California, Riverside ranks 16th in a Washington Monthly comparison of national universities based on what they are doing for the country.
UCR was one of six UC campuses and one of only eight California universities in Washington Monthly's Top 30 list out of 258 national universities. The magazine also ranked 253 liberal arts colleges.
"This ranking is verification of what our faculty, staff and students accomplish," said UCR Chancellor Timothy P. White. "We are one of the most diverse campuses in the nation, and nearly half of our students are the first in their families to earn a college education. We are devoted to fulfilling the University of California's mission of excellence in research, teaching and service, and this ranking is a reflection of that commitment."
Washington Monthly
editors said their ranking methodology differs from other nationally known publications by measuring "not just what colleges can do for you, but what colleges are doing for the country." The Washington Monthly 2009 College Guide evaluates the nation's colleges and universities in three categories: research, service to the community and the nation, and success in helping economically disadvantaged students acquire the knowledge necessary to be successful in the marketplace.
"In the information age, we all depend on colleges and universities to produce groundbreaking research and new inventions, to serve as engines of social mobility for first-generation college students, and to mold the minds of future leaders," the editors wrote. "… In our eyes, America's best colleges are those that work hardest to help economically disadvantaged students earn the credentials the job market demands. They're the institutions that contribute new scientific discoveries and highly trained Ph.D.s. They're the colleges that emphasize the obligations students have to serve their communities and the nation at large."
The editors singled out the University of California, noting that "UC campuses enroll unusually large numbers of low-income students while maintaining high graduation rates, generating billions of dollars in research funding, and sending a healthy number of students into service programs like the Peace Corps. Tragically, steep budget cuts stemming from the current California budget fiasco are putting all of that at risk."
Washington Monthly determined the rankings based on factors such as the percentage of students receiving need-based Pell Grants, predicted rate of graduation versus actual rate of graduation, total research expenditures, number of bachelor's degree recipients who go on to receive Ph.D.s relative to school size, the number of science and engineering Ph.D.s awarded, number of faculty receiving prestigious awards relative to the number of full-time faculty, number of faculty who are members of the National Academies relative to the number of full-time faculty, number of alumni who serve in the Peace Corps relative to school size, percentage of students who serve in ROTC, and percentage of funds in federal work-study money that goes to community service.
UC Riverside is internationally known for its research, said Charles Louis, vice chancellor for research. "Our faculty have more papers published in Nature and Science every month than would be anticipated based on faculty numbers," he said.
UCR is particularly known for research programs in a number of areas that include air quality and chemistry, energy, conservation biology, water, plant biology, entomology, biomedicine, nanotechnology, and youth violence, Louis said. The university has the premier atmospheric chamber for air-quality research in the country, and its conservation biologists contributed significantly to the development of Riverside County's Multi-Species Habitat Conservation Plan, acknowledged as the most encompassing plan of its kind in the nation.
The university also is a leader in providing research opportunities to undergraduate students, which increases their knowledge of new technologies, skills and marketability, said Reza Abbaschian, dean of Bourns College of Engineering. "Our graduates get exposed more to advanced technologies and what's on the horizon," he said.
About 45 percent of UCR students receive Pell Grants – the largest percentage in the UC system – and about 64 percent of all students graduate in six years, regardless of their economic status. At some universities low-income students lag 20 percentage points behind their wealthier classmates.
"We are working extremely hard on behalf of students to ensure they receive as much financial assistance as possible, as much transitional support to navigate the business side of their educational experience as possible, and as much academic support as possible to succeed in the UCR classroom," said LaRae Lundgren, assistant vice chancellor of enrollment management.
UCR offers a number of programs and services to help first-year students succeed academically, such as learning communities, tutoring and assessments to identify earlier those students who may be struggling in certain courses.
University students contribute thousands hours of service to the community every year, volunteering in activities ranging from after-school tutoring and mentoring to visiting senior citizens and raising money for cancer education and research programs.
The University of California, Riverside (www.ucr.edu) is a doctoral research university, a living laboratory for groundbreaking exploration of issues critical to Inland Southern California, the state and communities around the world. Reflecting California's diverse culture, UCR's enrollment has exceeded 21,000 students. The campus opened a medical school in 2013 and has reached the heart of the Coachella Valley by way of the UCR Palm Desert Center. The campus has an annual statewide economic impact of more than $1 billion.
A broadcast studio with fiber cable to the AT&T Hollywood hub is available for live or taped interviews. UCR also has ISDN for radio interviews. To learn more, call (951) UCR-NEWS.