A Scholarship that Carries On Two Very Important Names
---
A Scholarship that Carries On Two Very Important Names
The Scott and Jennifer Alden Father/Daughter Scholarship is a family's message to the future.
(September 8, 2009)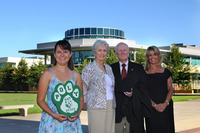 Enlarge
Amanda Suplee, left, is the first recipient of the Scott and Jennifer Alden Father/Daughter Scholarship. Next to her are Nina and David Mitchell, and Ann Alden.
RIVERSIDE, Calif. (www.ucr.edu) – Twenty-eight-year-old Jennifer Alden, a Riverside Poly and UC Riverside graduate, was building a career in the family business when she died suddenly on Thanksgiving, of mitral valve prolapse, a heart condition that is not uncommon in young women.
Six months later, on May 1, her 56-year-old father Scott Alden, also a graduate of Riverside Poly, died of prostate cancer after battling the disease courageously for 12 years.
After two hard blows, Scott's wife Ann Alden, along with Scott's mother and stepfather Nina and David Mitchell, decided to create a scholarship in memory of Scott and Jennifer so other people could pursue their goals.
The Scott and Jennifer Alden Father/Daughter Scholarship will last in perpetuity, with interest from the family's gift helping a Poly High School graduate pay for a higher education at UC Riverside.
Jennifer grew up in Riverside and was known to her family and friends as compassionate and spirited. She served meals to the homeless, she rang the bell for the Salvation Army, and after earning a business administration degree at UC Riverside, she found a career she liked in sales for Empire Oil, the business her grandfather founded. She had married, but wanted to wait on children.
Scott, who had been a football star at Poly High before earning an athletic scholarship to Arizona State University in 1971, was successful in college football and then as an executive with Empire Oil.
His cancer diagnosis at the age of 44 could not stop him from raising his three children, from being a devoted husband to Ann, or from rising in the ranks of the company. His coworkers at Empire Oil were like his second family, his wife said.
When he died in May, the sanctuary at Harvest Christian Fellowship was packed. Just like Jennifer's memorial service was at Calvary Presbyterian.
"He was the love of my life," Ann Alden said. "They both really touched so many lives."
The scholarship recipient this first year is Amanda Suplee, who has one more year before she earns her degree in clinical psychology at UC Riverside.
On the day that the family met Amanda for the first time, they looked happy as they conversed about her plans for the future. Like Jennifer Alden, Amanda Suplee is young, beautiful, bright and compassionate. She volunteers at Loma Linda University Medical Center and both she and her twin sister, Ashley, hope to spend their careers helping people heal from illnesses.
Her parents are grateful to have more help with the costs of keeping the twins in fees and books at the university.
"It's always a nice surprise to see how a gift like this makes something good possible," said David Mitchell, who previously gave a scholarship endowment at UCR in memory of his brother, Ted.
"I ask myself would Scott and Jennifer like this," David Mitchell said. "I feel today that they would have been thrilled."
Nina Mitchell, Scott's mother and Jennifer's grandmother, fought back tears as she put her thoughts together.
"In their young lives, they touched so many people in so many ways," she said. "I'm so happy that their names will survive."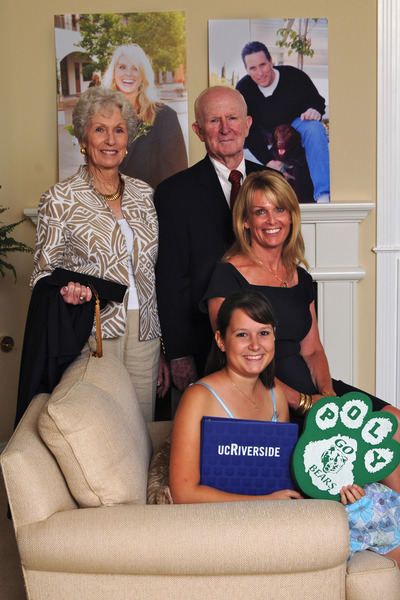 Enlarge
Amanda Suplee, holding a Poly Bear, meets Nina and David Mitchell, as well as Ann Alden. The Scott and Jennifer Alden Father/Daughter Scholarship will go each year to a UC Riverside student who graduated from Riverside Poly High School.
The University of California, Riverside (www.ucr.edu) is a doctoral research university, a living laboratory for groundbreaking exploration of issues critical to Inland Southern California, the state and communities around the world. Reflecting California's diverse culture, UCR's enrollment has exceeded 21,000 students. The campus opened a medical school in 2013 and has reached the heart of the Coachella Valley by way of the UCR Palm Desert Center. The campus has an annual statewide economic impact of more than $1 billion.
A broadcast studio with fiber cable to the AT&T Hollywood hub is available for live or taped interviews. UCR also has ISDN for radio interviews. To learn more, call (951) UCR-NEWS.