Maya Angelou
---
Maya Angelou Asks You to Read This Poem
The national icon and award-winning poet, playwright and producer visited UC Riverside Thursday, Oct. 22 and asked a favor.
(October 23, 2009)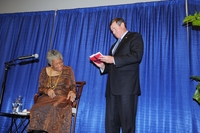 Enlarge
Maya Angelou accepts a gift: an issue of the Journal of African American History celebrating the life and scholarship of John Hope Franklin. (photo credit: Michael Elderman)
RIVERSIDE, Calif. – Award-winning poet Maya Angelou told stories of influential people in her life, sang a little and talked about the significance of one of her poems in front of a sold out crowd at the University of California, Riverside on Thursday, Oct. 22.
This poem, she said, ought to be on the university's Web site:
A Brave and Startling Truth
Maya Angelou
We, this people, on a small and lonely planet
Traveling through casual space
Past aloof stars, across the way of indifferent suns
To a destination where all signs tell us
It is possible and imperative that we learn
A brave and startling truth
And when we come to it
To the day of peacemaking
When we release our fingers
From fists of hostility
And allow the pure air to cool our palms
When we come to it
When the curtain falls on the minstrel show of hate
And faces sooted with scorn are scrubbed clean
When battlefields and coliseum
No longer rake our unique and particular sons and daughters
Up with the bruised and bloody grass
To lie in identical plots in foreign soil
When the rapacious storming of the churches
The screaming racket in the temples have ceased
When the pennants are waving gaily
When the banners of the world tremble
Stoutly in the good, clean breeze
When we come to it
When we let the rifles fall from our shoulders
And children dress their dolls in flags of truce
When land mines of death have been removed
And the aged can walk into evenings of peace
When religious ritual is not perfumed
By the incense of burning flesh
And childhood dreams are not kicked awake
By nightmares of abuse
When we come to it
Then we will confess that not the Pyramids
With their stones set in mysterious perfection
Nor the Gardens of Babylon
Hanging as eternal beauty
In our collective memory
Not the Grand Canyon Kindled into delicious color
By Western sunsets
Nor the Danube, flowing its blue soul into Europe
Not the sacred peak of Mount Fuji
Stretching to the Rising Sun
Neither Father Amazon nor Mother Mississippi who, without favor,
Nurture all creatures in the depths and on the shores
These are not the only wonders of the world
When we come to it
We, this people, on this minuscule and kithless globe
Who reach daily for the bomb, the blade and the dagger
Yet who petition in the dark for tokens of peace
We, this people on this mote of matter
In whose mouths abide cankerous words
Which challenge our very existence
Yet out of those same mouths
Come songs of such exquisite sweetness
That the heart falters in its labor
And the body is quieted into awe
We, this people, on this small and drifting planet
Whose hands can strike with such abandon
That in a twinkling, life is sapped from the living
Yet those same hands can touch with such healing, irresistible tenderness
That the haughty neck is happy to bow
And the proud back is glad to bend
Out of such chaos, of such contradiction
We learn that we are neither devils nor divines
When we come to it
We, this people, on this wayward, floating body
Created on this earth, of this earth
Have the power to fashion for this earth
A climate where every man and every woman
Can live freely without sanctimonious piety
Without crippling fear
When we come to it
We must confess that we are the possible
We are the miraculous, the true wonder of this world
That is when, and only when
We come to it.
It is a poem she wrote for the 50th anniversary of the United Nations, important in her life story because when she was 16 and pregnant, she looked at that United Nations headquarters and longed to become part of the mission of world peace. And half a century later, she was the invited poet.
UCR Chancellor Tim White presented Angelou with a copy of the Summer 2009 Special Issue of
The Journal of African American History
, which pays tribute to the legacy of John Hope Franklin, one of the major historians of the 20th century and the author of "From Slavery to Freedom: A History of African Americans" (1947), which sold more than 3 million copies. The journal, published by the Association for the Study of African American Life and History, is edited by V. P. Franklin, University of California Presidential Chair and distinguished professor of history and education at UC Riverside.
Some of the leading historians in the nation contributed their perspectives on the life, works and public service of Franklin, who died in March 2009 at the age of 94. A renowned scholar of history and law, Franklin was an award-winning author who served on many national commissions and delegations. The New York Times noted in his obituary that "when Thurgood Marshall's team of lawyers began building their legal challenge to segregation in the case that resulted in the Brown v. Board of Education decision in 1954, they naturally turned to Dr. Franklin and his command of the tangled realities behind the phrase 'separate but equal.'" Franklin was awarded the Presidential Medal of Freedom in 1995.
"It was wonderful to have the internationally acclaimed poet here," said V.P. Franklin of UCR. "I know Dr. Maya Angelou was a good friend of the great historian and scholar Dr. John Hope Franklin, who also lived in North Carolina. They were fans of each other's work and shared many public appearances together. Since Dr. Angelou was speaking at UCR, I thought it would be great if Chancellor White presented her with a gift from UCR that was a tribute to her dear friend. And it was!"
Angelou is a poet, historian, author, actress, playwright, civil-rights activist, producer and director. She has written 12 best-selling books and numerous magazine articles, and has won Pultizer Prize and National Book Award nominations. She became the second poet in U.S. history to write and recite original work at a presidential inauguration. "On the Pulse of Morning," recited at the 1993 inauguration of President Bill Clinton, won a Grammy for best spoken word.
Born Marguerite Johnson on April 4, 1928, in St. Louis, Angelou was raised in segregated rural Kansas. Today, she lectures throughout the United States and abroad, and is a lifetime Reynolds Professor of American Studies at Wake Forest University in Winston-Salem, N.C. She served as the northern coordinator for the Southern Christian Leadership Conference and in 1975 received the Ladies Home Journal Woman of the Year Award in communications.
She holds numerous honorary degrees and was appointed by President Jimmy Carter to the National Commission on the Observance of International Woman's Year and by President Gerald Ford to the Revolutionary Bicentennial Advisory Council. She has served as a member of the American Film Institute board and is a member of the Directors Guild.
Her book "I Know Why the Caged Bird Sings," published in 1970, was one of the first by an African-American woman to make bestsellers lists and was nominated for the National Book Award. She was nominated for a Pulitzer Prize for "Just Give Me a Cool Drink of Water 'Fore I Die" in 1972, a Tony Award in 1973 for her performance in "Look Away," the Golden Eagle Award for the 1977 PBS documentary "Afro-American in the Arts," an Emmy nomination for her portrayal of the grandmother Nyo Boto in "Roots," 1977,
the North Carolina Award in Literature in 1987, the Langston Hughes Award in 1991, the Arkansas Black Hall of Fame in 1993, and a Presidential Medal of Arts in 2000.
Among numerous writing, directing or producing credits are: "Cabaret for Freedom," produced off-Broadway; the screenplay "Georgia, Georgia," produced by Cinerama, Sweden; the Oprah Winfrey series "Brewster Place"; "Three Way Choice," a CBS miniseries; "Afro-American in the Arts," a PBS documentary; and "Down in the Delta," Miramax Films.
In 1977 she spoke at a UC Riverside commencement ceremony. A link to her full text is below.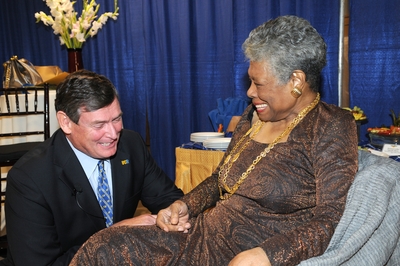 Enlarge
Maya Angelou spoke at UC Riverside on Oct. 22. (photo credit: Michael Elderman)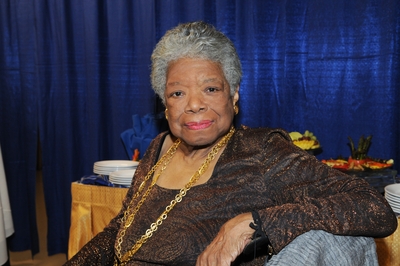 Enlarge
Maya Angelou relaxes before speaking at UC Riverside on Oct. 22. (photo credit: Michael Elderman)
RELATED LINKS
ADDITIONAL CONTACTS
The University of California, Riverside (www.ucr.edu) is a doctoral research university, a living laboratory for groundbreaking exploration of issues critical to Inland Southern California, the state and communities around the world. Reflecting California's diverse culture, UCR's enrollment has exceeded 21,000 students. The campus opened a medical school in 2013 and has reached the heart of the Coachella Valley by way of the UCR Palm Desert Center. The campus has an annual statewide economic impact of more than $1 billion.
A broadcast studio with fiber cable to the AT&T Hollywood hub is available for live or taped interviews. UCR also has ISDN for radio interviews. To learn more, call (951) UCR-NEWS.