Wet bio-waste conversion to energy
---
CE-CERT scientists developing process to convert wet bio-waste into energy as alternative to land application
(April 23, 2002)
NEWS MEDIA CONTACT
Name:

Iqbal Pittalwala


Tel:

(951) 827-6050


E-mail:

iqbal@ucr.edu
Scientists at the University of California, Riverside are developing a way of converting 'wet waste,' such as sewage sludge and grass clippings, into synthetic diesel fuel and electricity in a move that could potentially reduce the need for landfill space and provide a cost-effective alternative to increasingly restricted land application.
The research, funded by Riverside Public Utilities and Eastern Municipal Water District, is being overseen by Colin Hackett, manager of the Alternative Fuels and Renewable Energy Program at UCR. The program is housed in the Bourns College of Engineering - Center for Environmental Research and Technology (CE-CERT).
Hackett, who also supervises graduate students at CE-CERT, has extensive experience in fuels, energetics and thermodynamics. He said he hopes to have a scale model of the new process up and running this month. If the testing phase is successful, a full-scale demonstration unit could be produced and operating by 2004.
'Productively managing the growing streams of waste is a key challenge for this region's future,' Hackett said, 'but we believe the process we have developed for converting wet bio-waste into energy shows particular promise.'
Wet waste has historically been difficult to use as a fuel source because previous technologies required the waste be dried before conversion into fuel. By adapting the hydro-gasification conversion process, originally developed to produce clean-burning gases from coal, CE-CERT expects to be able to convert water and carbonaceous waste feeds into clean burning fuels and electricity.
CE-CERT's multi-stage fuel production process uses high temperature and pressure to produce gases that can be used for fuel synthesis or electrical power generation.
'The system requires no additional fuel or energy other than the chemical energy in the waste feed,' Hackett said. 'This process has enormous potential for energy conversion from any wet-waste that contains carbon.'
The potential return is two-fold when fueled by biosolid waste, which is the byproduct of municipal wastewater (sewage) treatment. Currently, that waste is spread on farm fields, trucked to landfills, or mixed with green waste to produce a soil amendment. The biosolids would quickly and simply be converted into useful forms of energy by the CE-CERT process.
What is left over from the process is expected to be a fine, inert debris or ash that could be mixed into such products as asphalt or other construction materials, Hackett said.
The five wastewater plants at Eastern Municipal Water District produce about 130 tons per day of biosolid waste. If just that waste were run through the new CE-CERT process, it could produce each day up to 26 barrels (1092 gallons) of synthetic diesel fuel and up to 34 megawatt-hours of electricity, enough power for about 3,000 homes.
Similar energy production could be expected from wood, paper and green waste collected by the city-operated Riverside Public Utilities.
Local utilities supporting the project are enthusiastic about the effort.
'We are always supportive of anything that increases the use of renewable resources and the creation of nonpolluting energy,' said Dave Wright, deputy director of Riverside Public Utilities. 'Reusing something that is currently literally going to waste is always better than depleting other resources.'
Anthony J. Pack, general manager of Eastern Municipal Water District, added, 'This is the kind of innovative idea that we need to explore. We are closely monitoring UCR's progress with this research. If it pans out, it will afford us an excellent way to avoid much of the extra expense imposed by the increased restrictions on land application.'
Partnering with local government agencies benefits CE-CERT as well, said Joseph Norbeck, professor of environmental engineering at UCR and director of CE-CERT.
'We've worked with a number of local, regional, state, and national agencies and businesses in the past, relationships that have consistently proved beneficial to both CE-CERT and the sponsor,' Norbeck said. 'I have every confidence this innovative idea will continue that track record of success.'
For more information, contact Prof. Colin Hackett at (909) 781-5668, or Mike Luker, EMWD's Assistant General Manager of Operations at (909) 928-3777, ext. 6255, or Dave Wright, RPU's Deputy Public Utilities Director at (909) 826-5784.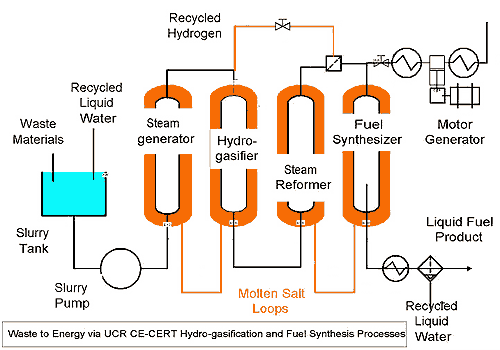 Caption: This schematic diagram shows the component processes used in the Waste to Energy concept developed by UCR's CE-CERT. In this small-scale pilot unit, waste materials are ground into small particles (less than 1 mm in diameter) and mixed with water to form a slurry, which is then pumped into a steam generator that heats the mixture to about 700 C and 30 atmospheres pressure. The superheated steam and hot waste particles are then mixed with hydrogen gas inside a long tubular reactor, known as a hydro-gasifier. Inside the hydro-gasifier, the hydrogen reacts with any carbon present in the waste particles and forms methane gas. The methane gas and the superheated steam are then fed into a second stage reactor, known as a steam reformer. In this reactor, the steam reacts with the methane to form hydrogen, carbon monoxide and carbon dioxide gases. Approximately half the hydrogen produced in the steam reformer is recycled back into the first stage hydro-gasifier, making it self-sustaining. The remaining synthesis gases (hydrogen, carbon monoxide and methane) can either be used in a CE-CERT-developed variable gaseous fueled engine to produce electricity and process-heat, or sent on to a liquid fuel synthesizer designed to produce sulfur-free synthetic diesel fuel and recycled clean water. Molten salt heat transfer loops take heat away from the hydro-gasifier and fuel synthesis reactors and transfer it to the water steam generator and steam reformer reactor to make the system almost thermally self-sufficient. Thus carbonaceous waste and water feeds can be converted into fuels, process-heat, and recovered water in what is expected to be a series of self-sustaining processes.
The University of California, Riverside (www.ucr.edu) is a doctoral research university, a living laboratory for groundbreaking exploration of issues critical to Inland Southern California, the state and communities around the world. Reflecting California's diverse culture, UCR's enrollment has exceeded 21,000 students. The campus opened a medical school in 2013 and has reached the heart of the Coachella Valley by way of the UCR Palm Desert Center. The campus has an annual statewide economic impact of more than $1 billion.
A broadcast studio with fiber cable to the AT&T Hollywood hub is available for live or taped interviews. UCR also has ISDN for radio interviews. To learn more, call (951) UCR-NEWS.