Media, Arts and Southeast Asia
---
Conference to Explore Media, Arts and Southeast Asia
International scholars will address such topics as Vietnamese new media, immigrant satellite television and blogging to maintain ethnic identity at UC Riverside Oct. 2-3.
(September 17, 2009)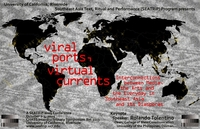 Enlarge
RIVERSIDE, Calif. – A two-day conference exploring connections between media and the arts that lead to new ways of thinking about Southeast Asia and its diasporas opens at UCR on Friday, Oct. 2.
The conference, "Viral Ports, Virtual Currents: Interconnections Between Media, the Arts and the Everyday in Southeast Asia and Its Diasporas," will be held Oct. 2 and 3 in Interdisciplinary Building Room 1113. The conference is open to the public. Admission is free. Parking costs $6 per day; permits may be purchased at the kiosk on West Campus Drive at University Avenue.
Panels of international scholars will discuss a variety of topics, from Vietnamese new media and Burmese art in exile to immigrant satellite television and blogging to maintain ethnic identity.
The arts are expanding and evolving into an outlet or carrier for rethinking identities in relation to socio-political and economic issues, said Paul Atienza, the conference organizer and a candidate in the Master of Arts in
Southeast Asia: Text, Ritual and Performance
program.
"Media use has escalated greatly throughout the world, leading to more extensive and varied visibility of the arts," Atienza said. "Using metaphors of the ocean in cooperation with the viral and the virtual ties popular imaginaries of Southeast Asia with the ability of media to spread and replicate 'virally.'"
More information about the conference is available at
http://www.facebook.com/event.php?eid=75492288281&ref=ts
. Videos that will be shown at the conference are viewable at
http://www.youtube.com/user/ucrSEATRiP
. The conference YouTube curator is Husni Abu Bakar, a Ph.D. candidate in comparative literature.
The conference schedule is:
Friday, Oct. 2

Noon, Pre-conference Speaker
Jane M. Ferguson, lecturer in Asian Studies at Australian National University. "Rocking in Shanland: Ethnic Insurgents and Burmese Bordland Band Practice."
2:30 p.m., Panel One
Ashley Carruthers, lecturer in archaeology and anthropology at Australian National University, and Maria Tran, co-founder of Vietlish, "Vietlish! New Media of the Vietnamese Diaspora."
Stephanie Rabia, instructor in communications at LaSalle College of Antipolo, Philippines, "The Igorot in the World Wide Web: Exploring the Igorot Ethnic Identity Through the Communicative Act of Blogging."
Chuong-Dai Vo, Ph.D. candidate in literature at UC San Diego, "The Image as Truth: History-Making and Disorientation in Hong-An Truong's 'Adaptation Fever.'"
Discussant: Toby Miller, professor and chair of the UCR Department of Media and Cultural Studies.
4 p.m., Panel Two
Lily Ann Bolo Villaraza, Ph.D. candidate in history at Northern Illinois University,
"Power Plays: The Seditious Sarsuwela Genre and the Sedition Act of 1901."
Angela A. Mascarenas, Ph.D. candidate in sociology at University of Illinois at Chicago,
"Performing Cultural Disruptions: Audience Reception and the Performance of Collective Memory in Noel Alumit's 'Mr. & Mrs. LaQuesta Go Dancing.'"
Ruth Pe Palileo, Ph.D. candidate in drama and performance at Trinity College, Ireland,
"Performing an Aesthetics of Excess Versus an Aesthetics of Poverty in the Philippines."
Discussant: Christine Balance, assistant professor of Asian American studies at UC Irvine.
6:30 p.m., Opening Reception
Interdisciplinary Building Courtyard
Saturday, Oct. 3

9 a.m., Panel Three
Pichayalak Piyachakul, Ph.D. candidate in communications and Southeast Asian studies at Ohio University, "Viewing 'Bangkok Dangerous' in Two Dimensions."
Stephanie Santos, Ph.D. candidate in women's studies at UC Los Angeles, "Home Away from Home: Filipino Transnational Communities of Sentiment."
Thea Quiray Tagle, Ph.D. candidate in ethnic studies at UC San Diego, "Queer Zombies and Electric Dreams: Spectacle, Discipline, and Sexuality in the Philippines and United States."
Discussant: Robert G. Diaz, assistant professor of English at Wayne State University.
10:30 a.m., Keynote Address
Rolando Tolentino, professor in the College of Mass Communication, University of the Philippines, Diliman.
Noon, Lunch on your own.

12:30 p.m., Panel Four
Vivian Wong, Ph.D. candidate in information studies at UC Los Angeles, "Documenting 'Home' in the Diaspora: Memory, Records, and Identities in the Archival Imaginary."
Emily Hue, Ph.D. candidate in American studies at New York University, "Configuring Burmese Diaspora Through San Minn's 'Attraction': Burmese Visual Art in Exile on the Internet."
Melissa Wall, associate professor of journalism at California State University, Northridge, and Treepon Kirdnak, instructor of journalism at Bangkok University.
Discussant: Tamara Ho, assistant professor of women's studies/SEATRiP at
UC Riverside.
1:45 p.m., Panel Five
Edwin Christian Jurriens, lecturer in Indonesian studies at University of New South Wales, "Critique, Compliance and Community: Indonesian Video Art Across Generations."
Xavier Hernandez, Master of Arts candidate in Asian American studies at San Francisco State University, "Whose Face, Space, and Tube?: An Analysis of How Pilipino Cultural Night Performers Imagine Themselves and their Virtual Audience."
Discussant: Mariam Beevi-Lam, assistant professor of comparative literature/SEATRiP at UC Riverside.
3 p.m., Panel Six
Sudarat Musikawong, assistant professor of sociology at Siena College, N.Y., "Representing Thai Labor Migrations: Immigrant Satellite Television."
Kimberly Twarog, Ph.D. candidate in women's studies at UC Los Angeles, "Negotiating Tradition and Modernity in Indonesia's Performing Arts."
Discussant: Christina Schwenkel, assistant professor of anthropology/SEATRiP, UC Riverside.
For more information contact Paul Atienza at
paul.atienza@email.ucr.edu
or (951) 827-3456, or go online to
www.seatrip.ucr.edu
.
RELATED LINKS
ADDITIONAL CONTACTS
The University of California, Riverside (www.ucr.edu) is a doctoral research university, a living laboratory for groundbreaking exploration of issues critical to Inland Southern California, the state and communities around the world. Reflecting California's diverse culture, UCR's enrollment has exceeded 21,000 students. The campus opened a medical school in 2013 and has reached the heart of the Coachella Valley by way of the UCR Palm Desert Center. The campus has an annual statewide economic impact of more than $1 billion.
A broadcast studio with fiber cable to the AT&T Hollywood hub is available for live or taped interviews. UCR also has ISDN for radio interviews. To learn more, call (951) UCR-NEWS.