Chancellor's Medal Awarded to Saubel
---
Cahuilla Woman Honored at UCR for Touching the Future
(April 25, 2002)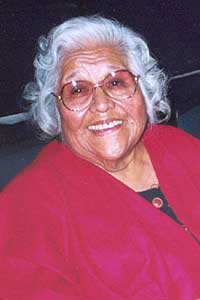 Katherine Siva Saubel, a Cahuilla elder and ethnobotanist, will receive the Chancellor's Medal, the highest honor bestowed by the University of California, on Saturday, April 27, at the University of California, Riverside.
The day-long ceremony and symposium, scheduled from 9 a.m. to 4 p.m., features scholars of California Indian arts, languages, and cultures who have worked directly with Saubel, 82.
David Warren, acting chancellor, said Saubel deserves the Chancellor's Medal in recognition of her "extraordinary educational and cultural contributions to the world."
Saubel, the daughter of a Cahuilla medicine woman, is the co-founder of the Malki Museum and the Malki Press and a scholar who has lectured throughout the world on the Cahuilla language and culture. She lives on Morongo tribal lands near Banning and has generously passed on her knowledge of culture, art and language to students who were willing to learn. Many of those were graduate students earning advanced degrees from UCR.
"This day is symbolic of UCR's renewed commitment to partner with California Native Nations for the betterment of all," Warren said.
"She really deserves this honor, and more," said Deborah Dozier, a professor at Palomar College who earned her Ph.D. at UCR in 2000. "I could name 30 people who probably would not have their doctorates without her assistance and cooperation."
"She's taken me driving through the countryside and pointed out all the different plants that are used. She tried to teach me the language. I know three or four dozen words. It is a very, very difficult language," Dozier said. "The greatest gift that she has given me, of everything, is a model to follow for perseverance and standing up for your convictions."
Dozier is one of three scholars speaking at a 9 a.m. session in Watkins 1000 called "Revitalizing Heritage," that will focus on arts, languages and culture. A second panel, on preserving Native American heritage in museum projects, will feature Michael Hammond, Executive Director of the Agua Caliente Cultural Museum; and John Gomez, Jr., Cultural Analyst, Pechanga Band of Luiseno Mission Indians.
Horace Axtell, a distinguished Nez Perce elder, will also honor Katherine Saubel's work during the symposium. Axtell has taught the Nez Perce language at Lewis-Clark State College. His story has been told in a book co-written with Margo Aragon, A Little Bit of Wisdom, and in a documentary film, Nee-mee-poo: The Power of Our Dance.
In addition, a play about Saubel's life and the Cahuilla culture, "We Are Still Here," will be presented by Native American actors from 2:30 to 4 p.m. in the Commons Dining Room. The play was written, directed and produced by Leigh Podgorski and features an all Native American cast.
This event is sponsored by the Center for Ideas and Society through a generous grant from the Ford Foundation and the Costo Endowment. Lunch will be served only to invited guests, however the symposium, the ceremony and the play are all free and open to the public. Free parking is available in Lot 1 on campus.
Schedule:
A Day Honoring Katherine Siva Saubel
Saturday, April 27
Symposium -- 9 a.m. to noon
Watkins 1000
"Revitalizing Heritage: California Indians in an Era of Sovereignty"
I. Revitalizing Heritage
Elders, Bird Singers, basketmakers, and others carry forward remarkable cultural traditions that connect people to each other, the land, and their ancestors. Katherine Saubel has founded a press, guided many authors, influenced many scholars, and helped revitalize a rich heritage. This panel features leading scholars directly in her debt who are strong advocates for revitalization.
"Southern California Indian Arts," Dr. Deborah Dozier
"Southern California Indian Languages," Dr. Eric Elliott
"Southern California Indian Cultures," Dr. Lowell Bean
II. Reclaiming Heritage
Sovereignty reconnects the past, the present, and the future. Many California tribes are building their own cultural centers and museums to reinterpret and represent the past from tribal perspectives. Mrs. Saubel is a leader in this arena, retelling the story of California Indians, correcting mistakes, and challenging scholars to do a better job. This panel features two following in her footsteps even as they nurture new visions and opportunities for future generations.
"Museums in an Age of Sovereignty," Dr. Michael Hammond, Executive Director, Agua Caliente Cultural Museum, a major new museum set to open in the fall of 2004.
"Repatriating California," John Gomez, Jr., Cultural Analyst, Pechanga Band of Luiseno Mission Indians. Gomez helped pass AB 978, a new law that establishes the California Native American Graves Protection and Repatriation Act of 2001.
III. Plenary Address
"Preserving and Renewing Culture," Horace Axtell, a Nez Perce elder and the leader of the Seven Drum Religion on the Nez Perce Reservation.
Lunch – 12 Noon to 2 p.m.
Bell Tower Mall
Lunch and Presentation of Chancellor's Medal
Play -- 2:30 p.m. to 4 p.m.
Commons Dining Room
"We are Still Here" directed by Leigh Podgorski, featuring a Native American cast.
The University of California, Riverside (www.ucr.edu) is a doctoral research university, a living laboratory for groundbreaking exploration of issues critical to Inland Southern California, the state and communities around the world. Reflecting California's diverse culture, UCR's enrollment has exceeded 21,000 students. The campus opened a medical school in 2013 and has reached the heart of the Coachella Valley by way of the UCR Palm Desert Center. The campus has an annual statewide economic impact of more than $1 billion.
A broadcast studio with fiber cable to the AT&T Hollywood hub is available for live or taped interviews. UCR also has ISDN for radio interviews. To learn more, call (951) UCR-NEWS.