Impact of Foreclosures
---
Foreclosures Affect Minorities Disproportionately, Report Shows
UC Riverside study finds that housing crisis exacerbates racial gap for homeownership and wealth.
(October 15, 2009)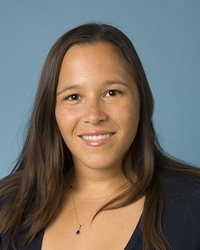 Enlarge
Vanesa Estrada Correa
RIVERSIDE, Calif. – Devastating declines in homeownership due to foreclosure have affected racial and ethnic minorities disproportionately, fueling greater disparities in homeownership and wealth, according to a report published today in
Policy Matters
, a quarterly journal published by the University of California, Riverside.
The housing crisis, which has cost more than 300,000 California families their homes since January 2008, remains a focus of federal policy as Congress and the White House debate extending assistance to new buyers and existing owners beyond this calendar year.
In an analysis that has implications not only for California but the nation as well, UCR sociologist Vanesa Estrada Correa found that foreclosures have disproportionately affected low-income and minority communities. "These inequalities are an important consideration to policymakers as they may exacerbate racial inequalities in wealth and class inequalities more generally," she wrote.
Estrada Correa, an assistant professor of sociology, analyzed more than 30 years of homeownership and foreclosure data, mortgage-lending practices and government policies aimed at increasing homeownership rates and decreasing the racial gap in homeownership. In the
Policy Matters
report, "The Housing Downturn and Racial Inequality," Estrada Correa found that policies and programs aimed at decreasing the racial gap in homeownership also left minority homeowners more vulnerable to foreclosure when the economy soured. The report is available online at
http://www.policymatters.ucr.edu/
.
Subprime loans were not only disproportionately given to minority applicants, but also were concentrated in minority neighborhoods, she said. Subprime loans, designed for homebuyers who could not qualify for conventional mortgages, carried a higher rate of interest to compensate for greater credit risk. The result, she found, is that Latino and African American neighborhoods are experiencing higher levels of instability from housing turnover and vacancies.
California has one of the highest rates of foreclosure in the country, and regions that experienced the most significant population increases and new communities fared the worst, according to the report. Of the 20 metropolitan areas with the highest rates of foreclosure in the nation, 12 are in California. The top four are in California: Merced, Stockton, Modesto, and Riverside-San Bernardino-Ontario.
The Federal Reserve Bank of San Francisco estimates that each foreclosure is associated with a .9 percent decrease in value for all properties within an eighth of a mile, Estrada Correa noted. "Foreclosed properties which remain vacant without attention or maintenance can attract crime, pose safety hazards and further reduce neighborhood property values," she said. "The average municipal cost for each foreclosure is about $7,000."
"Our society has long considered homeownership to be a public good with its benefits extending beyond individual homeowners to neighborhoods more broadly," Estrada Correa wrote. A higher rate of homeownership in neighborhoods has traditionally been associated with access to better schools, jobs and public services, as well as stable property tax bases and clean and safer neighborhoods, she said.
Estrada Correa's analysis of Riverside County data illustrates the depth of the problem. She found:
• In 2007, more than 30 percent of mortgages to Latino and African homebuyers in Riverside and San Bernardino counties were subprime loans while fewer than 15 percent of white homebuyers had subprime loans.
• In 2008, Riverside County residents spent an average of 28.5 percent of their income on mortgages; the national average was 20 percent. In 2009, the percentage in Riverside County rose to 31.6.
• After controlling for income and other factors, Riverside County residents experiencing the greatest strain in housing costs (defined as spending more than 30 percent of income on a mortgage) are: Latinos (63 percent), Asian Americans (54 percent), African Americans (53 percent) and whites (41 percent). This illustrates how minority families may be especially vulnerable to homeownership loss as home values fall and unemployment rises in the region.
Historically, homeownership loss has been a relatively rare and temporary event for households, the report notes. However, "current trends indicate that ownership loss has become more likely to occur and when it does occur it is less likely that families will become homeowners again in the future," Estrada Correa wrote. Homeownership loss "is emerging as a key factor for racial inequality for homeownership and ultimately a new stratifying factor for wealth inequality more broadly."
This raises key issues for policy makers, she said:
• When barriers to homeownership lowered, so did the barriers to foreclosure. The next generation of housing policy should address the stability of homeownership and sustainability for families over time.
• Many mortgage counselors report that their minority clients receive worse outcomes than their white clients in the foreclosure prevention/loan modification process. Policy makers must remain vigilant about monitoring "predatory" lending practices and address racial disparities in outcomes.
"The findings presented here provide early indications that the housing market downturn is affecting families and cities unevenly and exacerbating racial and ethnic inequalities," Estrada Correa wrote. "Will recovery happen evenly or will some groups remain stuck behind? What will be the reverberations in the next generation for these financial losses? These inequalities are crucial considerations for policy makers seeking solutions for recovery."
RELATED LINKS
ADDITIONAL CONTACTS
The University of California, Riverside (www.ucr.edu) is a doctoral research university, a living laboratory for groundbreaking exploration of issues critical to Inland Southern California, the state and communities around the world. Reflecting California's diverse culture, UCR's enrollment has exceeded 21,000 students. The campus opened a medical school in 2013 and has reached the heart of the Coachella Valley by way of the UCR Palm Desert Center. The campus has an annual statewide economic impact of more than $1 billion.
A broadcast studio with fiber cable to the AT&T Hollywood hub is available for live or taped interviews. UCR also has ISDN for radio interviews. To learn more, call (951) UCR-NEWS.