UC Riverside Student Teams Win EPA P3 Competition Awards
---
UC Riverside Student Teams Win EPA P3 Competition Awards
UCR is Only California University with Two Winning Teams
(October 19, 2009)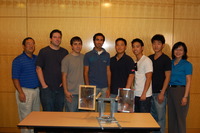 Enlarge
Members of one of UCR's two EPA P3 competition award-winning teams are (left to right) Professor Mark Matsumoto; students John Johnson, Chris Salinas, Parham Javadinajjar, Wesley Chen, Alex Chen, and Luke Chen; and engineering lecturer and team advisor Kawai Tam. The team is developing a system using a Fresnel lens to make drinking water from saline/brackish water. The next step in the project is to improve the device (foreground) by giving it the ability to track the sun.
RIVERSIDE, Calif. (www.ucr.edu) – UC Riverside is one of four California universities to win the Environmental Protection Agency's (EPA) People, Prosperity and the Planet (P3) competition, which encourages college students to apply technology in innovative ways to tackle global environmental challenges.
UCR is the only university in California, and one of only five in the nation, to win two of the 43 P3 Phase I awards given this year. The competition begins in Phase I by awarding $10,000 grants to teams who submit applications that focus on a wide range of categories, including water, energy, agriculture, built environment, materials and chemicals, and information technology.
"These awards reinforce our commitment to providing opportunities for our students to be involved in projects that have a real impact on our world," said Reza Abbaschian, dean of the Bourns College of Engineering (BCOE), where the projects are under way. "It also recognizes the dedication and talents of our students and faculty and their commitment to solving problems that affect our environment and the quality of life."
After working on the project for eight months, the teams will take their designs to the sixth annual National Sustainable Design Expo on the National Mall in Washington, D.C., in April 2010. At the expo, the projects will be judged by a panel of experts and a select few will be awarded P3 awards and Phase II grants up to $75,000 for students to further their designs, implement them in the field or move them to the marketplace.
The UCR projects are based in the BCOE Department of Chemical and Environmental Engineering (CEE) and the College of Engineering-Center for Environmental Research and Technology (CE-CERT).
The first project, "Concentrated Solar Distillation as a Means to Purify Saline/Brackish Water," involves designing and testing a still that uses a Fresnel lens to make drinking water from saline/brackish water. The principal investigator for the project is Professor of Environmental Engineering Mark Matsumoto, who is joined by Kawai Tam, lecturer in CEE, and students Parham Javadinajjar, John Johnson, Christopher Salinas, and Elizha West. Students who recently joined the team include Wesley Chen, Alex Chen and Luke Chen.
The second project, "Using Waste to Clean Up the Environment: Cellulosic Ethanol, the Future of Fuels," is studying and implementing the conversion of waste wood into fuel ethanol. Principal investigator for the project is CEE's Ford Motor Company Distinguished Professor Charles Wyman. He leads the team comprising Kawai Tam, lecturer in CEE, students Vu Nguyen, Ramon Joshua Garong, Christine Kwon, Anthony Turgman and post-doctoral scholar Jian Shi.
This is the third time UCR teams have won the P3 award. Previous winners were in 2005, and 2007.Tam, who has coordinated UCR's participation in the EPA competition at UCR since 2004 typically solicits student involvement during their junior year in order to begin the application process.
"Word of our UCR CEE students winning travels quickly. This year for the next round of the competition, a group of juniors came to me before I could make my 'sales pitch' and asked to be part of the program," Tam said. She incorporates the projects into the Senior Design Projects course she teaches.
The other California universities winning Phase I awards are Humboldt State University, Pierce College and UCLA.
The University of California, Riverside (www.ucr.edu) is a doctoral research university, a living laboratory for groundbreaking exploration of issues critical to Inland Southern California, the state and communities around the world. Reflecting California's diverse culture, UCR's enrollment has exceeded 21,000 students. The campus opened a medical school in 2013 and has reached the heart of the Coachella Valley by way of the UCR Palm Desert Center. The campus has an annual statewide economic impact of more than $1 billion.
A broadcast studio with fiber cable to the AT&T Hollywood hub is available for live or taped interviews. UCR also has ISDN for radio interviews. To learn more, call (951) UCR-NEWS.