Library Legacy Goes to Former Chancellor Orbach
---
Library Legacy Goes to Former Chancellor Orbach
UC Riverside Celebrates the Impact of Leadership with the Renaming of the Science Library
(November 4, 2009)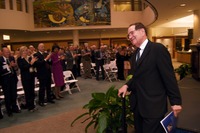 Enlarge
Former UC Riverside Chancellor Raymond L. Orbach visits campus Nov. 3 for a ceremony to rename the Science Library in his honor.
RIVERSIDE, Calif. (www.ucr.edu) — Former chancellor Raymond L. Orbach will stay forever — if not in body then in name, because the campus now has officially renamed the Science Library as the Raymond L. Orbach Science Library.
"I spent many wonderful hours in this library," said Orbach at the ceremony on Nov. 3. This building represents a bountiful future for UCR. When I come back, no one will know who I am, but I will be very proud of what it signifies."
Orbach served as the campus' chancellor from 1992 to 2002 as it nearly doubled in student population from 8,500 to 15,500. During his tenure the campus also experienced a campus-wide building boom, including adding over 1-million square-feet of office, research, and teaching facilities with a value of $250 million.
Orbach and his wife, Eva, attended the ceremony, as well as a symposium called "Science-based Solutions for the 21st Century: The Legacy of Raymond L. Orbach," held in the auditorium of the new genomics building.
"They [Ray and Eva Orbach] were a formidable pair who made an indelible impression on Southern California," said current Chancellor Timothy P. White.
Executive Vice Chancellor Dallas Rabenstein moderated the symposium, which included brief talks from Norm Ellstrand, professor of genetics and geneticist from the Center for Conservation Biology; Robert Haddon, a distinguished professor chemistry from the Center for Nanoscale Science and Engineering; Natasha Raikhel, a distinguished professor of botany and plant sciences from the Institute for Integrative Genome Biology; Tim Paine, professor of entomology from the Center for Invasive Species Research; and Joe Norbeck, professor of environmental engineering, from CE-CERT. The speakers were chosen because they lead institutes or centers that Orbach helped launch.
"Ray said to me, 'Do you believe in what you're doing? Do you really believe? Then do it!'" – Joe Norbeck, W. Ruel Johnson Professor of Engineering, director, Environmental Research Institute and founding director, College of Engineering-Center for Environmental Research and Technology (CE-CERT)
Opened in 1998 at a cost of $29.7 million, the 106,000 square foot science library houses approximately 533,000 books, journals, maps and other scientific resources. The library has more than 100 publicly accessible computer workstations, 25 group study rooms, map collection with state of the art cartographic and GIS resources. It is one of five UCR libraries. Others are the Rivera Library, the Music Library, the Multimedia Library and the Palm Desert Digital Library, located at UCR's Palm Desert campus.
Raymond L. Orbach
Quick Facts
• Born in Los Angeles, Orbach earned a bachelor's degree from the California Institute of Technology in 1956. He was awarded a Ph.D. from UC Berkeley in 1960.
• Orbach began his academic career as a postdoctoral fellow at Oxford University in 1960 and became an assistant professor of applied physics at Harvard University in 1961. He joined the faculty of the University of California, Los Angeles (UCLA) two years later as an associate professor, and became a full professor in 1966. From 1982 to 1992, he served as the Provost of the College of Letters and Science at UCLA.
• While chancellor, Raymond L. Orbach maintained an active research laboratory and regularly taught a freshman physics class.
• Orbach was the second-longest tenured chancellor at UCR. The first was Ivan Hinderaker.
• Orbach left UCR in 2002 to become director of the Office of Science at the U.S. Department of Energy in Washington, D.C., the highest ranking science policy administrator within the department. He was then nominated by President George W. Bush to become the first undersecretary for science, a newly created post that advises the secretary of energy on science and technology, and the management and state of the department's national laboratories. The undersecretary also monitors the Department of Energy's research and development programs.
• He recently took a new position as the director of the University of Texas at Austin's Energy Institute, a multi-disciplinary institute that combines the strengths of the university's schools and colleges to advance solutions to today's energy-related challenges.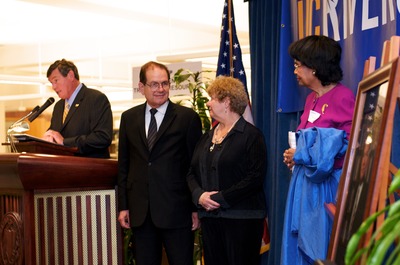 Enlarge
Current Chancellor Timothy P. White is at the podium honoring Ray and Eva Orbach. At the right is University Librarian Ruth Jackson.
The University of California, Riverside (www.ucr.edu) is a doctoral research university, a living laboratory for groundbreaking exploration of issues critical to Inland Southern California, the state and communities around the world. Reflecting California's diverse culture, UCR's enrollment has exceeded 21,000 students. The campus opened a medical school in 2013 and has reached the heart of the Coachella Valley by way of the UCR Palm Desert Center. The campus has an annual statewide economic impact of more than $1 billion.
A broadcast studio with fiber cable to the AT&T Hollywood hub is available for live or taped interviews. UCR also has ISDN for radio interviews. To learn more, call (951) UCR-NEWS.