California Energy Commission Awards UCR $1M Grant for Synthetic Fuel Facility
---
California Energy Commission Awards UCR $1M Grant for Synthetic Fuel Facility
Process demonstration unit will convert Riverside's biosolids into clean synthetic diesel fuel
(November 19, 2009)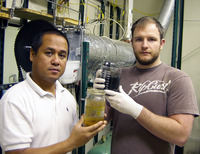 Enlarge
CE-CERT development engineers Junior Castillo (left) and Eddie O'Neil (right) display the results of the steam hydrogasification process that converts urban waste feedstock (rear container) into clean synthetic diesel fuel (foreground container). The fuel was produced in the lab-scale reactor behind them.
RIVERSIDE, Calif. (www.ucr.edu) – The California Energy Commission has awarded a $1 million grant to UC Riverside's College of Engineering-Center for Environmental Research and Technology (CE-CERT) to build a process demonstration unit (PDU) to convert biosolids to clean synthetic diesel fuel.
The PDU will be located at CE-CERT's facilities on Columbia Ave. in Riverside and will use a steam hydrogasification process ("the CE-CERT Process") to convert biosolids from the City of Riverside's wastewater treatment facility comingled with green waste. The project is designed to help California meet its goals for clean alternative transportation fuels.
The state has committed to reduce petroleum use by the equivalent of 2.4 billion gallons per year by 2017. California already uses approximately one billion gallons of ethanol and four million gallons of biodiesel, but more than 95 percent of it is imported from outside the state.
The PDU will provide critical engineering data prior to a larger pilot plant targeted to be located at the City of Riverside's wastewater treatment facility. This would be the final step prior to full commercial-scale plant.
The CE-CERT Process was recently evaluated by the National Energy Technology Laboratory of the U.S. Department of Energy and found to be 12 percent more efficient and 18 percent lower in capital costs than all other mainstream gasification technologies.
Among the advantages of the CE-CERT Process is that it can use mixed feedstocks, including yard wastes, agricultural byproducts, waste wood, municipal wastes and sewage sludge, most of which currently end up in landfills. Because of the lower capital investment required, smaller fuel plants can be located near the sources of the feedstocks, reducing the costs and carbon emissions associated with their transportation.
California produces an estimated 83 million dry tons of biomass wastes per year, including agricultural and forestry wastes and wastewater treatment biomass that must be disposed of. Thirty-two million dry tons of this biowaste are estimated to be practically available for fuel production.
Partners in the project include UCR, the City of Riverside and Viresco Energy LLC of Riverside. It is another example of collaboration between the university and the city to implement sustainable technologies locally. The City of Riverside and CE-CERT recently announced the creation of the Southern California Research Initiative for Solar Energy (SC-RISE).
The University of California, Riverside (www.ucr.edu) is a doctoral research university, a living laboratory for groundbreaking exploration of issues critical to Inland Southern California, the state and communities around the world. Reflecting California's diverse culture, UCR's enrollment has exceeded 21,000 students. The campus opened a medical school in 2013 and has reached the heart of the Coachella Valley by way of the UCR Palm Desert Center. The campus has an annual statewide economic impact of more than $1 billion.
A broadcast studio with fiber cable to the AT&T Hollywood hub is available for live or taped interviews. UCR also has ISDN for radio interviews. To learn more, call (951) UCR-NEWS.