UC Riverside Botanist Adds Credibility to Plants in James Cameron's "Avatar"
---
UC Riverside Botanist Adds Credibility to Plants in James Cameron's "Avatar"
Jodie Holt provided botanical information for the movie and its game products
(November 24, 2009)
NEWS MEDIA CONTACT
Name:

Iqbal Pittalwala


Tel:

(951) 827-6050


E-mail:

iqbal@ucr.edu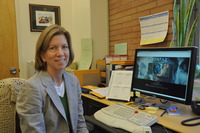 Enlarge
Jodie Holt is a professor of plant physiology and the chair of the Department of Botany and Plant Sciences at UC Riverside. Photo credit: UCR Strategic Communications.
RIVERSIDE, Calif. – A movie like James Cameron's
Avatar
, which opens worldwide Dec. 18 and "takes us to a spectacular world beyond imagination," pays close attention to details in creating a futuristic alien world. Light-years away from Earth in Cameron's
Avatar
-world is the lush moon Pandora, whose atmosphere, though toxic to humans, supports vegetation.
To depict the vegetation accurately, the filmmakers consulted botanist
Jodie Holt
of the University of California, Riverside. For two years Holt served as a consultant and expert on Pandora's vegetation and provided textual details for the game products that the film will launch. She also gave pointers to actress Sigourney Weaver, who plays a botanist in the film.
A professor of plant physiology, Holt has chaired UC Riverside's
Department of Botany and Plant Sciences
since 2003. She conducts research in ecology of weedy and invasive plants to contribute to ecologically sound weed management practices.
She plans to see
Avatar
twice. In her first viewing, which will take place Dec. 15 at the cast and crew screening at the Grauman's Chinese Theater, Hollywood, Holt says she will surrender to the film and enjoy it. In her second viewing, though, she will look closely at the plants.
To watch a short video of Holt talking about her involvement with the film, click
here
.
Q&A with Jodie Holt:
How did your involvement with the film get its start?
It began with an unexpected phone call in 2007 to Prof. Patricia Springer, a developmental cell biologist here at UCR. The caller was looking for a field botanist, and Patricia passed along that message to me, and suggested I return the call. Thus began a two-year involvement with
Avatar
.
Why is it important for scientists to lend their expertise to projects like Avatar?
It seems to me that most of the people behind
Avatar
have backgrounds in the humanities and the arts. Director James Cameron, I learned, has a degree in physics, and many of the consultants around him are knowledgeable about physics. But for botany, Cameron needed a consultant. I enjoyed the opportunity to be the teacher, setting them straight in terms of the botany underlying the project. For me this was a good example of how the sciences and the arts work well together.
How exactly did you help out?
In 2007, I was asked to consult with an A-list actress who plays a botanist in the movie. She turned out to be Sigourney Weaver. My role was to advise her on how a botanist might dress and act. I met with her in her trailer in a sound studio in Playa del Rey in Los Angeles, and we had a long conversation. A set designer was also present during this meeting. I gave Weaver advice on topics like how a botanist would approach a plant and take samples. With the set designer, I later engaged in an email communication in which I advised him on the sets and equipment that Sigourney Weaver could use in her work as a botanist. I also shared information with him about plant physiology and plant sampling. For a period of months, we exchanged a number of images about equipment a botanist might use to study plants, and I wrote him short lectures on the plants.
Then, in the fall of 2008, I was told that James Cameron was developing a whole suite of game products. I was asked if I would help out by developing content around the plants that appear in the games. I agreed. So in December 2008 I met with Cameron and Jon Landau, the co-producer, in the sound studio, and agreed to develop wikipedia-type entries for the plants. In the game products, players can pause near a plant of interest and read up about it by clicking open an entry about that plant. I provided the content for these entries. Cameron and Landau were looking for credible botanical information for all these fantastic-looking plants. My challenge was to come up with explanations for why Pandora's environment would select for the kinds of plants the game products have. Some of these plants are fluorescent, some can move, some can fire things off. Clearly, we're not in Kansas anymore!
Did you create any of the plants from scratch?
No. Had I invented the plants from scratch, I suspect they would likely have looked like the plants I know and study. Cameron's very creative crew had already fabricated the plants for the movie and the game products when I came on board. What I did was infuse the crew's invention with basic biological principles and make this invention credible.
Would you collaborate on a project like this again?
Most definitely! I was treated like a vital member of the team. Everyone was casual and informal. Cameron was clearly in charge, and seemed to thoroughly enjoy discussions and good arguments around how things should be. It was fun for me to work with him and his team. They have a wholly different structure and framework to doing work, an entirely different way of doing business, than we in academia have. All of which made for a rewarding and memorable experience for me.
About Jodie Holt:
Jodie Holt is a coauthor of
Ecology of Weeds and Invasive Plants: Relationship to Agriculture and Natural Resource Management
. She is an elected fellow of the American Association for the Advancement of Science and the Weed Science Society of America (WSSA). At the WSSA, she serves as an associate editor of the journal,
Invasive Plant Science and Management
. She received the UCR Distinguished Teaching Award for 2008-09.
RELATED LINKS
ADDITIONAL CONTACTS
The University of California, Riverside (www.ucr.edu) is a doctoral research university, a living laboratory for groundbreaking exploration of issues critical to Inland Southern California, the state and communities around the world. Reflecting California's diverse culture, UCR's enrollment has exceeded 21,000 students. The campus opened a medical school in 2013 and has reached the heart of the Coachella Valley by way of the UCR Palm Desert Center. The campus has an annual statewide economic impact of more than $1 billion.
A broadcast studio with fiber cable to the AT&T Hollywood hub is available for live or taped interviews. UCR also has ISDN for radio interviews. To learn more, call (951) UCR-NEWS.