Guide to Changing Health Behavior
---
Book a Guide to Health Behavior Change
Researchers from UC Riverside, La Sierra University and Texas State offer tools to help patients improve adherence to medical regimens.
(January 22, 2010)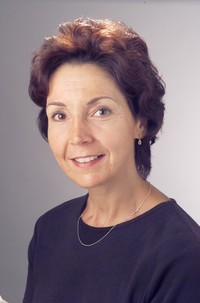 Enlarge
Robin DiMatteo
RIVERSIDE, Calif. – Health care practitioners often struggle to create a systematic plan to help their patients make the behavioral changes necessary to control chronic illnesses or to practice preventive care. Individuals, too, frequently find that even the most straightforward and reasonable health behaviors are difficult to put into practice.
A team of researchers from the University of California, Riverside, La Sierra University in Riverside, Calif., and Texas State University, San Marcos has published a new book, "Health Behavior Change and Treatment Adherence: Evidence-Based Guidelines for Improving Healthcare" (Oxford University Press) that gives health care professionals a set of evidence-based tools to help them as they guide their patients toward important behavioral changes and improved adherence to their medical regimens.
M. Robin DiMatteo, distinguished professor of psychology at UCR and a leading researcher in the area of physician-patient communication, along with two of her former graduate students – Leslie R. Martin, a research psychologist at UCR and professor of psychology at LSU, and Kelly B. Haskard-Zolnierek, assistant professor of psychology at TSU – reviewed more than 50 years of research to develop a practical, empirically based guide useful to a wide range of health professionals hoping to improve health outcomes for their patients. The book also will be helpful to researchers who study health behavior and adherence, and to the sophisticated layperson who wants to take a more proactive role in managing personal health.
This book's release date is timely, given the current national debate over health care reform. And, its message is encouraging, emphasizing the importance of low-tech, cost-effective strategies. "As important as new medical breakthroughs are, you could argue that most disease management requires behavior change on the part of the patient. You can have the best intervention, but if the patient doesn't follow the treatment regimen, you have a failure to cure or manage a condition," says DiMatteo.
Indeed, studies show that somewhere between 25 and 50 percent of patients do not follow their doctors' orders. To help put this in perspective, consider a 2005 National Ambulatory Medical Care Survey that reported there were 963.6 million medical visits in the United States that year. If just one-quarter of those patients did not adhere to treatment regimens (the low end of estimated nonadherence), approximately 240 million of those visits – and millions of dollars – may have been wasted, as suggested in a paper by Haskard-Zolnierek and DiMatteo last year in the journal
Medical Care
.
Yet, despite the importance of adherence to medications and healthy lifestyle patterns, DiMatteo points out that doctors get very little training in medical school for changing patient behavior. "That's where psychologists come in," she says. "We're always studying behavior change, how you motivate people to change, and how you reinforce new behaviors."
Key elements, crucial before any real change can happen, are the following: information, motivation, and strategy. Vast bodies of research point to the vital role each of these plays in adherence and health behavior change. If a patient is not informed, he will not know what it is expected. If the patient is not motivated, he will not carry out a behavior, even if he knows what he ought to be doing. And finally, information and motivation will fall short if the patient doesn't have the tools necessary to do what he knows and wants to do.
This book offers a method by which health care providers can help patients understand what they need to do, persuade them to change their behavior, and overcome barriers to change. "We address the issue of how to do this on a tight schedule," says DiMatteo. "[Health behavior change] is do-able if practitioners have a simple strategy for helping patients make those changes. These are evidence-based guidelines, not suggestions to doctors that come out of thin air. This is very studied and researched."
Martin adds that the simplicity of the model advocated by this book is its strength. "There aren't a lot of complicated steps or sets of rules to remember – and this is good news for busy, hurried people whether they be healthcare professionals or laypersons. What is there, however, is powerful and there are literally thousands of empirical studies to back up the recommendations found in this book."
Haskard-Zolnierek said she hopes the book will encourage every health care professional to regularly discuss with their patients the value of adherence and changing unhealthy behaviors. "The topics discussed in this book are timely, considering the current push for health care reform," she says. "Changing health behaviors may reduce the risk of some chronic diseases, decreasing the accompanying financial burden; and following through with recommended treatments can also reduce health care waste."
RELATED LINKS
ADDITIONAL CONTACTS
The University of California, Riverside (www.ucr.edu) is a doctoral research university, a living laboratory for groundbreaking exploration of issues critical to Inland Southern California, the state and communities around the world. Reflecting California's diverse culture, UCR's enrollment has exceeded 21,000 students. The campus opened a medical school in 2013 and has reached the heart of the Coachella Valley by way of the UCR Palm Desert Center. The campus has an annual statewide economic impact of more than $1 billion.
A broadcast studio with fiber cable to the AT&T Hollywood hub is available for live or taped interviews. UCR also has ISDN for radio interviews. To learn more, call (951) UCR-NEWS.