Tournées Festival Returns Feb. 11
---
French Film Festival Returns to UC Riverside
The fifth and final Tournées Festival runs Feb. 11-25.
(January 29, 2010)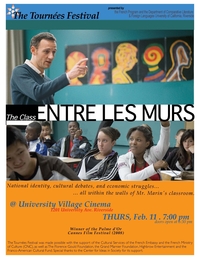 Enlarge
RIVERSIDE, Calif. – Featuring a number of award-winning dramas and documentaries, the annual Tournées Festival: New French Film on Campus at the University of California, Riverside will run Feb. 11 through Feb. 25.
The theme of the fifth annual festival is "Liberté, Identité, Modernité!" – which refers to and plays on the ideals of the French Revolution, said Heidi Brevik-Zender, assistant professor of French and comparative literature and the festival's advisor.
"The French Revolution recently celebrated its 220th anniversary," Brevik-Zender said. "In light of that, we have chosen films that explore the modern changing face of French identity and that use individual stories to illuminate larger questions about the forms and expressions of love, conflict, confinement and liberation."
All films will be shown in 35mm with English subtitles at 7 p.m. at University Village UltraStar Cinemas in University Village, 1201 University Ave., Riverside. Doors open at 6:30 p.m. Tickets cost $8 for adults and $5 for students and seniors with ID.
The Tournées Festival was made possible with support from the Cultural Services of the French Embassy, the French Ministry of Culture, the Florence Gould Foundation, the Grand Marnier Foundation, Highbrow Entertainment and the Franco-American Cultural Fund. Additional funding was provided by the Center for Ideas and Society at UCR. Grants to fund the festival from the French American Cultural Exchange are provided for a maximum of five consecutive years. This is the fifth year of the festival.
The festival is presented by UCR's French Program and the Department of Comparative Literature and Foreign Languages.
This year's theme highlights films that explore changing identities across a variety of landscapes, from the streets of Paris to Mediterranean shores, said graduate student Regina Yung Lee, festival organizer.
"Our films deal with defining the self within shifting contexts, what happens when those borders are rearranged by devastation or change or loss, and how some very fascinating people live out their lives within and beyond these revolutionary moments," Yung Lee said.
The films are:
Feb. 11 - "The Class" ("Entre les murs")
- The winner of the 2008 Palme d'Or at Cannes, this unsparing, unsentimental film, directed by Laurent Cantet, is about a teacher attempting to teach the French language to his multi-ethnic students, many of whom hail from former colonized countries. In an unusual example of art imitating life, the film was based on the best-selling book by real-life teacher François Bégaudeau and is a hybrid documentary-and-narrative work.
Feb. 17 - "Love Songs" ("Les chansons d'amour")
- This modern musical set in present-day Paris is sensual and minimalist. Ismaël and his live-in girlfriend, Julie, open their relationship to include Ismaël's coworker Alice. Then tragedy strikes and Ismaël's life is upended.
Feb. 18 - "I've Loved You So Long" ("Il y a longtemps que je t'aime")
- Featuring a beautiful and subtle performance by Franco-British actress Kristin Scott Thomas, this film is about a woman re-acclimating to life outside of prison. Scott Thomas plays Juliette Fontaine, who is taken in by her younger sister, literature professor Léa. Tension increases as the reasons for Juliette's absence are revealed.
Feb. 24 - "The Beaches of Agnes" ("Les plages d'Agnes")
- On the eve of her 80th birthday, Agnès Varda, often referred to as "the godmother of the French New Wave," decided to make the autobiographical "The Beaches of Agnes," guiding us through her extraordinary 55-year career and poignantly reminiscing about her husband, the filmmaker Jacques Demy (best known for "The Umbrellas of Cherbourg"), who died of AIDS in 1990 — information that Varda makes public here for the first time.
Feb. 25 - "The Secret of the Grain" ("La graine et le mulet")
- The Best Film winner at Cannes, this drama takes place in the southern French city of Sète, where the patriarch of a large and vivacious North African family is an elderly dockworker. When his job of many years is suddenly no longer secure, he decides to restore an old boat in the harbor and turn it into a floating couscous restaurant. It's a wildly ambitious project, and the increasingly ailing Slimane will need the help of all of his family members to pull it off.
RELATED LINKS
ADDITIONAL CONTACTS
The University of California, Riverside (www.ucr.edu) is a doctoral research university, a living laboratory for groundbreaking exploration of issues critical to Inland Southern California, the state and communities around the world. Reflecting California's diverse culture, UCR's enrollment has exceeded 21,000 students. The campus opened a medical school in 2013 and has reached the heart of the Coachella Valley by way of the UCR Palm Desert Center. The campus has an annual statewide economic impact of more than $1 billion.
A broadcast studio with fiber cable to the AT&T Hollywood hub is available for live or taped interviews. UCR also has ISDN for radio interviews. To learn more, call (951) UCR-NEWS.