Contemporary Art for Contemporary Science
---
Contemporary Art for Contemporary Science
UC Riverside's Jim Isermann creates sculptures for campus Genomics Building and Dallas Cowboys Stadium.
(February 25, 2010)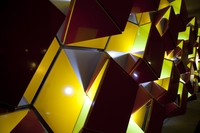 Enlarge
Photo by Cameron Crone
RIVERSIDE, Calif. – As planning for the state-of-the-art Genomics Building at the University of California, Riverside progressed, Natasha Raikhel was adamant: The 64,000-square-foot structure that would house research for a contemporary science – genomics – must have contemporary art. And she knew the artist she wanted – Jim Isermann, professor of art and a longtime creator of large public art installations, including a spectacular 35-foot-tall chandelier in the Genentech Hall at UC San Francisco.
Today, two spectacular arrangements of red, orange, yellow and silver powder-coated steel and aluminum modules welcome researchers to the Institute for Integrative Genome Biology – one grouping of 65 modules that fills an exterior wall near the main entrance and a vertical array of 15 modules that rises more than 20 feet from the atrium floor. At night, cool LED lights in the folded-metal project turn the yellow pieces green.
"Art and science are very connected in our lives," said Raikhel, distinguished professor of plant cell biology and a former classical musician. "As scientists in Leningrad, now St. Petersburg, Russia, art was part of our lifestyle. We read and discussed literature, we visited art museums and went to concerts. In the U.S., the pressure to succeed as a scientist is very high, and often people do not have time to enjoy the arts. Art allowed me to see things in a bigger way. I used to send my postdoctoral researchers to museums. I wanted them to appreciate that there is a beauty in everything, in both art and science."
Isermann said the shapes in the folded-metal project don't refer to anything from genomics research in particular, but were influenced by geometric shapes of molecular structure and its illustration. "A lot of my work deals with repetition of mathematical algorithms and shape," he said. "The pieces were scaled to the size and geometry of the building."
The exterior piece hangs on a grid system that is aligned to the building's windows, he said.
Isermann, whose artwork has been exhibited in Europe, New York and Los Angeles, said he met with Raikhel and some of her researchers six years ago "to look at the way plant biology is rendered," then created paper models that fabricators later translated into yellow steel and red aluminum modules. Each of the two installations features two sets of spirals, which Isermann said relate to illustration of molecular structure.
"This project is very important to me because it's on the campus where I teach," he said. "These pieces are made for the person who goes to work in the building every day. The pattern is complex enough that you don't see it all at once. It's not initially read as art; it's read as something integral to the building."
Isermann said he has been interested in the crossover between industrial commercial design and fine art for 30 years. His newest commissioned project is a vacuum-formed, styrene wall measuring 40 feet by 96 feet that he installed in early February at the Dallas Cowboys Stadium.
Raikhel said she has heard glowing reviews from researchers who have visited the Genomics Building. "This is a contemporary science; we have contemporary art," she said.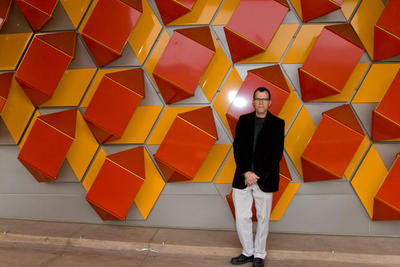 Enlarge
Jim Isermann stands in front of the exterior sculpture at the Genomics Building.
- Photo by Steve Brazil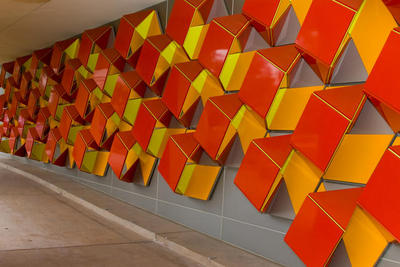 Enlarge
RELATED LINKS
ADDITIONAL CONTACTS
The University of California, Riverside (www.ucr.edu) is a doctoral research university, a living laboratory for groundbreaking exploration of issues critical to Inland Southern California, the state and communities around the world. Reflecting California's diverse culture, UCR's enrollment has exceeded 21,000 students. The campus opened a medical school in 2013 and has reached the heart of the Coachella Valley by way of the UCR Palm Desert Center. The campus has an annual statewide economic impact of more than $1 billion.
A broadcast studio with fiber cable to the AT&T Hollywood hub is available for live or taped interviews. UCR also has ISDN for radio interviews. To learn more, call (951) UCR-NEWS.