March 4 Day of Action Loud at UCR
---
Spirited Rally Made the Point: Fund Education
In statewide effort, UC Riverside demonstrators were large, loud and also, peaceful
(March 5, 2010)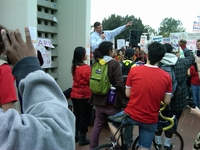 Enlarge
Chancellor Timothy P. White points north toward Sacramento and asks demonstrators to shout "Fund Education." They did. Photo by Cindy Giorgio
RIVERSIDE, Calif. (www.ucr.edu) -- Crowds of demonstrators at UC Riverside were spirited and peaceful during the March 4 Day of Action for Education, a statewide effort to raise awareness about the need for more state support for schools.
The Inland area group included hundreds of UCR students, staff and faculty members, many wearing red t-shirts or red armbands. They were joined by labor organizers and other local college students. The crowd ranged from a few hundred to a peak of perhaps 1,000 people.
Picketers, speakers, drummers, singers and even dancers chanted, exhorted and performed during the day at events that started at the carillon tower at 11 a.m. and moved to the ARTSblock in downtown Riverside.
Student organizers repeatedly called for an orderly, nonviolent protest, and even had their own security detail to make sure that marchers stayed safe.
At one point, Chancellor Timothy P. White was invited to address the group. "I stand with you. I stand with our faculty. I stand with our workers. I stand with our administration. We are working night and day to turn things around." He said.
He asked the crowd to turn north to Sacramento and yell, 'Fund education.'" They did. "Say it again." They did. "One more time." The crowd yelled again. "The success we have today will help those still to come. I'm proud of you. I'm proud of you. I'm proud of you."
In a letter to campus the following day, he wrote, "I saw many picket signs at the rally - some serious, some crude, and some with erroneous facts. I was moved by one of the signs, which poignantly stated, 'I'm here for my little sister.' Our students realize this isn't all about them, but rather the generations yet to come through the great halls of UCR to take their place as our future leaders."
Among other speakers that day, Stephanie Kay, a lecturer in the Writing Program, said fee increases amount to privatizing the UC system. "We must fight for our rights. Make noise. Don't be passive." She encouraged students to write and get their parents to write letters to UCR administrators and legislators.
Students talked about the impact of working three jobs and losing sleep in order to pay for college. A librarian said he is a product of the UC system and has worked here for 10 years urged the students to ask for restoration of library hours that have been cut. "You want more hours, you ask for it. Don't forget, we want to see you in there."
By the time marchers arrived in downtown Riverside, police presence was high but because the demonstrators were orderly, there were no arrests. By 5:30 p.m. the group was down to a core of about 30 people, dancing to the beat of drums outside the UCR/California Museum of Photography.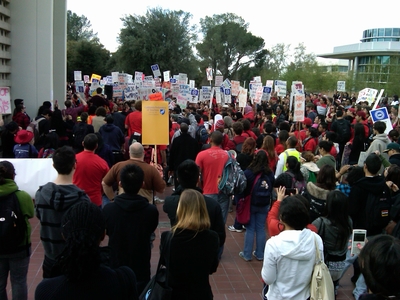 Enlarge
Students, staff and faculty gather at the bell tower for a statewide Day of Action to call for more funding for education.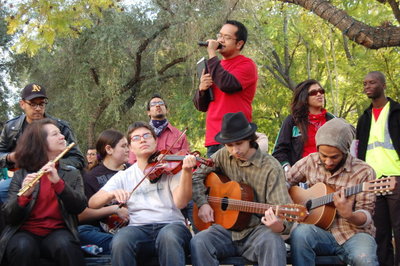 Enlarge
UCR staff member Mike Atienza sings with a performing group called "Orkes Pantai Barat" as part of the demonstration on the downtown mall. Photo by Alexandra Anaya.
The University of California, Riverside (www.ucr.edu) is a doctoral research university, a living laboratory for groundbreaking exploration of issues critical to Inland Southern California, the state and communities around the world. Reflecting California's diverse culture, UCR's enrollment has exceeded 21,000 students. The campus opened a medical school in 2013 and has reached the heart of the Coachella Valley by way of the UCR Palm Desert Center. The campus has an annual statewide economic impact of more than $1 billion.
A broadcast studio with fiber cable to the AT&T Hollywood hub is available for live or taped interviews. UCR also has ISDN for radio interviews. To learn more, call (951) UCR-NEWS.