Journalist to Discuss Iran
---
Journalist Reese Erlich to Discuss Iran
UC Riverside will host a panel on April 1 on Iran's nuclear weapons potential the democracy movement and Obama's role.
(March 30, 2010)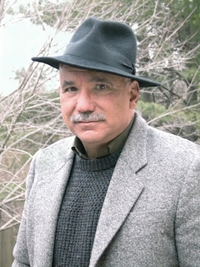 Enlarge
Reese Erlich
RIVERSIDE, Calif. – Acclaimed investigative reporter, broadcast journalist and best-selling author Reese Erlich will speak at UC Riverside on Thursday, April 1, at 7:30 p.m. about Iran, it's potential development of nuclear weapons and the possibility of war and its consequences. He also will discuss how President Obama should deal with the challenges Iran presents in a region vital to U.S. interests.
The event is free and will be held on campus in the Barn (#358 on the UCR
campus map
). Parking costs $5.
Erlich's speech, "Obama's Challenge: Iran, Nuclear Weapons and the Fate of the Middle East," is co-sponsored by KUCR 88.3FM and the university's Highlander newspaper and will be followed by a panel discussion representing diverse viewpoints. The panelists include:
- Larry Greenfield, a fellow at the Claremont Institute, where he writes and lectures on national security issues. He is also the executive director of the Reagan Legacy Foundation. Greenfield is a member of the California Republican Party Executive Committee and a former director of the Republican Jewish Coalition. He recently lectured on missile defense and the threat of Iranian proliferation at the Jerusalem Conference in Israel. Greenfield earned his bachelor's degree from UC Berkeley and his law degree the Georgetown University Law Center.
- Christopher Records, a fourth-year history major at UC Riverside. His commentaries, op-eds and editorials have appeared in the Highlander, UCR's student newspaper, for four years. He started with the Highlander as a freshman and is as the editor of the Opinion section. His op-eds cover a variety of subjects, including foreign policy.
- Scott Horton, host of Antiwar Radio for KAOS Radio 95.9 FM in Austin, Texas, and Antiwar.com, where he is also assistant editor. Horton, a Libertarian, has conducted more than 900 interviews with journalists, politicians, pundits, lawyers and experts on foreign policy and wartime law. Guests have included Eric Margolis, Ron Paul, Ray McGovern, Daniel Ellsberg, Russel Means, John Cusack, Pat Buchanan, Noam Chomsky, Lew Rockwell, Patrick Cockburn, James Bamford, Sibel Edmonds, Glenn Greenwald, Andrew Bacevich, Robert A. Pape, and near weekly appearances by Gareth Porter. Horton won the Austin Chronicle's Best of Austin" award and Best Iraq War Insight and Play by Play for Antiwar Radio in 2007. In 2004, Horton served as foreign policy adviser to Libertarian Party presidential candidate Michael Badnarik.
The event will be moderated by Joe Totten, Highlander newspaper business manager, and Louis Van Den Berg, general manager of KUCR radio.
Reese Erlich is the author of "The Iran Agenda: The Real Story of U.S. Policy and the Middle East Crisis," "Target Iraq: What the News Media Didn't Tell You" and "Dateline Havana: The Real Story of U.S. Policy and the Future of Cuba." He also produced a one-hour public radio documentary, "The Struggle for Iran."
In June 2009 he covered the elections in Iran, when more than an estimated one million pro-democracy demonstrators marched through the streets of Iran. Previously, Erlich had traveled to Iran with the actor Sean Penn. Erlich's photos accompanied Penn's five-part series about the trip that appeared in the San Francisco Chronicle and later in an A&E biography of Penn.
Erlich's career in journalism goes back more than 40 years, beginning at Ramparts, a national, investigative reporting magazine published in San Francisco, followed by a stint teaching journalism at Bay Area universities for 10 years. He is a Peabody Award-winning broadcaster and produced acclaimed radio documentaries, which have aired internationally, including "The Russia Project," "Reaching for Peace in the Holy Land" and "Lessons from Hiroshima 60 Years Later," all hosted by Walter Cronkite, the legendary CBS news anchor. His documentary "Children of War" was hosted by Charlayne Hunter Gault of NPR and PBS. He reports regularly for a variety of radio networks, including NPR, CBC, ABC (Australia), Radio Deutsche Welle, as well as KQED Radio News and The California Report.
His newspaper articles have appeared in numerous papers in the United States and around the world, including the Christian Science Monitor, the San Francisco Chronicle, St. Petersburg Times, The New York Times Syndicate, Dallas Morning News, and the Chicago Tribune.
KUCR 88.3FM
is UCR's broadcast voice of student expression, on the air continuously since 1966. KUCR is in the Student Affairs Division at UCR. The
Highlander
newspaper was first published in 1954.
RELATED LINKS
ADDITIONAL CONTACTS
The University of California, Riverside (www.ucr.edu) is a doctoral research university, a living laboratory for groundbreaking exploration of issues critical to Inland Southern California, the state and communities around the world. Reflecting California's diverse culture, UCR's enrollment has exceeded 21,000 students. The campus opened a medical school in 2013 and has reached the heart of the Coachella Valley by way of the UCR Palm Desert Center. The campus has an annual statewide economic impact of more than $1 billion.
A broadcast studio with fiber cable to the AT&T Hollywood hub is available for live or taped interviews. UCR also has ISDN for radio interviews. To learn more, call (951) UCR-NEWS.