Company Licenses UCR Technology
---
Nano Engineered Applications, Inc. Acquires Exclusive License to UC Riverside Technology
Company to commercialize new technology to detect and measure chemical agents
(April 1, 2010)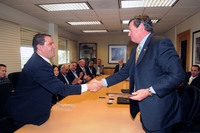 Enlarge
Amro Albanna, CEO of Nano Engineered Applications, Inc. and Avisio, Inc. (left) and Chancellor Timothy P. White at a signing ceremony. (Photo credit: Michael J. Elderman)
RIVERSIDE, Calif. –- (www.ucr.edu)– Nano Engineered Applications, Inc. (NEA), a majority owned subsidiary of Avisio, Inc. (Pinksheets:AVIC – News), has acquired an exclusive license to a patent pending chemical detection technology from UC Riverside. NEA will be a new start-up company located in Riverside, California.
UCR's technology is based on a novel cost-effective and scalable fabrication technique which can functionalize carbon nanotubes with desired sensing materials for creation of high density devices that can detect minute quantities of environmentally sensitive substances.
The technology makes use of carbon nanotubes, tubular carbon molecules that resemble a rolled up sheet of graphite 100,000 times finer than a human hair. Named in 1991, carbon nanotubes have a large surface-to-volume ratio and unique electrical properties, which make them promising materials for the development of the next generation of chemical gas sensors.
"Our goal is to deliver airborne chemical substrate detection and identification systems with superior sensing performance by utilizing novel and cost-effective manufacturing techniques," said Amro Albanna, CEO of Nano Engineered Applications, Inc. and Avisio, Inc. "We believe our chemical detection technology will enter the market as a disruptive technology, providing an array of customers with options not available today."
Funded in part by a grant from the U.S. Department of Defense and developed by Nosang Myung, Ph.D., an associate professor in the Department of Chemical and Environmental Engineering, the technology addresses the key chemical and gas detection needs of a broad spectrum of industries, including commercial, industrial, security and the military.
"This is an example of a great success story and partnership," said Craig Sheward, Assistant Vice Chancellor for Technology Commercialization at UCR. "A local commercialization company (Avisio), funding a start-up company (NEA) which will be located in Riverside, based on UCR's intellectual property, all for the benefit of bringing the technology to market and assisting in the economic development of Riverside. We are fortunate to have a company such as Avisio willing to take a chance on a new technology that could be the next big breakthrough in detecting chemicals quickly and safely."
Eric Tonui, the licensing officer for this technology at UCR, said "NEA has identified a significant underserved niche market in the chemical detection space with enormous profit potential. The company is poised to capture a first mover advantage in this space."
Nano Engineered Applications and UC Riverside conducted a demonstration of the technology at a March 31 signing ceremony, which was attended by UC Riverside Chancellor Timothy P. White, a representative of the Mayor's office, and executives from Avisio.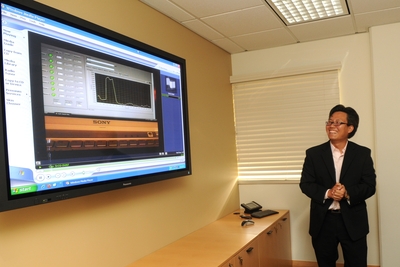 Enlarge
Nosang Myung, an associate professor in the Department of Chemical and Environmental Engineering, explains his work. (Photo credit: Michael J. Elderman)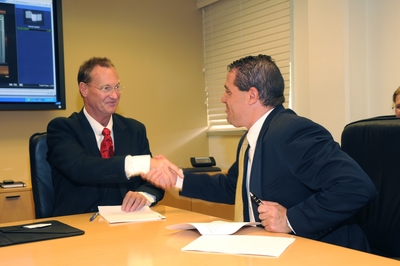 Enlarge
Assistant Vice Chancellor Craig Sheward is the person who handles technology licensing for UC Riverside. At right is Amro Albanna of Avisio, Inc. (Photo credit: Michael J. Elderman)
RELATED LINKS
ADDITIONAL CONTACTS
The University of California, Riverside (www.ucr.edu) is a doctoral research university, a living laboratory for groundbreaking exploration of issues critical to Inland Southern California, the state and communities around the world. Reflecting California's diverse culture, UCR's enrollment has exceeded 21,000 students. The campus opened a medical school in 2013 and has reached the heart of the Coachella Valley by way of the UCR Palm Desert Center. The campus has an annual statewide economic impact of more than $1 billion.
A broadcast studio with fiber cable to the AT&T Hollywood hub is available for live or taped interviews. UCR also has ISDN for radio interviews. To learn more, call (951) UCR-NEWS.