Earth Day Events
---
UCR Celebrates 40th Anniversary of Earth Day
Campus events will focus on sustainability of the planet from various perspectives.
(April 9, 2010)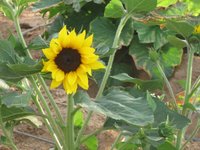 Enlarge
A sunflower growing in UCR's own Community Garden
RIVERSIDE, Calif. – As the 40th anniversary of Earth Day nears, the University of California, Riverside will present several events this month that address sustainability of the planet from the perspectives of preserving natural resources, public policy and impacts on human lives. Earth Day is April 22.
Earth Day Network organizers estimate that more than one billion people in 190 countries are planning activities this year that will promote a healthy and sustainable environment.
At UC Riverside those activities include:
Sustainable World Panel
: UCR's Center for Sustainable Suburban Development and the Public Policy Initiative will host "Earth Day: Toward A Sustainable World" on Thursday, April 22, in the continuing Randall Lewis Seminar Series. The seminar will be held at 5:30 p.m. in Conference Room E of the Extension Building, 1200 University Ave.
UCR faculty panelists will be: Michael Allen, professor and chair of the Department of Plant Pathology and Microbiology and chair of the Center for Conservation Biology, who will explore sustainability of habitats; Juliann Allison, associate professor of political science and associate director of CSSD, who will discuss sustainability through the reduction or elimination of inter- and intra-national conflict and terror; Linda Fernandez, associate professor of economics and environmental sciences, who will focus on water and natural resource sustainability; and Timothy Paine, professor of entomology, who will speak about the importance of agricultural sustainability and how it can be achieved.
Anil Deolalikar, associate dean of the College of Humanities, Arts and Social Sciences and CSSD director, will serve as moderator and will speak on sustainability through reduction of global poverty, hunger and disease.
"Most people normally think of sustainability in terms of natural resources, climate change and habitat preservation, but the future sustainability of the world depends on several other factors as well," Deolalikar said. "For instance, the world's population is expected to increase from around 6.5 billion today to more than 9 billion in 2050. This will have major implications for the environment, energy and nonrenewable natural resources. Also, a world in which there is widespread poverty, hunger, disease, and inter- and intra-national conflict is not a secure and sustainable world. Our panel will address these elements of sustainability, and will try to answer the question: What steps can we take to make the world more peaceful, secure and sustainable?"
The seminar is free, but registration is required. To register, go to
http://or.ucr.edu/event/index.aspx
or contact Judy Swineford at (951) 827-7945.
Global Warming
: Richard Minnich, professor of geography, will discuss "
Climate's Control of California Landscapes
" at 7 p.m. on Thursday, April 22, in Highlander Union Building 302.
Other Earth Week activities include:
-
Sustainable Building Design
: University architects will update the campus on progress to obtain Gold or Silver LEED certification for the Health Sciences building under construction, Tuesday, April 20, at 1 p.m. in HUB 367.
-
Sustainability Symposium
: A symposium spotlighting sustainability practices at UCR will be held on Thursday, April 22, from 9 a.m. to noon in HUB 367.
-
Sustainability Summit
: The 2nd annual Sustainability Summit is scheduled on Saturday, April 24, from 9 a.m. to 1 p.m. at A-I Residential Restaurant. Participants will explore what it means to be sustainable, recognize sustainability activities and work together to increase sustainability efforts on campus. Registration is required at
http://www.mypunchbowl.com/parties/835413-second-annual-ucr-sustainability-summit
.
Sustainability Workshop
: "Pathways to a Sustainable Society: A Workshop on the Many Dimensions of Sustainability" will be held on Thursday, April 15, at the UCR Extension Building, Conference Rooms A-B-C, 1200 University Ave. The workshop will begin at 8:15 a.m., with sessions continuing until 5:15 p.m.
Speakers for the workshop, which is hosted by UCR's College of Engineering-Center for Environmental Research and Technology and Environmental Research Institute, will include Susan M. Cischke, group vice president for sustainability, environment and safety engineering at Ford Motor Co.; Ty Schuiling, director of planning and programming for San Bernardino Associated Governments; Anil Deolalikar, professor of economics and associate dean of UCR's College of Humanities, Arts and Social Sciences; Michael Allen, professor and chair of UCR's Department of Plant Pathology and Microbiology; William A. Jury, UCR distinguished professor of soil physics and soil physicist emeritus; and Bart Croes, chief of the Research Division of the California Air Resources Board, who will speak at the workshop in collaboration with the Bourns College of Engineering's 20th Anniversary Distinguished Lecture Series.
While the workshop is free, registration is required. For more information and to register, go to
http://or.ucr.edu/event/index.aspx
This spring, UCR senior Fortino Morales, who played a key role in establishing a community garden on campus, is leading a 2-unit seminar on sustainable food systems with Joe Norbeck, professor of environmental engineering. The seminar focuses on local food systems to explore aspects of our global food system and its impacts on the environment, economy, and society.
Students will spend time at local organic farms and community gardens, pick oranges and distribute the fruit to food banks and community centers, and take "ecological devastation tours" to landfills. More information is available at
http://www.honors.ucr.edu/Courses/Spring2010.htm
.
A list of more Earth Week activities is at
http://sustainableucr.webs.com/earthweek2010.htm
.
The University of California, Riverside (www.ucr.edu) is a doctoral research university, a living laboratory for groundbreaking exploration of issues critical to Inland Southern California, the state and communities around the world. Reflecting California's diverse culture, UCR's enrollment has exceeded 21,000 students. The campus opened a medical school in 2013 and has reached the heart of the Coachella Valley by way of the UCR Palm Desert Center. The campus has an annual statewide economic impact of more than $1 billion.
A broadcast studio with fiber cable to the AT&T Hollywood hub is available for live or taped interviews. UCR also has ISDN for radio interviews. To learn more, call (951) UCR-NEWS.