Clandestine Publications from Poland
---
Clandestine Publications from Poland Featured in UCR Exhibit
Campus librarian Gwido Zlatkes witnessed the birth of Solidarity.
(April 22, 2010)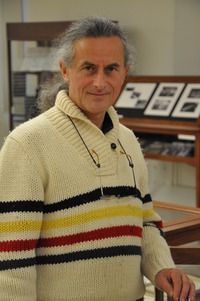 Enlarge
Gwido Zlatkes
RIVERSIDE, Calif. – Gwido Zlatkes was a poet working in Poland's vibrant experimental theater movement in the months before widespread strikes paralyzed the nation in the summer of 1980.
As the striking committee and Communist Party leaders met Aug. 31 in the Gdansk Shipyard to sign an accord that quickly led to the creation of the Solidarity union – the first independent trade union in the Communist bloc – Zlatkes was there, too, together with his theater colleagues.
"I saw Lech Walesa signing the accord with his huge ball pen in a room containing a portrait of the pope, John Paul II," said Zlatkes, associate librarian in Special Collections and Archives at the University of California, Riverside. "It was a tremendous moment. I was lucky to be there at the right time and the right place."
Shortly after that Zlatkes began working for Solidarity as a journalist.
Issues of Tygodnik Mazowsze and other underground publications for which he wrote during Solidarity's rise to political power and nearly a decade of martial law that followed are featured in an exhibit, "Clandestine Publications in Poland, 1970s and 1980s," that is on display through May in UCR's Tomás Rivera Library. The exhibit is located in the lobby of the main floor and on the fourth floor in Special Collections.
The Rivera Library is open from 7:30 a.m. to 10 p.m. Monday through Thursday, 7:30 a.m. to 5 p.m. on Friday, 10 a.m. to 5 p.m. on Saturday, and 1 p.m. to 10 p.m. on Sunday. Hours for Special Collections are 9 a.m. to 5 p.m. Monday through Friday.
Also part of the exhibit are photos of leading Polish dissidents from that era – often together with Zlatkes – as well as disinformation leaflets published on him by the Communist secret police and a rare book of poetry by the late Zbigniew Herbert, all from Zlatkes' private archive. The exhibit is the eighth in the on-going series "UCR Librarians as Collectors."
Underground publications from the period appeared in three forms, Zlatkes said: Those that were published and printed in the West and smuggled into Poland, called tamizdat; those that were published and printed in Poland underground, known as samizdat; and cassettes of songs, sermons by Pope John Paul II, and theatrical performances critical of the Communist state, referred to as magnit-izdat.
A leader in the draft resistance movement Freedom and Peace Movement – the first independent peace group in the communist world – Zlatkes was arrested several times in the days before the opening of an international peace conference in Warsaw in May 1987.
He wrote at various times for the most influential publications of resistance and later briefly worked as a foreign desk editor for Gazeta Wyborcza, which now is the second-largest newspaper in Poland with a circulation today of more than 670,000.
"There is a whole tradition of resistance in Poland from the early 19th century when Poland did not exist as a state, was partitioned between Russia, Prussia and Austro-Hungary," said Zlatkes, now a U.S. citizen. "When martial law was declared in 1981 people sought advice from their grandfathers who had during World War II fought the Germans with the underground Home Army in Poland. What was new Solidarity was that it was nonviolent. It took 10 years for the government to change, but nonviolence worked. Not just for us, but for most of eastern Europe."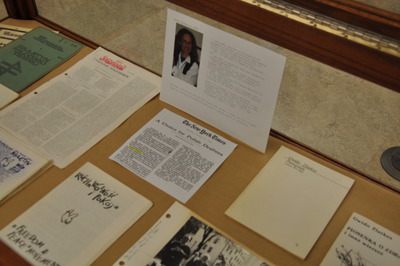 Enlarge
Clandestine publications from Poland are on display at UCR.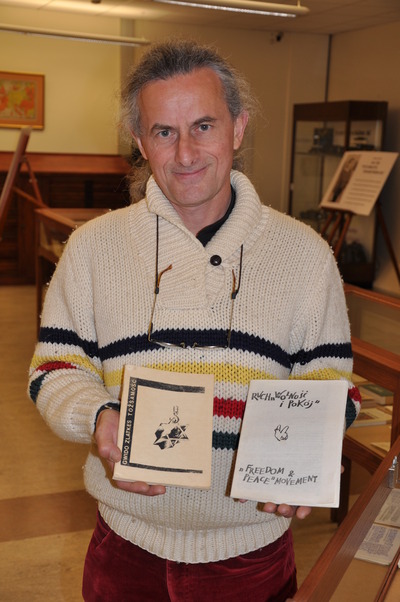 Enlarge
Gwido Zlatkes was present at the birth of Solidarity, the first independent trade union in the Communist bloc.
RELATED LINKS
ADDITIONAL CONTACTS
The University of California, Riverside (www.ucr.edu) is a doctoral research university, a living laboratory for groundbreaking exploration of issues critical to Inland Southern California, the state and communities around the world. Reflecting California's diverse culture, UCR's enrollment has exceeded 21,000 students. The campus opened a medical school in 2013 and has reached the heart of the Coachella Valley by way of the UCR Palm Desert Center. The campus has an annual statewide economic impact of more than $1 billion.
A broadcast studio with fiber cable to the AT&T Hollywood hub is available for live or taped interviews. UCR also has ISDN for radio interviews. To learn more, call (951) UCR-NEWS.