UC Riverside Plant Cell Biologist Receives Top Scientific Honor
---
UC Riverside Plant Cell Biologist Receives Top Scientific Honor
Jian-Kang Zhu is elected member of the prestigious National Academy of Sciences
(April 27, 2010)
NEWS MEDIA CONTACT
Name:

Iqbal Pittalwala


Tel:

(951) 827-6050


E-mail:

iqbal@ucr.edu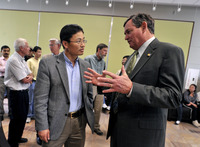 Enlarge
Jian-Kang Zhu and Chancellor Timothy White (right) at a reception held in Zhu's honor at UC Riverside, April 27, 2010. Photo credit: UCR Strategic Communications. (More photos below.)
RIVERSIDE, Calif. –
Jian-Kang Zhu
, an internationally renowned plant cell biologist at the University of California, Riverside, has been elected a member of the National Academy of Sciences (
NAS
) for his excellence in original scientific research.
Membership in the NAS is one of the highest honors given to a scientist or engineer in the United States. Zhu will be inducted into the academy next April during its 148th annual meeting in Washington, D.C.
"Jian-Kang Zhu's election to the National Academy of Sciences reflects the esteem in which he is held by his colleagues, locally, nationally, and internationally," said Thomas Baldwin, the dean of UCR's
College of Natural and Agricultural Sciences
. "It also highlights the quality of the faculty here in the college."
Zhu, elected along with 71
others
, brings the number of current UCR faculty elected to NAS to five. Four additional UCR faculty members who received the honor are deceased; one faculty member who received the honor when he was at UCR is now at UC Irvine.
There are currently just over 2,000 active NAS members. Among the NAS's renowned members are Albert Einstein, Robert Oppenheimer, Thomas Edison, Orville Wright, and Alexander Graham Bell. More than 180 living NAS members have won Nobel Prizes.
"This award for Dr. Zhu demonstrates the significance of his research to the scientific community," said Jodie Holt, the chair of the
Department of Botany and Plant Sciences
. "Many scientists come from around the world to work in his laboratory, which is further evidence of his expertise and reputation."
One of the most important distinguishing features of plants is that they are sessile and thus have to endure environmental challenges. Zhu, a professor of plant cell biology, focuses on researching the molecular genetic mechanisms underlying plant responses to adverse environments such as salinity, drought and low temperature. His work has led to the identification of genes for modifying the responses of crops to environmental stresses, which will ultimately lead to major contributions to agriculture and the environment.
Zhu and his colleagues have used the model plant
Arabidopsis
to create mutants that are "salt overly sensitive" (SOS). By cloning and characterizing the SOS genes, they have been able to describe a signaling pathway that mediates the response of Arabidopsis to high salinity. Zhu has also played a leading role in the genetic analysis of how plants respond to low temperature (cold) stress and has already discovered several novel regulators of cold-responsive genes important in chilling and freezing tolerance. Recently, the Zhu lab has focused on the mechanisms of transcriptional gene silencing and the role of epigenetic gene regulation in stress adaptation.
The Zhu lab uses a combination of genetic, biochemical, genomic and proteomic approaches to analyze various levels of gene regulation (chromatin level/epigenetic, transcriptional, posttranscriptional, and protein activity) and to understand stress signaling and stress tolerance.
"Professor Jian-Kang Zhu is the preeminent leader in the molecular genetics of plant stress," said Natasha Raikhel, the director of the
Institute for Integrative Genome Biology
of which Zhu is a member. "He understands the importance of fundamental research and its far-reaching impact on agriculture and the environment. Few of us see our discoveries quickly translated into teaching material, and yet many aspects of Jian-Kang's studies are already featured in textbooks. We are most proud of Jian-Kang's election to the NAS!"
Zhu received his B.S in 1987 from Beijing Agricultural University. He is an alumnus of UCR, from where he earned his master's degree in 1990. He received his doctoral degree from Purdue University in 1993.
He is a fellow of the American Association for the Advancement of Science and a member of the American Society of Plant Biologists. His many honors and awards include being the most-cited plant scientist in the United States during 1997-2007, as reported by Thomson Reuters in 2008. He received the Charles Albert Shull Award from the American Society of Plant Biologists in 2003 and the Distinguished Agricultural Alumni Award at Purdue University in 2005.
"It is gratifying that our research is recognized by the NAS," Zhu said. "I am grateful to my family for their support and to members of my laboratory for their contribution to our research."
Currently,
Zhu
has an appointment also at the King Abdullah University of Science and Technology, Saudi Arabia, where he is the director of the Plant Stress Genomic and Technology Research Center and a Named Professor of Molecular Biology and Plant Physiology.
The NAS is a private, nonprofit honorific society of distinguished scholars engaged in scientific and engineering research, dedicated to the furthering science and technology and to their use for the general welfare. Established in 1863, the academy has served to "investigate, examine, experiment, and report upon any subject of science or art" whenever called upon to do so by any department of the government.
The University of California, Riverside (www.ucr.edu) is a doctoral research university, a living laboratory for groundbreaking exploration of issues critical to Inland Southern California, the state and communities around the world. Reflecting California's diverse culture, UCR's enrollment has exceeded 21,000 students. The campus opened a medical school in 2013 and has reached the heart of the Coachella Valley by way of the UCR Palm Desert Center. The campus has an annual statewide economic impact of more than $1 billion.
A broadcast studio with fiber cable to the AT&T Hollywood hub is available for live or taped interviews. UCR also has ISDN for radio interviews. To learn more, call (951) UCR-NEWS.