Students Pitch in to Help the Community
---
Students Go Beyond Campus Boundaries to Help the Community
UC Riverside students find reward in assisting others, including a May 2 trek up Box Springs Mountain to clean up graffiti.
(April 27, 2010)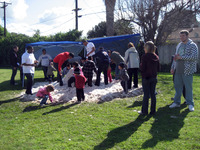 Members of all UCR fraternities participated in an event that brought snow to the young students of the Sunshine Special Education School in Riverside last March.


Last fall, UCR sophomore Jose Fletes walked into Restore, a local store run by the nonprofit housing organization Habitat for Humanity. He was looking for furniture for his apartment but the sales pitch included an invitation to get involved.
It was an offer that appealed to the business administration major's passion for community service and a few weeks later he showed up to help with a Habitat for Humanity event.
He is now president of UCR's chapter of Habitat for Humanity, which has grown from almost none to 45 members in just a few months. The group recently answered the call to help install an irrigation system at a Habitat house in Rubidoux and visited a local elementary school to read to young students when a Habitat for Humanity board member asked for help with the Read Across America event.
Volunteers like Fletes, who volunteered in his community in high school as well, are crucial to helping Habitat for Humanity achieving is goal of providing affordable housing for all.
"We really depend on volunteers because it greatly reduces the cost of the houses being built, said Sim Mai, a 2009 UCR business administration major. "The UCR chapter helps with fundraising, volunteering and getting the word out about what we do."
There are 32 organizations on campus that are listed as service oriented, with projects that include visiting local schools and hospitals, providing friendship and companionship to local seniors or the emotionally disabled or providing health care to the underprivileged. Many other organizations, including fraternities and sororities, include community service as part of their membership requirements.
"Our students want to make a difference in the community that they live and study in," said Susan Allen Ortega, dean of students.
And she added, studies show that participation in community service also has significant positively affects students' academic performance, helps with the development of insights and understanding of an array of social issues and as well as leadership abilities, and is a strong indicator of continued community service after college."
On May 2, a group of fraternity and sorority students from campus will trek up the trail to the "C" on Box Spring Mountain to clean up graffiti. They will meet at 11 a.m. at the bottom of the mountain off of Big Springs Road past the train tracks.
The service event is being organized by David Tieu, president of the UC Riverside Lambda Alpha Chapter of Pi Kappa Alpha International. His goal is to change the negative perceptions many people have about Greek organizations.
"I want to turn the stereotype around and show that we are capable of doing many great things," said Tieu, a junior majoring in public administration.
Tieu said community service is a big part of the organization. They work with Habitat for Humanity and frequently helping out at local schools, even having snow brought in so young student of Sunshine Special Education School in Riverside could have a snow day.
Students in UCR's University Honors Program are required to take part in community service as part of the participation in the program.
Paige Stevens, a sophomore majoring in biology, is the president of the UCR chapter of Project Josh and Friends, a national organization that provides comfort to children who have been hospitalized at Loma Linda University Medical Center.
The group holds fund-raising events to purchase Josh, a stuffed golden retriever and the accompanying book "I'll Be Okay," which tells the story about a golden retriever who has to go to the vet to have some tests done.
Students deliver those items to the young patients, who are often scared and confused about why they have been hospitalized.
Stevens said she always comes away from her community service feeling good about the work, which can benefit the families of the children as well.
"Every time I go volunteer I leave with a smile on my face knowing that some child's life is being changed, she said.
She said in one case a family was feeling frustrated because doctors were having a hard time diagnosing their child's illness and were considering moving the child to a different facility. The family was in the room when a member of the UCR chapter showed up with the stuffed puppy and the book.
"It really turned them around," said Stevens, who hopes to follow in her mother's footsteps to become a pediatrician "It made them say to themselves, 'They understand that my child is scared and that my child needs a friend.' It also made 100 percent difference in that child's ability to have a positive mentality about the hospital experience."
To those who are considering community service but haven't taken the leap:
"You will never regret getting involved," said Stevens. "It's great hands-on experience and it's very fulfilling, very amazing to get involved."
The University of California, Riverside (www.ucr.edu) is a doctoral research university, a living laboratory for groundbreaking exploration of issues critical to Inland Southern California, the state and communities around the world. Reflecting California's diverse culture, UCR's enrollment has exceeded 21,000 students. The campus opened a medical school in 2013 and has reached the heart of the Coachella Valley by way of the UCR Palm Desert Center. The campus has an annual statewide economic impact of more than $1 billion.
A broadcast studio with fiber cable to the AT&T Hollywood hub is available for live or taped interviews. UCR also has ISDN for radio interviews. To learn more, call (951) UCR-NEWS.