UCR's Thomas Miller Receives Jefferson Science Fellowship
---
U.S. Department of State Names UCR Entomologist a Jefferson Science Fellow
Thomas Miller will spend a year in Washington, D.C., to offer expertise on application of biotechnology to pest and disease problems around the world
(April 29, 2010)
NEWS MEDIA CONTACT
Name:

Iqbal Pittalwala


Tel:

(951) 827-6050


E-mail:

iqbal@ucr.edu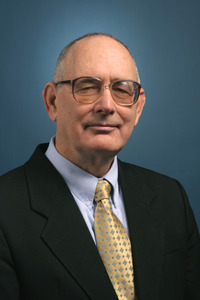 Enlarge
Thomas Miller is a professor of entomology at UC Riverside. Photo credit: UCR Strategic Communications.
RIVERSIDE, Calif. –
Thomas Miller
, an internationally recognized expert at the University of California, Riverside on insect physiology, toxicology, and genetics, has been chosen by the U.S. Department of State to receive a 2010-2011
Jefferson Science Fellowship
. Miller is one of only ten persons selected for the fellowships this year.
Successful applicants undergo a rigorous selection process, are highly accomplished in fields of science and engineering relevant to the State Department, and are ready to engage in foreign policy issues.
As a fellow, Miller, a professor of
entomology
, will spend a year in Washington, D.C., during which he will advise State Department officials on issues of science and technology. Specifically, he will assist the Department of State as it formulates and implements foreign policy on matters related to biotechnology and entomology. He also will discuss his expertise with non-specialists and the general public, providing advice and education, and may travel to U.S. embassies as necessary.
"I am delighted and honored to be awarded a Jefferson Science Fellowship," Miller said. "Tenure as a Jefferson Science Fellow will allow me to pursue the application of biotechnology to pest and disease problems around the world. Several of the projects I am working on are already of interest to the State Department."
Miller, who came to UC Riverside in 1969, began his research studying the physiology of the insect circulatory system. He is credited with discovering the function of cardiac neurons in the cockroach heart. As a graduate student (at UCR), he discovered the myogenicity of insect heartbeat. He pioneered the use of neurophysiology to study insecticide mode of action in houseflies. He also pioneered the mode of action of insecticides and the synaptic transmission in insects.
He also worked on applied aspects of pest management. He briefly studied insecticide resistance in and the physiology of cotton pests such as the pink bollworm, and worked on the physiology and toxicology of cotton pests for the California Cotton Pest Control Board. He revolutionized the rapid measurement of resistance to insecticides, diapause in pink bollworm and response to pheromones in cotton fields in Southern California. His laboratory genetically altered endosymbiotic bacteria of the walnut husk fly for use in perfecting bait treatments for fly management. His laboratory also performed the genetic transformation of pink bollworm.
Involved in regulatory policy at the highest levels, Miller stressed the use of biotechnology in agriculture to increase food production and improve food quality.
"By 2050 there will be three billion more people on Earth," he said. "There is not enough food to go around now, which is partly a distribution problem, but all experts say the amount of food we produce has to increase. It is not possible to do that with organic methods."
Miller is the recipient of many international awards and honors, including the Gregor Mendel Award for research in Biological Sciences, presented by the Czech Academy of Sciences; designation as a Verrall Lecturer in London; a NATO Fellowship, University of Glasgow; and being named a fellow of the Royal Entomological Society, London.
He has published more than 260 publications including 109 peer-reviewed journal articles; 27 edited books and monographs; and 43 invited book chapters and review articles. He has been awarded more than $6 million in extramural funding to support his research.
Miller will begin his tenure as a Jefferson Science Fellow in August 2010, when he and the other nine fellows this year will meet with the different regional bureaus and more topical divisions within the department. All Jefferson Science Fellowships are contingent upon awardees obtaining an official U.S. government security clearance.
The Jefferson Science Fellowship program is administered by the National Academies and supported through a partnership between the science, technology and engineering academic community in the United States; professional scientific societies; and the State Department. Fellows are U.S. citizens and tenured academic scientists and engineers from institutions of higher learning in the country.
Each fellow receives a $50,000 stipend from the U.S. Department of State for living expenses for a full year; an additional $10,000 is available to each fellow through the National Academies for travel associated with his/her assignment. In addition, fellows continue receiving salaries and benefits from their home institutions. After the fellows return to their institutions, they remain available as consultants to the State Department for an additional five years.
Named after Thomas Jefferson, the fellowship program is in its seventh year.
Miller is the second Jefferson Science Fellow at UCR. In 2004, toxicologist David Eastmond, currently the chair of the Department of Cell Biology and Neuroscience, received the fellowship.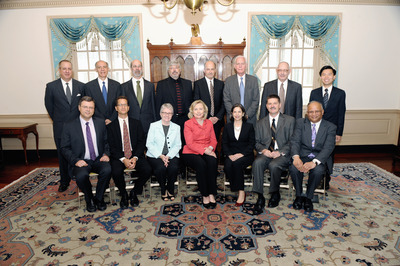 Enlarge
Photo, taken July 6, 2011, shows the 2010-2011 Jefferson Science Fellows with the Secretary of State. Thomas Miller, the first entomologist to be a Jefferson Science Fellow, is seen standing, second from the right. Photo credit: U.S. Department of State.
RELATED LINKS
ADDITIONAL CONTACTS
The University of California, Riverside (www.ucr.edu) is a doctoral research university, a living laboratory for groundbreaking exploration of issues critical to Inland Southern California, the state and communities around the world. Reflecting California's diverse culture, UCR's enrollment has exceeded 21,000 students. The campus opened a medical school in 2013 and has reached the heart of the Coachella Valley by way of the UCR Palm Desert Center. The campus has an annual statewide economic impact of more than $1 billion.
A broadcast studio with fiber cable to the AT&T Hollywood hub is available for live or taped interviews. UCR also has ISDN for radio interviews. To learn more, call (951) UCR-NEWS.