Wind Turbine Competition
---
Community College Students Compete in Wind Turbine Competition
Teams from Riverside and Mt. San Jacinto districts take part in competition aimed at drawing more students into science, technology, engineering and mathematics
(May 10, 2010)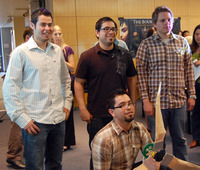 Enlarge
Members of the Mt. San Jacinto College (San Jacinto campus) team show off their wind turbine. The students, from left to right in the back row, are Uziel Hernandez, Javier Castaneda and Ryan Cooper. Diego Castaneda is in the front row.
RIVERSIDE, Calif. - (www.ucr.edu) - On Friday, the UC Riverside Bourns College of Engineering hosted six teams of Riverside and Mt. San Jacinto community college district students who designed and built model wind turbines with help from UCR students.
Nearly 50 students came to Bourns Hall to give oral presentations and, using a fan, demonstrate the effectiveness of their wind turbines.
Team 1 from Riverside City College won the competition. They were followed by Team 1 from the Mt. San Jacinto Menifee campus, the Moreno Valley College team, Team 2 from the Mt. San Jacinto Menifee campus, Team 2 from Riverside City College and the team from the Mt. San Jacinto campus in San Jacinto.
The project was created by the Bourns College of Engineering to promote a greater appreciation of engineering among students, and to enhance their understanding of engineering concepts and design principles, said Ravi Ravishankar, associate dean of student academic affairs at the Bourns College. He developed the project with former UCR graduate student Shadi Mahjoob.
The goal is to increase interest in areas such as engineering, science, and mathematics among high school and community college students, as well promote success among engineering undergraduates, Ravishankar said.
The project is funded by the Department of Education's College Cost Reduction and Accessibility Act, which pays for other activities at UCR under the
UCR STEM Pathway Project
. UCR has received $4.2 million of federal grants since 2008 to bring more Hispanic and low-income community college students into science, technology, engineering and mathematics (STEM) fields.
Nationally, Hispanic and low-income students are traditionally underrepresented in science, technology, engineering and mathematics labs, classrooms and the national work force. For example,
Science and Engineering Indicators 2010
, a National Science Board report, found that Hispanics account for only 4 percent of the nation's engineering and science work force.
Yet, at UCR, which U.S. News and World Report named the fifth most diverse major research university in the nation, Hispanic and low-income students represent about half the university's undergraduate population.
Bourns College of Engineering focused on wind turbine design because it combines many fields of science and engineering, including mechanical, electrical, aerodynamics, material engineering and physics and math, said Jun Wang, the professional development officer at the college who helped coordinate the projects and competition.
A student team under the direction of Wang developed prototypes of the design at UCR. During the past eight weeks, Wang and five UC Riverside undergraduate engineering students - Eugene O'Neill, Marcus Tang, Rianne Garrido, Adriana Figueroa and Garrett Marsala - visited the community college campuses to help students build their own turbines.
At Mt. San Jacinto's two campuses support was so strong that initial thoughts of fielding two teams morphed into three teams.
"When this opportunity came up, the students just jumped in," said Alex Cuatok, the student success coordinator at Mt. San Jacinto and the UCR/Mt. San Jacinto STEM liaison.
The partnership with UCR provides an experience Mt. San Jacinto students would not normally receive because the community college doesn't have an engineering program. The program seems to be working, Cuatok said. This year, 12 Mt. San Jacinto students applied to UCR and were accepted.
The following students competed Friday:
Mt. San Jacinto (Menifee campus): Team 1, Richard Santana (captain), Esmeralda Luna, Jovanny Santana, Antonio Banks, Agustin Maizares and Matt Wepplo; Team 2, Alejandro Rodriguez (captain), Adolfo Flores, Melissa Ramirez, Luis Rangel, Jerry Alvarez and Miguel Lopez.
Mt. San Jacinto (San Jacinto campus): Diego Castraneda (captain), Tammy Jimenez, Thuc Nguyen. Ryan Cooper, Javier Castaneda abd Uziel Hernandez.
Riverside City College: Team 1, Ashlee DeCarmo (captain), Brett Luekemeyer, Justin Wells, Nadia Dhahbi, Joshua Johnson, Brian Pena and Violeta Uy; Team 2, Elisha Malvido (captain), Roger Perkins, Marta Percolla, Brenda Cortez, Armando Contreras, Alberto Nunez, Gianni Johnson, Brian Murillo and Sarah Drobnack.
Moreno Valley College: Andrew Wilkins (captain), Javier Salazar, Luis Sequre, Enrique Gurrola, Shama Patel, Drew Parker, Alexis Amor, Margaret Kennedy-Ross, Ashley Robinson, Diana Santillanes, Talar Nahabedian and Enrique Gonzalez.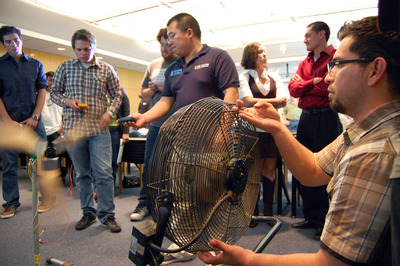 Enlarge
Diego Castanada of the Mt. San Jacinto College (San Jacinto campus) team holds the fan as the team's wind turbine is tested.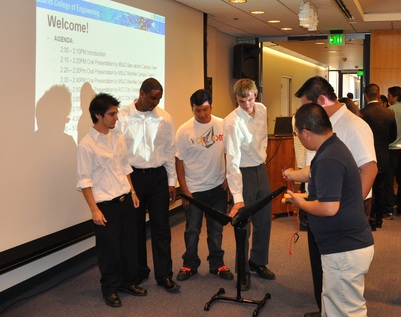 Enlarge
Members of Mt. San Jacinto Menifee campus team 1. The students, from left to right, are Jovanny Santana, Antonio Banks, Agustin Maizares, Matt Wepplo and Richard Santana.

RELATED LINKS
The University of California, Riverside (www.ucr.edu) is a doctoral research university, a living laboratory for groundbreaking exploration of issues critical to Inland Southern California, the state and communities around the world. Reflecting California's diverse culture, UCR's enrollment has exceeded 21,000 students. The campus opened a medical school in 2013 and has reached the heart of the Coachella Valley by way of the UCR Palm Desert Center. The campus has an annual statewide economic impact of more than $1 billion.
A broadcast studio with fiber cable to the AT&T Hollywood hub is available for live or taped interviews. UCR also has ISDN for radio interviews. To learn more, call (951) UCR-NEWS.