Ardi Co-discoverer To Give Talk at UC Riverside on Human Evolution
---
Co-discoverer of 4.4-million-year-old "Ardi" to Give Talk at UC Riverside on Human Evolution
Speaker Tim D. White is an internationally renowned paleoanthropologist and a UCR alumnus
(May 19, 2010)
NEWS MEDIA CONTACT
Name:

Iqbal Pittalwala


Tel:

(951) 827-6050


E-mail:

iqbal@ucr.edu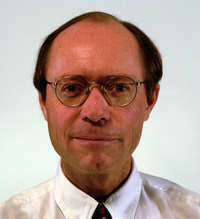 Enlarge
Tim D. White is a professor of integrative biology and the director of the Human Evolution Research Center at UC Berkeley. Photo credit: UC Berkeley.
RIVERSIDE, Calif. – The discovery of
Ardipithecus ramidus
or "
Ardi
," the 4.4 million-year-old female creature that may be a human ancestor, was named by the journal
Science
as the most important scientific breakthrough of 2009.
The public has an opportunity to learn about Ardi from Tim D. White, a UC Riverside alumnus, whose research team discovered this oldest known hominid and offered the world a snapshot of what Africa was like 4.4 million years ago
White will give the 2010 John and Betty Moore "Science as a Way of Knowing" lecture at UCR at 5:30 p.m., Thursday, May 27, in
University Extension Building
, Rooms C-E, 1200 University Avenue, Riverside, Calif.
In the lecture, titled "Human Evolution: A View From the Past," White will discuss what he and his international team deduced about Ardi from her partial skeleton, and what light it sheds on our understanding of human evolution.
The hour-long lecture, followed by a Q&A, is hosted by the
Department of Biology
. Admission and parking are free. A reception will follow the Q&A.
Ardi's fossils were first found in Ethiopia in 1992. White's team took 17 years to assemble and analyze Ardi's key bones and other fossils found with them. Resembling neither a human nor a chimpanzee (our closest living primate relative), Ardi lived in what is now the Afar region of Ethiopia. Her pelvic and foot bones helped scientists reconstruct how she walked. From a part of her cranium, parts of her jaw and a full set of teeth, they were able to ascertain Ardi's brain size and diet.
"All of a sudden you've got fingers and toes and arms and legs and heads and teeth," White said. "That allows you to do something you can't do with isolated specimens. It allows you to do biology."
Before the discovery of Ardi, the oldest fossil skeleton of a human ancestor was the 3.2-million-year-old partial skeleton of Lucy (
Australopithecus afarensis
), also discovered in Ethiopia.
A paleoanthropologist and a professor of integrative biology at UC Berkeley, White earned his undergraduate degrees in anthropology and biology at UCR in 1972. He studies human evolution, integrating both field work and laboratory studies. His research examines the skeletal biology and behavior of early hominids, as well as the environments in which early hominids lived. He is the director of the
Human Evolution Research Center
, UC Berkeley.
His lecture is sponsored by the Department of Biology, Department of Earth Sciences, Department of Anthropology, the College of Natural and Agricultural Sciences, the Office of the Chancellor, and Sigma Xi.
RELATED LINKS
ADDITIONAL CONTACTS
The University of California, Riverside (www.ucr.edu) is a doctoral research university, a living laboratory for groundbreaking exploration of issues critical to Inland Southern California, the state and communities around the world. Reflecting California's diverse culture, UCR's enrollment has exceeded 21,000 students. The campus opened a medical school in 2013 and has reached the heart of the Coachella Valley by way of the UCR Palm Desert Center. The campus has an annual statewide economic impact of more than $1 billion.
A broadcast studio with fiber cable to the AT&T Hollywood hub is available for live or taped interviews. UCR also has ISDN for radio interviews. To learn more, call (951) UCR-NEWS.