Rep. George Brown Archive Donated to UCR
---
Rep. George Brown Archive Donated to UCR
The visionary Inland congressman's papers provide details of a legislative career that championed the environment, science and technology, and human rights.
(May 24, 2010)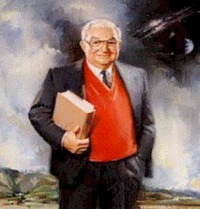 Enlarge
This painting of Congressman George Brown adorns a wall of the House Science Committee Hearing Room in the Rayburn House Office Building.
RIVERSIDE, Calif. – Rep. George Brown Jr., a lifelong Democrat who represented the Inland area in Congress for 14 terms, was a visionary who championed the environment, alternative energy, human rights and education. When he died in office in 1999 at the age of 79, he left an enviable legacy that included establishment of the Environmental Protection Agency, the Office of Science Technology Policy, Section 8 housing for low-income people and scholarships for veterans.
Details of that legacy – from his first political post as mayor of Monterey Park, Calif., to his chairmanship of the House of Representatives Science Committee – survive in 525 boxes and nine file cabinets of personal papers donated recently to the University of California, Riverside by his widow, Marta Brown.
Although other universities expressed interest in housing Congressman Brown's papers, Mrs. Brown said she chose UC Riverside because her husband was a UC graduate (UCLA) and represented portions of Riverside and San Bernardino counties in Congress for more than two decades.
"I donated George's papers to the university so students could have access to them, as well as policymakers," Mrs. Brown said. "So much of the work he was involved in during the 1960s and '70s is relevant now, particularly science and technology, and alternative energy. He was looking at other ways of generating energy because he could see that we would run out of natural resources."
Congressman Brown was a champion of science and served as an effective leader of science policy in the United States, said Anil Deolalikar, associate dean of the UCR College of Humanities, Arts and Social Sciences and director of the Public Policy Initiative.
"As chair of the House Science Committee, he was instrumental in establishing the EPA, the Office of Science and Technology Policy, and the Office of Technology Assessment. Several labs, libraries, and bills have been named in his honor, including the Salinity lab at UCR," Deolalikar said. "The donation of his papers to UCR will contribute greatly to the study of science policy formulation and implementation of the UCR School of Public Policy."
University Librarian Ruth Jackson said the congressman's papers will be especially useful to scholars and students engaged in environmental, energy, public policy and civil rights research.
"Congressman Brown was instrumental in planning for the future with renewable resources, such as wind and solar energy. He was instrumental in the passage of the Civil Rights Act of 1964 and was present when President Johnson signed it into law," Jackson said. "This is the first set of congressional papers we have undertaken to archive and preserve, and our interest in doing this is in recognition of his far-reaching legacy with California generally and environment issues at the state and national levels, and his interest in civil rights."
The university will hire two people, funded by a $140,000 donation from the Brown family, to inventory and index the collection. That process will begin in August and will take about two years to complete, Jackson said.
Born in Holtville, Calif., Brown attended El Centro Junior College before serving in the U.S. Army in World War II. After the war he attended San Bernardino Valley College, then graduated from UCLA in 1946 and worked for many years as a civil engineer.
His career in politics began with his election as mayor and city councilman of Monterey Park in 1954, positions he held through 1958, when he was elected to the California Assembly. He served in the Assembly from 1959 to 1962, and in 1963 was elected to Congress, representing East Los Angeles for four terms. He ran unsuccessfully in 1970 for the U.S. Senate, and in 1972 was elected to represent the Inland area in the House. He was serving his 14th term when he died July 15, 1999.
Brown was "an icon amongst those of us in the sciences," recalled former UCR Chancellor Ray Orbach, a close friend of the congressman. "He not only understood the importance of what we do to the prosperity of our country, he also goaded us to do better, to respond to society's challenges. He was a leader respected on both sides of the aisle. I remember fondly our early morning breakfasts together where he laid out his plans for the Science Committee, and our responsibilities as scientists to assist. He loved his job and his community. Though those that have followed him have continued his tradition, there was only one George Brown."
A photo of the congressman still hangs in the meeting room of the House Science Committee, a reminder of his dedication and commitment, Orbach said.
Congressman Brown had a good working relationship with representatives from both political parties and worked closely with Republican Congressmen Calvert and Lewis to bring resources to the Inland area, Marta Brown said.
"The support provided by my friend George Brown is a primary reason that UC Riverside is known for cutting-edge research in subjects like reducing the salinity of groundwater, air quality improvement and nano-technology," said Rep. Jerry Lewis, R-Redlands. "It was a pleasure to work with George on many projects that helped the people of the Inland Empire, but his legacy is already evident at UCR. It is absolutely fitting that his papers would be housed there."
Congressman Brown realized early on the importance of science in keeping the United States competitive and the world's leader, said Rep. Ken Calvert, R-Riverside. "His public policy legacy, from science to education, is a proud part of the Inland Empire, California and our country. The donation of his papers which detail his public service will provide valuable insights into the inner-workings of a distinguished legislative career," he said.
Riverside Mayor Ron Loveridge, an associate professor of political science at UC Riverside, said the late congressman's papers should provide many ideas and directions for those interested in the relationship of science and federal legislation. "How were priorities established: Committee staff? Administration? Universities? Scientists? What were the science priorities of the House in the 1980s and 1990s?" Loveridge said. "He was a major leader in the area of technology and related innovations."
Marta Brown said she hopes people also remember her husband for "his concern for humanity and his concern for human knowledge. He was basically a teacher who helped people develop basic knowledge. That was the beauty of him."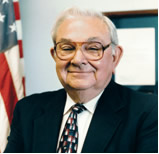 Congressman George Brown
RELATED LINKS
ADDITIONAL CONTACTS
The University of California, Riverside (www.ucr.edu) is a doctoral research university, a living laboratory for groundbreaking exploration of issues critical to Inland Southern California, the state and communities around the world. Reflecting California's diverse culture, UCR's enrollment has exceeded 21,000 students. The campus opened a medical school in 2013 and has reached the heart of the Coachella Valley by way of the UCR Palm Desert Center. The campus has an annual statewide economic impact of more than $1 billion.
A broadcast studio with fiber cable to the AT&T Hollywood hub is available for live or taped interviews. UCR also has ISDN for radio interviews. To learn more, call (951) UCR-NEWS.