Operation Education Helps Veterans
---
Operation Education: Helping Disabled Veterans Move Forward
UC Riverside launches a scholarship program designed to provide extra financial, education and social assistance to veterans who were injured while serving their country.
(May 26, 2010)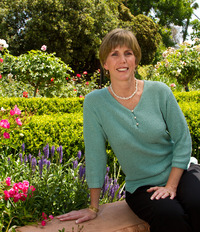 Karen White
Photo by Steve Brazill
RIVERSIDE, Calif. (www.ucr.edu) -- For many students, getting through four years of college can be stressful and overwhelming.
But imagine taking on that challenge while also dealing with a life-changing disability that resulted from military service in the Iraq war.
To help those veterans succeed, UC Riverside is kicking off the Operation Education Scholarship Program, which will provide funding for education-related expenses, including adaptive equipment, counseling, child care, specialized medical care, personal care, off-campus transportation, tutoring, individually-prescribed devices or equipment, and other costs not covered by the G.I. Bill.
"Many of these students have post traumatic stress disorder and brain injuries, the type of injuries that don't look, on the surface, like disabilities," said Karen White, UC Riverside associate of the chancellor. "But many of these students have to relearn how to learn and how to remember. On top of that they have to handle the stress of civilian life and being a student."
White is the founding director of UCR's Operation Education, which is modeled after a program by the same name started while her husband, UC Riverside Chancellor Timothy P. White, served as president of the University of Idaho.
"I think the vet with the disability has given more than they bargained for," said Karen White. "Often they get training in the military that would have helped them get a career once they were discharged. But the disability may change that. I feel an education opens new doors, allows them to explore other options, and to be independent and active members of society."
White's interest in helping people with disabilities is reflected in her work as a physical therapist. She will spend the next few months visiting military, alumni and community groups to raise interest and financial support for the program, which will be almost fully funded by private donations.
Operation Education is open to honorably separated U.S. military veterans with service-related injuries sustained since Sept. 11, 2001. Applicants must meet university requirements for admission as a degree-seeking student and students must enroll full time. Priority is given to veterans with disabilities that resulted from action in a combat zone and those who are local residents. Scholarship recipients must meet standard financial aid need requirements and must first use other funding sources.
The program takes a holistic approach, addressing the financial, educational and social needs of the veterans and their families by combining the expertise of Veterans Affairs, Financial Aid, the Counseling Center, Student Special Services, faculty advisers and other related campus service offices.
Lenita Kellstrand, director of Student Special Services, said the benefits of the program go well beyond financial.
"Programs like Operation Education let these students know that there are a group of people here on campus who are invested in their success," said Kellstrand, whose office handles veterans affairs. "That is going to be a big motivator and we will have a lot more successes, not just from the scholarship recipients but from all our student veterans."
To allow flexibility and individualization, the program will be kept small. As funding grows, four or five recipients will be added each year, with a maximum of 20 students at any given time.
Applications will be accepted this summer, with the first students to be funded by the fall. Military spouses may also apply for assistance from the program.
White is excited about bringing the program to UC Riverside.
"It is a way to say thank you to a very deserving population," she said. "In Idaho, I really felt we changed lives."
The University of Idaho, UC Riverside and Adrian College in Michigan are the only three universities in the nation with an Operation Education program.
White said her vision is to include local community colleges, universities and trade schools in Operation Education, and to make the program a nationwide effort.
"If every university in the country offered this program to just a few students, it could really make a difference to these people who have given so much to our country," said White.
To make a donation to the scholarship, contact Jan Opdyke, executive director of UCR Scholarship, Fellowship & Annual Giving.
The University of California, Riverside (www.ucr.edu) is a doctoral research university, a living laboratory for groundbreaking exploration of issues critical to Inland Southern California, the state and communities around the world. Reflecting California's diverse culture, UCR's enrollment has exceeded 21,000 students. The campus opened a medical school in 2013 and has reached the heart of the Coachella Valley by way of the UCR Palm Desert Center. The campus has an annual statewide economic impact of more than $1 billion.
A broadcast studio with fiber cable to the AT&T Hollywood hub is available for live or taped interviews. UCR also has ISDN for radio interviews. To learn more, call (951) UCR-NEWS.