A "Superstar' Graduates
---
Education School Graduates a 'Superstar'
Virginia Montero Hernandez, who came to UC Riverside with limited English skills, co-wrote a book and will be a commencement speaker next month
(May 26, 2010)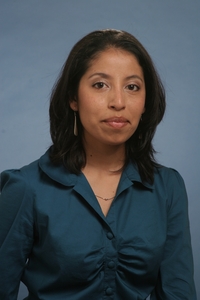 Enlarge
Virginia Montero Hernandez
RIVERSIDE, Calif. - (www.ucr.edu) - In 2005, Virginia Montero Hernandez left her native Mexico for the first time to start graduate studies at UC Riverside's Graduate School of Education.
Five years later, she has co-written a book, learned how to navigate the Inland Empire without a car and helped create a pipeline between UCR and a Mexican university. On June 14, she will receive her Ph.D. and be a student speaker at the education school's commencement ceremony.
"She arrived here without much English language facility and she turned out to be a superstar," said John Levin, a professor and interim dean in the education school, who co-wrote the book with Montero Hernandez and served as her advisor.
The Graduate School of Education will hold its
commencement ceremony
at 8 a.m. June 14 on Pierce Lawn on the UCR campus. Jerome Hunter, a 1969 graduate of UCR who is a distinguished lecturer at California State University, Fullerton and a former community college chancellor in Southern California, will give the keynote address. Candace Nicole Tingley, who is receiving her master's degree in education and a teaching credential certificate, will also speak.
Montero Hernandez was born in Mexico City. At age 9, she moved about an hour south of the capital to Cuernavaca. Inspired by her parents, who are elementary school teachers, she majored in educational science at the Autonomous University of the State of Morelos.
Her plan to become a high school teacher changed during her final year of college. One of her professors, Omar Garcia, told her she had the potential to earn a graduate degree, but would need to go abroad to do so.
"The whole thing sounded very crazy," Montero Hernandez said.
Despite that, she pursued that path.
After studying English for three years in Mexico, she applied to the doctoral program in education at UCR and a master's program in educational psychology at the University of Alberta in Edmonton, Alberta Canada. She was accepted to both programs.
After getting her acceptance from UCR, she applied for, and was awarded, a fellowship from the UCR-based
University of California Institute for Mexico and the United States
and
The National Council of Science and Technology (CONACYT)
, a federal organization in Mexico that funds scholarships for Mexican graduate students studying abroad.
She selected UCR because of the fellowship and because her academic interests were more in line with the doctoral program at UCR. Also, another Mexican student was already at the UCR Graduate School of Education and California was closer to Mexico than Canada.
Initially, the transition to UCR was difficult. She worried about not knowing the policies and regulations at the university. She didn't understand student jargon. All the talk in classrooms was about the U.S. higher education model, not the Mexican system she knew.
Eventually, she found her niche.
She worked with Judith Sandholtz, who has since moved on to UC Irvine, and then Levin. With Levin, she co-wrote
"Community College and Their Students: Co-construction and Organizational Identity,"
which was published last year. The book discusses case studies of seven community colleges across the U.S. It focuses on the organizational dynamics and educational experiences that shape community college life. To write the book, Montero Hernandez read and analyzed 180 interviews. The book is based on her analysis.
As part of her dissertation work, she spent six months at her undergraduate university in Mexico. She devoted much of her time speaking with faculty members, who, like her, studied abroad. She found they struggled to do research at their present university because they lacked institutional support.
After graduating, Montero Hernandez will remain at UCR for six months as a post-doctoral researcher working with Levin. Her major project will address faculty work at research universities, comprehensive universities and community colleges.
After those six months, if she finds a job, she may remain in the U.S. If not, she plans to return to Mexico and apply for jobs at universities. Wherever her future, Montero Hernandez will continue to create connections between the two countries.
The University of California, Riverside (www.ucr.edu) is a doctoral research university, a living laboratory for groundbreaking exploration of issues critical to Inland Southern California, the state and communities around the world. Reflecting California's diverse culture, UCR's enrollment has exceeded 21,000 students. The campus opened a medical school in 2013 and has reached the heart of the Coachella Valley by way of the UCR Palm Desert Center. The campus has an annual statewide economic impact of more than $1 billion.
A broadcast studio with fiber cable to the AT&T Hollywood hub is available for live or taped interviews. UCR also has ISDN for radio interviews. To learn more, call (951) UCR-NEWS.