Public Lecture by Ardi Co-discoverer Draws Large Crowd at UC Riverside
---
Public Lecture by Ardi Co-discoverer Draws Large Crowd at UC Riverside
Speaker Tim D. White is grateful for the education he received at UCR
(May 28, 2010)
NEWS MEDIA CONTACT
Name:

Iqbal Pittalwala


Tel:

(951) 827-6050


E-mail:

iqbal@ucr.edu
Enlarge
UCR alumnus Tim D. White is a professor of integrative biology and the director of the Human Evolution Research Center at UC Berkeley. He spoke at UC Riverside on May 27, 2010. Photo credit: Michael J. Elderman. (More photos below.)
RIVERSIDE, Calif. – UC Riverside alumnus Tim D. White, whose international research team discovered
Ardipithecus ramidus
or "
Ardi
," the 4.4 million-year-old female creature that may be a human ancestor, gave a talk on campus May 27 in which he described how his team discovered Ardi, how the team put her partial skeleton together, and what her bones tell us about human evolution.
Nearly 500 people attended the lecture, which was titled "Human Evolution: A View From the Past."
Rich Cardullo, the divisional dean for life sciences at UCR, introduced White to the audience, which included White's parents, and presented him with a UCR hat.
"It's great to come back to UCR," White said. "I got a great education at the University of California, and I am thankful for that. I particularly got a great education at UCR. It was better than any I could have gotten at another campus. What drew me to returning to UCR today is John A. Moore."
White's talk was the 2010 John and Betty Moore "Science as a Way of Knowing" lecture. The late John Moore was a professor emeritus of biology at UCR. He joined the faculty in 1969, retired in 1982, and passed away in 2002. A member of the National Academy of Sciences, he is well known also for developing the seven-volume
Science as a Way of Knowing
series, still used by scientists around the world.
His widow, Betty Moore, established the John and Betty Moore Endowed Fund in March 2010, designed to permanently endow the John and Betty Moore "Science as a Way of Knowing" Lectures at UCR.
White was born in Los Angeles in 1950. He spent time in his early years around Lake Arrowhead, scouring Native American campsites for artifacts. After earning his undergraduate degrees in anthropology and biology at UCR in 1972, he received his Ph.D. in biological anthropology in 1977 from the University of Michigan. At UC Berkeley, he is a professor of integrative biology and serves also as the director of the
Human Evolution Research Center
and co-director of the Middle Awash Research Project.
He explained in his talk that it took his research team 17 years to assemble and analyze Ardi's key bones and other fossils found with them. Resembling neither a human nor a chimpanzee (our closest living primate relative), Ardi lived in what is now the Afar region of Ethiopia. She predates the partial skeleton of Lucy (
Astralopithecus afarensis
) by a million years.
Ardi was formally announced in 11 separate articles to which a single issue of
Science
was devoted on Oct. 2, 2009. In its issue of Dec. 18, 2009,
Science
declared Ardi to be the most important breakthrough of 2009.
In his talk, White said he learned about Charles Darwin from John Moore's work. He also thanked his parents for giving him the freedom to pursue what he wanted to study.
After the lecture, Cardullo turned to White's parents and asked them how they felt their son's talk had gone. The parents gave the talk a thumbs up.
The evening ended with Carl Cranor, a professor of philosophy, inducting White into the local chapter of Phi Beta Kappa and presenting him with a plaque.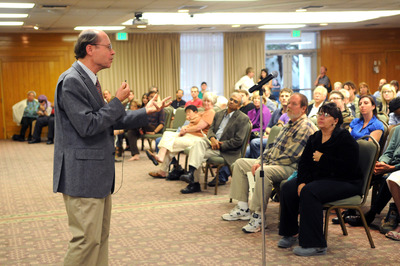 Enlarge
Tim D. White answers a question from the audience following his lecture. Photo credit: Michael J. Elderman.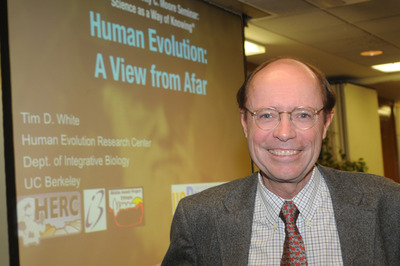 Enlarge
Tim D. White gave a lecture at UCR on human evolution, May 27, 2010. Photo credit: Michael J. Elderman.
RELATED LINKS
The University of California, Riverside (www.ucr.edu) is a doctoral research university, a living laboratory for groundbreaking exploration of issues critical to Inland Southern California, the state and communities around the world. Reflecting California's diverse culture, UCR's enrollment has exceeded 21,000 students. The campus opened a medical school in 2013 and has reached the heart of the Coachella Valley by way of the UCR Palm Desert Center. The campus has an annual statewide economic impact of more than $1 billion.
A broadcast studio with fiber cable to the AT&T Hollywood hub is available for live or taped interviews. UCR also has ISDN for radio interviews. To learn more, call (951) UCR-NEWS.