Arts Summer Camp Applications Extended
---
Arts Summer Camp Applications Extended
The annual UCR Gluck program for high school students is rescheduled for Aug. 2-6. The deadline to apply is June 11.
(May 28, 2010)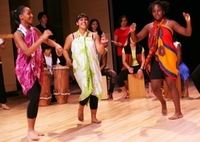 Gluck Summer Camp 2009/Photos by Elisabeth Girke
RIVERSIDE, Calif. – UC Riverside's Gluck Summer Camp for the Arts for High School Students has been rescheduled to Aug. 2-6. The deadline to apply is 5 p.m. June 11. Applications may be downloaded at
www.gluckprogram.ucr.edu
.
The new schedule will accommodate more students, although space remains limited. Applications are required to participate.
CON/VERG/E/MERGE is the title of the fifth annual summer camp, which will take place on the UCR campus and at the ARTSblock in downtown Riverside. All workshops are free. Students provide their own lunches and transportation.
Classes will include dance, creative writing, music, theater, art history and art. Workshops are taught by graduate fellows in the Gluck Fellows Program of the Arts, which is funded by the Maxwell H. Gluck Foundation.
Students may enroll in more than one class, space permitting. Class assignments will be based on an essay, recommendation by a teacher and in the event of a tie, the order in which the applications were received.
Anyone age 13 to18 is eligible to apply, but most students are from local high schools in the Inland Empire.
The UCR/California Museum of Photography also is offering summer sessions in the ARTSblock downtown. That program, My Global Village 2010, is a series of workshops that uses human rights documentaries to engage student interest in local and global issues. The program is sponsored by The Hearst Foundations, Target, City of Riverside, Human Rights Watch Film Festival High School Program and UCR Gluck Fellows Program of the Arts. The museum is located at 3824 Main St.
Graduate fellows who will teach the Gluck summer camp workshops are: Hannah Schwadron, dance; Matthew Shain, art; Masha Rotfeld, history of art; Alison Minami, theater; Nathan Bockelman, Sweeney Art Gallery; Yuri Morales, creative writing; and Russ Skelchy, music and Southeast Asian studies.
Workshops available for the Gluck summer camp are:
Dancing Presence: The Felt Experience
Over the course of six classes that combine influences from modern dance, hip hop, improvisation, and yoga techniques, Hannah Schwadron will guide students toward a final evening performance of material that showcases original student composition.
Portrait Studio (AKA Shoot Your Face)
This is a crash course in portrait photography taught by Matthew Shain. It will include a brief history of portraiture in photography as well as some technical skills, such as basic lighting, exposure and composition.
History of Art
Students will view the 20th century through art and become acquainted with theoretical approaches, especially the social history of art, in this course taught by Masha Rotfeld. Students will learn how to examine and appreciate in a critical way the strategies of representation and reception that were employed by groups and systems in times of recent historical milestones.
Who Are You Anyway?
In this course, Alison Minami will teach campers how to integrate personal experience into their work as an actor. Through improvisation and play, they will discover what it means to act in the moment and to stay true to your intentions. Through sound, movement and imagination, students will explore believable settings and dynamic relationships on stage.
Composing Sound
Nathan Bockelman will guide students as they collect and make their own sounds. Working in groups, campers will collect and create sound compositions to illustrate their own movement in short, performative events. At the end of the course students will design their own album, a collection of recordings and collaborations they made throughout the camp.
Breaking It Down! An Intro to Spoken Word Poetry as a Tool for Social Justice
Through creative icebreakers students will identify and critically discuss social issues affecting neighborhoods and various communities in the course taught by Yuri Morales. Students will examine spoken word poetry that deals with social issues through live performances, music, film, photography, literature, and a dialogue with a guest spoken-word artist during class.
Playing with Shadows – Southeast Asian Shadow Puppet Theater and Music
Wayang kulit, the Malay language term for shadow puppet theater in Indonesia and Malaysia, is a very old tradition that encompasses the realms of music, literature and theater. In this workshop, Russ Skelchy will teach students to play the Javanese gamelan, read and act out popular wayang kulit tales, construct shadow puppets, and write their own epic and perform it with musical accompaniment.
For more information about the Gluck summer camp contact Karen M. Wilson, assistant director, at (951) 827-3518 or
karen.wilson@ucr.edu
, or Christine G. Leapman, fellows facilitator, at (951) 827-5739 or
christine.leapman@ucr.edu.
For information about the UCR/California Museum of Photography summer sessions go to
digitalstudio.ucr.edu
or contact the UCR ARTSblock Digital Studio program at (951) 827-4796 or e-mail
digitalstudioinfo@ucr.edu
. For a snapshot of last year's camp, go to
http://mgv-ucr.blogspot.com/
and
http://artsblockspot.blogspot.com/
.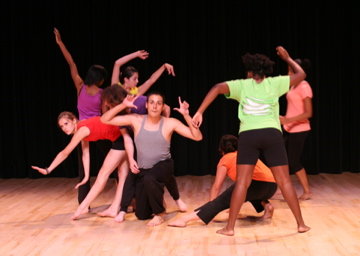 High school students present a dance during the 2009 Gluck Summer Camp for the Arts.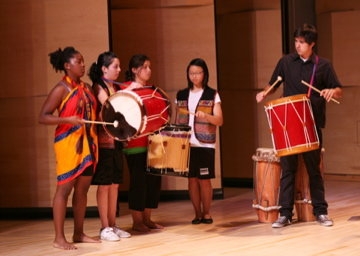 Student musicians perform at the Gluck Summer Camp for the Arts.
The University of California, Riverside (www.ucr.edu) is a doctoral research university, a living laboratory for groundbreaking exploration of issues critical to Inland Southern California, the state and communities around the world. Reflecting California's diverse culture, UCR's enrollment has exceeded 21,000 students. The campus opened a medical school in 2013 and has reached the heart of the Coachella Valley by way of the UCR Palm Desert Center. The campus has an annual statewide economic impact of more than $1 billion.
A broadcast studio with fiber cable to the AT&T Hollywood hub is available for live or taped interviews. UCR also has ISDN for radio interviews. To learn more, call (951) UCR-NEWS.