Education Leader Stepping Back
---
School's Out after Four Decades Working in Education
Linda Scott Hendrick, who oversaw programs that impacted thousands of teachers and the largest grant in UC Riverside history, will soon be working part-time
(June 1, 2010)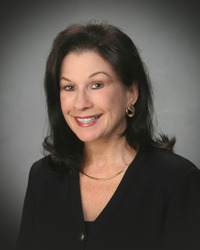 Enlarge
Linda Scott Hendrick
RIVERSIDE, Calif. - (www.ucr.edu) - In 1964, six years out of high school and without a college degree, Linda Scott Hendrick was a single Mom living in New York City. She knew she needed to go to return to school, but without a female family member who had gone to college, she didn't know how to get there.
Riding the Fort Washington Avenue bus, she spotted a girl with a lavender and white City College of New York book cover. The student looked happy. Inspired, Scott Hendrick followed her to campus, found the registrar's office and signed up for classes.
A 40-year career in education was launched.
That career, the last 24 years of which were spent at UC Riverside doing everything from earning a Ph.D. to overseeing the largest, single, federally funded grant received on the UC Riverside campus, will soon be winding down. Starting Aug. 9, Scott Hendrick will work part-time supporting the transition as Marie-France Orillion, Ph.D., Co-Principal Investigator for the RIMS-BTSA program, a teacher support and assessment program, steps into her new role as director, teacher professional development programs in the UCR Graduate School of Education.
"I have been incredibly fortunate," Scott Hendrick said. "Fortunate to live in a city that provided me with one of the finest public university undergraduate educations in which the rich and the poor took their seats together. I am fortunate to live in a nation in which the educational gateways are always open—no matter where you are in life or how winding the path to where you should go may be. And UCR has given me the all the opportunities I could hold to fulfill my potential and to make a difference in the lives of others."
Her full-time presence will be missed by many.
Steven Bossert, dean of the Graduate School of Education, said Scott Hendrick's success landing grants and strength building lasting partnerships with schools throughout the region was one of the reasons he came to the university as dean in 2004.
Since then, his appreciation has grown. She's a trusted advisor, someone Bossert can call on to fill him in on an important educational issue that he needs to respond to. He praised her for volunteering to help improve the teacher evaluation system at the school. And, he appreciated that she took the lead organizing an alumni advisory board and hosted the first meeting at her home.
Colleagues in the teacher professional development programs office, many of whom have worked with Scott Hendrick for more than decade, were thankful that she encouraged them to expand their skills.
Scott Hendrick is also quick to give them entire teacher professional development programs staff credit for their unique creativity, talent, skills and commitment.
"If Bill Gates ever hears about these people, I'm sunk," she laughed.
Scott Hendrick earned a bachelor's degree in English from City College of the City University of New York and graduated cum laude and Phi Beta Kappa. She then went on to receive a master's degree in the same subject from the State University of New York, Albany, where she focused on Medieval and Renaissance studies.
After teaching English and English as a Second Language in public schools in New York, Connecticut and California for nearly 20 years, Scott Hendrick grew restless and curious and applied for Ph.D. programs. She selected UCR, arriving in 1985.
"It was probably one of the best life decisions I have ever made," Scott Hendrick said. She still fondly recalls the mentoring and support she received from faculty members, including Jerry Carlson, Robert Calfee, James Dillon, Dan Donlan, Richard Eyman, Mark Hanson. Donald MacMillan, Robin McKeown, Douglas Mitchell and Reba Page.
Scott Hendrick earned her Ph.D. in 1990. Three years later she helped write and received a grant for RIMS-BTSA, a beginning teacher support and assessment (BTSA) program in partnership with the Riverside, Inyo, Mono and San Bernardino (RIMS) county offices of education. It started with two schools and 30 teachers.
The program continues today, having expanded to Los Angeles and San Diego counties and currently serving 84 school districts, including charter schools, Sherman Indian High School and the California Youth Authority. It's the largest of its kind in California and has served more than 20,000 teachers.
In 2004, the UCR GSOE was awarded a five-year, $11.5 million U.S. Department of Education grant, the second largest monetary award in campus history. Scott Hendrick wrote the application with Athena Waite, Jocelyn Edey and Lynn Larsen.
The grant funded what became known as the
Copernicus Project
. With the completion of the project approaching at the end of June, Copernicus has accomplished all of its goals, including increasing the number, quality and diversity of the state's science teachers by teaching inquiry-based science, in which the teacher is more a facilitator and less a lecturer. Several programs helped accomplish the goal:
* The Copernicus Science Summer Institute allowed about 300 elementary and high school teachers to spend two weeks at UCR. Teachers learned inquiry-based science through workshops, lab experiences and additional support from a peer coach during the school year.
Additionally, about 25 high school students took part in the institute. They taught the lessons they designed the following academic year to fifth graders.
* The Copernicus Project Community College Internship enabled nearly 250 community college students to spend two weeks at UCR learning about university life, financial aid and the California teacher credentialing process. Some participants also received paid internships with regional science-oriented organizations.
* The CoperniKids Science Camp Program provided hands-on inquiry-based science activities for about 40 elementary school students for a week in 2008 at the Cesar Chavez Community Center in Riverside.
*The Copernicus Families for Success program continues through June, 2010, to bring science-based educational activities and college-going information and resources to the community, families and students.
* The Copernicus Science Education Summit in 2007 and 2008 drew about 300 people each time.
The project has also developed partnerships with the Riverside Community College District, California State Polytechnic University, Pasadena City College, the Lewis Center for Educational Research and the Norton Space and Aeronautics Academy in San Bernardino.
The University of California, Riverside (www.ucr.edu) is a doctoral research university, a living laboratory for groundbreaking exploration of issues critical to Inland Southern California, the state and communities around the world. Reflecting California's diverse culture, UCR's enrollment has exceeded 21,000 students. The campus opened a medical school in 2013 and has reached the heart of the Coachella Valley by way of the UCR Palm Desert Center. The campus has an annual statewide economic impact of more than $1 billion.
A broadcast studio with fiber cable to the AT&T Hollywood hub is available for live or taped interviews. UCR also has ISDN for radio interviews. To learn more, call (951) UCR-NEWS.