Korean-American Studies Center
---
Gift Will Support Korean-American Studies
Entrepreneur Jay Kim commits $150,000 to help launch center at UC Riverside.
(June 9, 2010)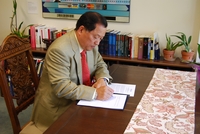 Enlarge
Jay Kim, a prominent Korean-American entrepreneur, signs a gift agreement that brings his total gifts and pledges to the Young-Oak Kim Center for Korean American Studies to $150,000.
RIVERSIDE, Calif. – A generous gift from Korean-American entrepreneur Jay Kim will support the launch of a research center for Korean-American studies at the University of California, Riverside.
Kim, president of Costar International Enterprises Inc. and Costar Group Inc., signed a gift agreement on June 2 that brings his total contributions and pledges to the Young Oak Kim Center for Korean American Studies to $150,000. He also has stated that it is his intention ultimately to provide $250,000 to the center.
The father of a UC Riverside business major, Kim has been supportive of the center through his company since 2009, and was part of the delegation that accompanied UCR Chancellor Timothy P. White to South Korea in April to witness a formal signing ceremony at the Overseas Koreans Foundation. The foundation will provide 3 billion won – approximately $2.7 million U.S. – in three annual installments to endow the Young Oak Kim Center for Korean American Studies. UC Riverside will match the grant with office space and a tenured faculty position. Recruitment of the faculty member will begin in the third year of funding.
Stephen Cullenberg, dean of the UCR College of Humanities, Arts and Social Sciences (CHASS), also signed Kim's gift agreement and thanked the businessman for a donation that will support the center's mission of groundbreaking research in Korean-American studies.
"We are very grateful for the support that the community is showing for the Young Oak Kim Center for Korean American Studies," Cullenberg said. "This center will be unique not only in the University of California but in the United States for its focus on Korean-American studies."
Kim is a vice chairman of the Los Angeles Korean Chamber of Commerce. His company, Costar International Enterprises Inc., was established in 1989 as an importer of general merchandise. In 1999, adapting to a fluctuating market, the company's business focus shifted to custom jewelry and the fashion industry. As of 2009, Costar had two locations operating in southern California: a 5,000-square-foot outlet in Los Angeles and a 50,000-square-foot headquarters in Vernon, which includes a 4,000-square-foot showroom. The company also has multiple international branches including an office in Yiwu, China, and a newly acquired factory in Qingdao, China.
Observing the signing ceremony were Myung "Mike" Hong, founder and owner of Dura Coat Products Inc. in Riverside; Woo Sung Han, an author, documentary filmmaker and author of a biography of Col. Young Oak Kim, for whom the center is named; and Evie Tole, assistant dean of CHASS.
Hong's company is a developer and manufacturer of industrial coatings with reported sales of $20 million. He also established the Bright World Foundation, whose mission is to help build a sense of community by bridging the gap among different cultural groups; is a La Sierra University trustee and elder in the Seventh-day Adventist Church; and as a member of the Patriot Ahn Chang-Ho Memorial Foundation raised approximately $570,000 in the U.S. and South Korea to erect a statue of Korean nationalist leader Ahn Chang-Ho at Main Street and University Avenue in Riverside.
Han is a former Korea Times reporter who has been working with Ed Chang, UCR professor of ethnic studies, on the center project for several years as a visiting researcher.
The center will be only one of a few in the United States to focus its research on questions such as what it means to be a Korean American in the 21st century, the history of Korean Americans, the Korean diaspora in the United States and globally, and the role of Korean Americans in the reunification of South and North Korea.
Col. Young Oak Kim was a highly decorated U.S. Army veteran of World War II and the Korean War. When he retired after 30 years in the Army he became active in Asian-American community affairs, helping to found the Go For Broke Monument in Los Angeles that honors the U.S. military service of Japanese Americans during WWII, as well as the Japanese American National Museum, the Korean Health, Education, Information and Research Center and the Korean American Museum.
The University of California, Riverside (www.ucr.edu) is a doctoral research university, a living laboratory for groundbreaking exploration of issues critical to Inland Southern California, the state and communities around the world. Reflecting California's diverse culture, UCR's enrollment has exceeded 21,000 students. The campus opened a medical school in 2013 and has reached the heart of the Coachella Valley by way of the UCR Palm Desert Center. The campus has an annual statewide economic impact of more than $1 billion.
A broadcast studio with fiber cable to the AT&T Hollywood hub is available for live or taped interviews. UCR also has ISDN for radio interviews. To learn more, call (951) UCR-NEWS.