Tavis Smiley Challenges UCR Graduates
---
Tavis Smiley Challenges UCR Graduates to Lead
Noted PBS broadcaster was the keynote speaker at UC Riverside's 56th annual commencement.
(June 12, 2010)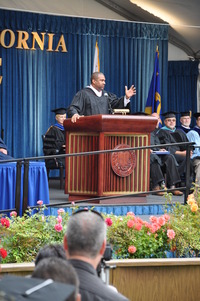 Enlarge
Tavis Smiley addresses UCR graduates and their families.
RIVERSIDE, Calif. – Noted PBS broadcaster Tavis Smiley challenged graduates of the University of California, Riverside on Saturday to use their education to lead the country on a path toward fulfilling "the promise of America."
"These are great times to be an American but they are challenging times to be an American," Smiley told thousands of graduates, family and friends who filled the Pierce Hall lawn under overcast skies on Saturday morning. "…We all want to live in a nation that is as good as its promise, yet the reality is that there is a divide between the promise of America and the possibility
in
America for every single American. The question is, how do we shrink … that widening gap between the promise
of
and the possibility
in
? … That's why I'm here today, to remind you that it starts with you. …
"What kind of life are you going to live, what kind of legacy are you going to leave?"
This weekend marks the 56th annual commencement ceremonies at UCR. Approximately 3,300 students are expected to participate in seven commencement ceremonies that began on Friday and continue through Monday.
Student speaker Geneva Denay Dowdy, who earned a bachelor's degree in sociology, thanked faculty mentors and others who helped her succeed. "They gave me two gifts – wisdom and confidence," she said.
Smiley was the keynote speaker for the Saturday morning commencement ceremony honoring about 560 Ph.D., master's and bachelor's degree candidates from the departments of psychology, sociology, religious studies and women's studies within the College of Humanities, Arts and Social Sciences.
He is best known for tackling issues of race, diversity and ethnicity on his PBS television show "Tavis Smiley" and his Public Radio International program "The Tavis Smiley Show." An author and philanthropist, he also founded the Tavis Smiley Foundation, which funds programs that develop young American leaders. He also owns The Smiley Group Inc., a Los Angeles-based communications corporation established in support of human rights and related empowerment issues, according to the company's website.
Smiley told the graduates and their families that Saturday's commencement ceremony celebrated "a new crop of leaders UC Riverside is offering to the nation and the world."
"In case you missed it," he said, "everybody … that had anything to do with you being here today did it for one simple reason, to send you out into the world to face these challenges and do one simple thing – to lead. Not to follow, not to make excuses, not to punt your responsibility."
Two things matter most, he said: What is the depth of your love for everyday people and what will be the quality of your service to them?
"Love simply means that everybody is worthy, just because. Every customer you will ever have is worthy, just because. Every student you will ever teach is worthy, just because. Every colleague you will ever have is worthy, just because. Every citizen you will ever represent in government is worthy, just because.
"Love means every one of our fellow citizens is worthy, just because. Not because of who you know, where you live, the degrees you have, the money you make, the accent you have, the color of your skin, your gender or your sex. Everybody is worthy, just because.
"If we ever come to believe that every American is worthy just because … that will fundamentally change the world," Smiley said. "If everybody is worthy just because, you spend the rest of your life working so that Americans have access not to a minimum wage but to living wage, just because; that everybody ought to have health care, just because; that everybody ought to be free of racism, just because. That everybody ought to have access to high-quality education, …"
"Just because," the graduates shouted in response.
"That everybody should live in a crime-free neighborhood, …" Smiley said.
"Just because," the graduates yelled.
"I think you all get it," Smiley concluded. "Just because."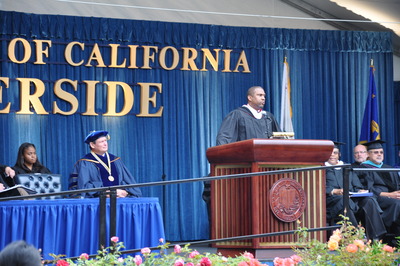 Enlarge
PBS broadcaster Tavis Smiley delivers the keynote address during a commencement ceremony for the UCR College of Humanities, Arts and Social Sciences on Saturday.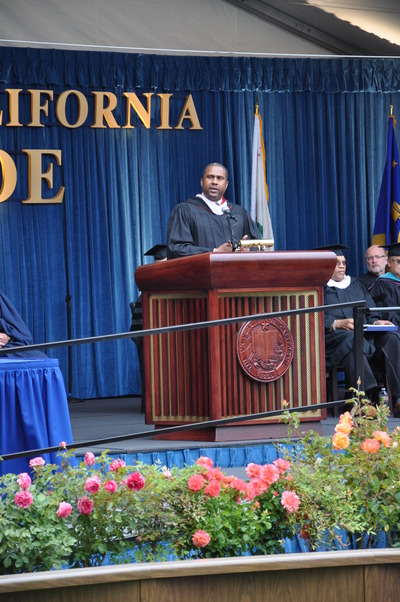 Enlarge
Tavis Smiley spoke at UCR's Saturday-morning commencement ceremony, one of seven scheduled over four days.
The University of California, Riverside (www.ucr.edu) is a doctoral research university, a living laboratory for groundbreaking exploration of issues critical to Inland Southern California, the state and communities around the world. Reflecting California's diverse culture, UCR's enrollment has exceeded 21,000 students. The campus opened a medical school in 2013 and has reached the heart of the Coachella Valley by way of the UCR Palm Desert Center. The campus has an annual statewide economic impact of more than $1 billion.
A broadcast studio with fiber cable to the AT&T Hollywood hub is available for live or taped interviews. UCR also has ISDN for radio interviews. To learn more, call (951) UCR-NEWS.