Deliberative Democracy Experiment
---
UCR Researcher Participates in Deliberative Democracy Experiment
Political scientist Kevin Esterling is part of a team that will evaluate a nationwide town hall focusing on federal budget priorities.
(June 14, 2010)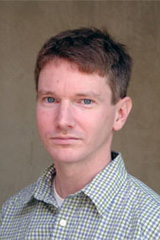 Kevin Esterling
RIVERSIDE, Calif. – UC Riverside political scientist Kevin Esterling will participate in what is believed to be the largest experiment in deliberative democracy ever when the nonpartisan AmericaSpeaks convenes simultaneous town hall meetings across the country and online on June 26.
Funded by a $300,000 grant from the John D. and Catherine T. MacArthur Foundation, Esterling and researchers Archon Fung from Harvard Kennedy School and Taeku Lee from UC Berkeley will analyze responses from 4,000 people selected to participate in the national town hall on the U.S. budget and economy as well as a control group chosen to mirror the town hall participants.
Deliberative democracy relies on popular consultation to make policy and encourages citizens to engage in an intellectual way with their government, a process that researchers believe improves knowledge about issues and policies, trust in political institutions and engagement with the political process, said Esterling, who is one of only a few political scientists conducting experimental research on deliberative democracy in the United States.
"We're interested not only in what people are thinking, but also how deliberation affects attitudes toward policy and government, and about themselves," Esterling said. "The idea of deliberative democracy is that when people sit down and talk about issues they are more likely to listen to others and temper their own views. It might not change your position, but it might help you understand the rationale of people who differ from you. That is important in a democracy. It's important that we can disagree in a way that's reasonable and respectful of other opinions."
The MacArthur grant will fund the deliberative field experiment, a research method that is relatively new for political scientists, Esterling said.
AmericaSpeaks
is a nonpartisan advocacy group that conducts national town halls to determine what ordinary citizens think. The June 26 event, "Our Budget, Our Economy," aims to find common ground on tough choices about the federal budget, notably strategies to "ensure a sustainable fiscal future and a strong economic recovery," according to the nonprofit's website.
A cross-section of Americans – recruited by local nonpartisan groups to reflect diversity in race, gender, income and political ideology – will convene in 19 cities and online. AmericaSpeaks will distribute nonpartisan reading material developed in consultation with an ideologically diverse national advisory committee about the budget and public priorities. Participants in the 19 locations will be randomly assigned to small groups where they will discuss their preferences for allocating money and setting priorities, including how to cut spending and/or raise taxes.
Esterling, Fung and Lee, assisted by graduate assistants at each site, will survey participants before and after the event as well as the control group to determine if the discussions helped people become more knowledgeable, more respectful of differing opinions, more trusting of government, and more politically active. They will follow up after the November election to determine how well the town hall participants retained command of the issues as well as their views, and their political and civic behavior.
The nation's budget and fiscal health is a complex topic that is of enormous consequence to all Americans, but about which few have thought carefully, Esterling said. "Partly as a consequence, public opinions about how to move forward on questions of fiscal responsibility are sometime extreme and sometimes fickle," he said. "This shifting ground of public opinion makes it difficult to formulate sensible and legitimate public policy in this arena."
The research project will examine whether, and how, the views of Americans change as they are given more information about the issue and as they engage in discussions with others. "In particular, we hope to understand whether the views of Americans become more stable, consistent, informed, and grounded," the researchers wrote in their grant proposal. "We also hope to understand whether the views of ordinary Americans come to reflect the main alternatives offered by policy-makers, or whether Americans emphasize different values or priorities."
The project, Esterling said, will determine how participants view fiscal tradeoffs after they carefully consider them; the effectiveness of broad-based citizen deliberation as an important mechanism of democratic participation that may take its place alongside more familiar avenues such as voting, contributing money, or working on campaigns; and the effects of different forms of deliberation, such as online compared to face-to-face discussion, on participants' views, values and political attitudes and behavior.
RELATED LINKS
ADDITIONAL CONTACTS
The University of California, Riverside (www.ucr.edu) is a doctoral research university, a living laboratory for groundbreaking exploration of issues critical to Inland Southern California, the state and communities around the world. Reflecting California's diverse culture, UCR's enrollment has exceeded 21,000 students. The campus opened a medical school in 2013 and has reached the heart of the Coachella Valley by way of the UCR Palm Desert Center. The campus has an annual statewide economic impact of more than $1 billion.
A broadcast studio with fiber cable to the AT&T Hollywood hub is available for live or taped interviews. UCR also has ISDN for radio interviews. To learn more, call (951) UCR-NEWS.