UC Riverside Entomologist to Oversee Centralized Database of Bee Specimens
---
UC Riverside Entomologist to Oversee Centralized Database of Bee Specimens
Grant from National Science Foundation to fund collaborative project
(June 30, 2010)
NEWS MEDIA CONTACT
Name:

Iqbal Pittalwala


Tel:

(951) 827-6050


E-mail:

iqbal@ucr.edu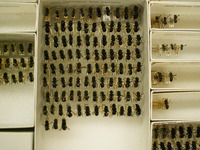 Enlarge
Native mason bees in the UCR Entomology Research Museum. Most of these specimens are from the 1930s. Photo credit: UCR Entomology Research Museum. (Additional photo below.)
RIVERSIDE, Calif. – Even though there are more than 19,000 bee species worldwide – more than 1,000 bee species are in California alone – no single central repository for information about them exists.
That difficulty and inconvenience will be addressed, however, when Douglas Yanega, the senior museum scientist in the
Department of Entomology
at the University of California, Riverside, and colleagues begin digitizing and consolidating nearly one million specimen records from ten bee collections across the United States – an endeavor made possible by a three-year grant from the National Science Foundation, of which UC Riverside will receive nearly $148,000 each year.
"Bees are the most important pollinators of the approximately one-third of crops that require animal pollination," said Yanega, co-principal investigator of the
grant
. "Recent declines in honey bee populations highlight the need to understand better the roles of native bees in agricultural and natural systems. This project will help predict risks to bees and their pollination services from climate change, habitat loss, and other factors."
Yanega and his colleagues, many of whom are trained taxonomists, will make or verify species identifications, capture full label data, georeference and error-check localities, and upload this information to publicly accessible databases. The primary public interface for the data from all of the collaborating collections will be the Discover Life Website
http://www.discoverlife.org/
.
"The collective knowledge represented by museum specimens is one of the greatest biological resources in existence, but without databases, this knowledge is accessible only in tiny pieces, to only a handful of specialists," Yanega said. "Insect collections such as UCR's contain specimens dating back more than 200 years, often from habitats that have long since vanished. The picture of biological and ecological history that emerges from studying millions of specimens is impossible to imagine or obtain without first databasing those specimens."
UCR and the American Museum of Natural History, which is also being funded through the same grant, are the primary institutions collaborating on the project. Other partners are UC Davis, UC Berkeley, the Los Angeles County Natural History Museum, the California State Collection of Arthropods, Utah State University, Cornell University, Rutgers University, and the University of Connecticut.
In order to database the bee specimens, Yanega and his colleagues first will capture as much data as they can on each specimen, then they will clean these data to make them intelligible and decipherable.
"This is crucial because the original specimen labels are typically incomplete, ambiguous, or even incorrect," Yanega said.
He explained that before a specimen can be databased, taxonomists need to be confident that the identification of each specimen is accurate, a step that requires an expert bee taxonomist to confirm that each specimen does indeed belong to the species it is registered under in a given collection.
"It would be a major problem if the records for one species – such as a species on the verge of extinction, as many of our native bees are – are mixed up with the records for species that are not threatened," Yanega said. "Such mix-ups could prevent the proper conservation of threatened species, or create imaginary threats where none actually exist. We want the science to truthfully inform the decision-making public, not misinform them."
At UCR, the grant will support, besides Yanega, a data entry technician. Yanega expects ecologists will use the data from the project to model geographic and temporal trends in bee populations, including California's vanishing bumblebee species.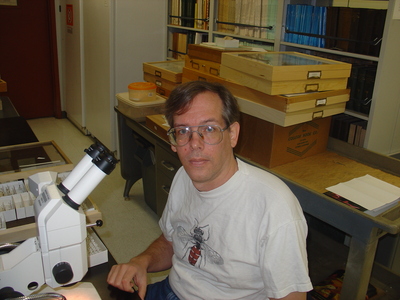 Enlarge
Douglas Yanega is the senior museum scientist in the Department of Entomology at UC Riverside. Photo credit: UCR Strategic Communications.
The University of California, Riverside (www.ucr.edu) is a doctoral research university, a living laboratory for groundbreaking exploration of issues critical to Inland Southern California, the state and communities around the world. Reflecting California's diverse culture, UCR's enrollment has exceeded 21,000 students. The campus opened a medical school in 2013 and has reached the heart of the Coachella Valley by way of the UCR Palm Desert Center. The campus has an annual statewide economic impact of more than $1 billion.
A broadcast studio with fiber cable to the AT&T Hollywood hub is available for live or taped interviews. UCR also has ISDN for radio interviews. To learn more, call (951) UCR-NEWS.