Humor Column Wins Prize
---
Humor Column Wins Prize for UCR Staff Member
Quips are King for Column, Copy and Screenplays
(July 16, 2010)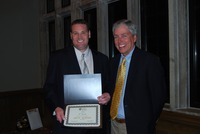 Enlarge
Jeff Girod receiving the National Humor Columnist of the Year award on Saturday, July 10, from Miami Herald columnist and author Carl Hiaasen at the annual conference at Indiana University in Bloomington.
RIVERSIDE, Calif. (www.ucr.edu) -- Jeff Girod takes being funny seriously.
Girod, a UC Riverside employee just finishing his MFA in screenwriting at the Palm Desert Graduate Center, studies comedy as art and engineering. And that work has paid off. Girod is now nationally, officially recognized as funny.
Girod recently received the national Humor Columnist of the Year award for his column in Inland Empire Weekly newspaper. This is for quips such as, "The Internet has been nominated for a Nobel Peace Prize (which is only fitting because I just received an offer in my email inbox to buy a Nobel Prize). "
And, "Another breathtaking day of World Cup soccer where a bunch of nations the size of Rhode Island tie each other 0-0!"
In awarding Girod for humor in the category of newspapers with less than 100,000 circulation, the National Society of Newspaper Columnists commented: "Jeff's ability to take large issues and use satire to make very good points results in giving us 'The Daily Show' in print. We need more of this type of work."
Maybe more such as this: "Yes, digital license plates are a horrendously, colossally bad idea which could only be proposed by someone working in California government — and it's why I support the proposal 100 percent. Make that 927.6 percent because, hell, nobody in California is very good at math."
Girod wrote newspaper columns before coming to UC Riverside Student Affairs Communications in 2008 with the job title of creative copywriter. He's not only a copywriter but also a graphic designer responsible for creating promotional materials, postcards and posters and for redesigning more than 30 university-related Web sites.
Every Thursday since early 2009 Girod's also had fun— and been poking fun — with his "The Final Word" column in the local alternative weekly newspaper.
But again, lots of work lies behind the fun. For example, Girod doesn't just go to Ontario Improv to laugh at his favorite comedians. He carefully dissects all the punchlines, how they're built and how they're delivered.
Like a builder, Girod the humor writer lays a foundation, puts in pillars to keep a roof from sagging, and builds his way, brick by brick, toward every punchline. Every punchline leads to the big one at the end. He wants every reader to keep following. "It's almost like breadcrumbs," Girod said. "You have to leave a trail of breadcrumbs, and the breadcrumbs are punchlines."
To get humor, "You want to go in the opposite direction that everyone expects," he said. But Girod is propelling himself forward in only one direction: his dream to become a screenwriter of comedy. He's among the first graduates of UCR's low-residency master of fine arts creative writing program in Palm Desert. In August he'll complete the two-year program and receive a master of fine arts degree with a focus on screenwriting. Girod's classmates chose him as student speaker at the recent graduation ceremony.
Girod said his graphic design experience, including his work at UCR, has helped him think visually as he's studied screenwriting: "Before I write the scene,' he said, "I imagine the scene."
Program Director Tod Goldberg said Girod enriched the creative writing program by always inciting his fellow students to do more. "He was, without doubt, the most driven," Goldberg said. "He was never satisfied with being told he was good. He wanted to be great."
And, Goldberg said, Girod's energy and enthusiasm radiated throughout the program. "He made the students around him work harder."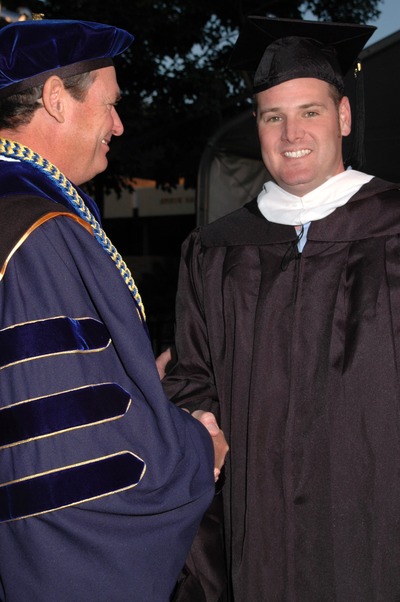 Enlarge
Jeff Girod at a recent commencement ceremony with UCR Chancellor Tim White.
The University of California, Riverside (www.ucr.edu) is a doctoral research university, a living laboratory for groundbreaking exploration of issues critical to Inland Southern California, the state and communities around the world. Reflecting California's diverse culture, UCR's enrollment has exceeded 21,000 students. The campus opened a medical school in 2013 and has reached the heart of the Coachella Valley by way of the UCR Palm Desert Center. The campus has an annual statewide economic impact of more than $1 billion.
A broadcast studio with fiber cable to the AT&T Hollywood hub is available for live or taped interviews. UCR also has ISDN for radio interviews. To learn more, call (951) UCR-NEWS.