UCR is Platinum Sponsor of SACNAS Conference
---
UC Riverside is Platinum Sponsor of National Conference Attracting High-achieving Minority Students
SACNAS will bring together nearly 3,500 undergraduates at Anaheim Convention Center; some students will visit UCR on Sept. 30
(September 16, 2010)
NEWS MEDIA CONTACT
Name:

Iqbal Pittalwala


Tel:

(951) 827-6050


E-mail:

iqbal@ucr.edu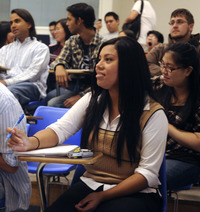 Enlarge
UC Riverside is one of the most diverse research universities in the country. Photo credit: UCR Strategic Communications.
RIVERSIDE, Calif. – The University of California, Riverside is a platinum sponsor this year of the annual conference of the Society for the Advancement of Chicanos and Native Americans in Science (
SACNAS
) taking place at the
Anaheim Convention Center
, Sept. 30–Oct. 3.
As many as 3,500 science undergraduates, graduate students, and professors from colleges and universities across the United States will attend the conference to present their research, talk about their experiences, and stress the importance of science education. Most of the students attending are high-achieving undergraduates and are looking for graduate programs to further their studies.
"Nearly all the students attending the conference are from underrepresented minorities in the science, technology, engineering, and mathematics fields," said
Joseph Childers
, the dean of the
Graduate Division at UC Riverside
, who will attend the conference. "They are already engaged in research and are actively working toward the next step in their education. Faculty in attendance serve as the students' mentors, talking with the students about scientific research and what it takes to be successful in science."
Timothy P. White, the chancellor of UCR, is scheduled to address the conference at the opening banquet on Sept. 30.
About 200 of the students participating in the conference will visit UCR on Thursday morning, Sept. 30, to learn about the university's graduate programs. They will tour labs, talk to UCR graduate students and faculty members in the science, technology, engineering, and mathematics (STEM) fields and listen during breakfast in the Highlander Union Building to presentations by Jodie Holt, a professor of plant physiology, and Cheryl Hayashi, a professor of biology.
Nationwide, only a few students from Hispanic, African American, and Native American backgrounds earn advanced degrees in the STEM fields. For example, of the doctoral degrees awarded in these fields in 2007, only 3.2 percent were to Hispanics and 2.9 percent were to African Americans, whereas 60 percent were to Caucasians.
"President Obama has made STEM Education a top priority, and SACNAS is at the forefront of having full participation of Hispanic and Native American communities in science," said Judit Camacho, executive director of SACNAS.
"Partnering with SACNAS is an excellent opportunity for universities dedicated to increasing the diversity of their graduate population in the STEM fields," Childers said. "This conference brings together many of the nation's best undergraduate students in the sciences. At SACNAS they get to meet and mingle with scientists and professors who look like them, who come from similar backgrounds, and who can help them demystify how to succeed in graduate school and research careers thereafter. UCR, one of the most diverse research universities in the country, chose to sponsor the conference for these reasons and also because we see it as an excellent occasion to showcase our campus and graduate programs to thousands of highly motivated students."
SACNAS is a national society with a 37-year history of supporting minority scientists and science students. Its first national conference took place in 1978. One of its founders is
Marigold Linton
, an alumna of UCR; she is scheduled to speak at the conference at 7 p.m., Sept. 29, at the Anaheim Marriott near the Convention Center, Platinum Ballrooms 3 and 4.
The society is comprised of more than 3,000 paid members along with more than 20,000 affiliates and partners from a diversity of disciplines, institutions, and ethnic backgrounds.
Profile of Marigold Linton
(by Pat Murkland)
Marigold Linton of the Morongo Band of Mission Indians was UCR's first American Indian student. She remembers studying 18 hours a day, spurred by her fear of failing. There was an expectation that she would fail. At a shirt factory where she had been earning 25 cents an hour, the bosses had offered her a raise to 75 cents and suggested, "Why don't you stay? You'll be earning more than anyone on the reservation."
She remembers they told her: "You know Indians can't go to college."
That was 1954. Now, 56 years later, Linton is a renowned cognitive psychologist. She has dedicated her life to helping American Indians and other minorities obtain advanced education and leadership roles in the nation's workforce.
Linton is credited as a co-founder of both the National Indian Education Association and SACNAS. A past SACNAS president, she remains instrumental in the 37-year-old organization's work to foster excellence among minority science students and scientists.
Linton credits UCR for shaping her success — and for inspiring her lifelong work to help others succeed.
A Cahuilla and Cupeño Indian, she traces her ancestry to the fiery Antonio Garra, famed for attempting a 1800s uprising to take back Indians' Southern California homelands from the influx of settlers. For Linton, growing up on the Morongo reservation near Banning, Calif., meant being poor. In 1954, Morongo had no electricity, no water system, no inside plumbing or bathrooms. Racism against Indians often prevailed.
Yet by 1954 Linton had worked to amass $1,000, including a $200 scholarship, toward her dream of a better life. "Education was my only way out," she said. She chose UCR, which had begun that same year, because the campus seemed friendly and was about 30 miles from the reservation.
Once she began her studies, she was terrified. Her father reassured her, "When you flunk out, you can come home." Linton often felt overwhelmed just by the new world off the reservation. "I didn't know how to catch a bus. When they would call on me in class, I would cry." But she kept working and when she got straight As that first semester, she remembers notifying the registrar that there was a mistake. University officials reassured her: Those top marks were indeed hers.
She spent the remaining years at UCR studying and working to support her education, toiling long hours every day. "Not too surprisingly, I got extremely well-educated," Linton recalled. "There's probably no day of my life that I don't use skills or knowledge I acquired at UCR."
Linton graduated from UCR in 1958 with a bachelor's degree. She went on to do graduate work at the University of Iowa, eventually earning her Ph.D. in experimental psychology from UCLA. By the time she was 35, she was a full professor at San Diego State University. Later, she also served as a professor at the University of Utah.
In the 1960s-70s Linton was also among those building a foundation for the American Indian education movement. Jeannette Henry Costo (Cherokee) and Rupert Costo (Cahuilla), who also played important roles in founding UCR, helped plan the First Convocation of American Indian Scholars in 1970. The convocation led to the start of the National Indian Education Association, of which Linton was a co-founder and charter board member.
Linton is excited about UCR's role in sponsoring the SACNAS conference and the opportunities that will create for the university, which has high percentages of minority students and substantial grant programs encouraging their continuing education in the sciences, mathematics and engineering.
After years of hard work, does she see improvement among minorities in the academic and workforce worlds of the sciences, engineering, and mathematics?
"Yes," she said, "and, they are moving up in the ranks."
RELATED LINKS
ADDITIONAL CONTACTS
The University of California, Riverside (www.ucr.edu) is a doctoral research university, a living laboratory for groundbreaking exploration of issues critical to Inland Southern California, the state and communities around the world. Reflecting California's diverse culture, UCR's enrollment has exceeded 21,000 students. The campus opened a medical school in 2013 and has reached the heart of the Coachella Valley by way of the UCR Palm Desert Center. The campus has an annual statewide economic impact of more than $1 billion.
A broadcast studio with fiber cable to the AT&T Hollywood hub is available for live or taped interviews. UCR also has ISDN for radio interviews. To learn more, call (951) UCR-NEWS.