Culver Center Opens
---
UCR Culver Center of the Arts Opens in Historic Gem
Three-day celebration of the arts begins Oct. 7 and concludes with gala reception Oct. 9.
(September 24, 2010)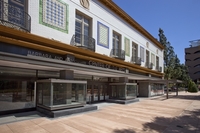 Enlarge
Culver Center of the Arts
RIVERSIDE, Calif. – When UC Riverside's Barbara and Art Culver Center of the Arts opens on the downtown pedestrian mall in October, the historic Rouse Building will re-emerge as a high-profile structure of public appearance.
The 115-year-old building – which houses both the Culver Center and the UCR Sweeney Art Gallery – once was a high-end department store "where anybody who was anybody in Riverside went to shop," said Taylor Louden, the historical architect who was part of a team of architects who designed the restoration of the building.
That team was led by David H. Richards, principal of Harley Ellis Devereaux Corp. of Los Angeles and included Annie Chu and Michael Matteucci of Chu Gooding Architects of Los Angeles. Louden is from Culver City.
Two days of public events will kick off the grand opening celebration on Thursday, Oct. 7, with performances by Riverside community arts groups from 6 p.m. to 10 p.m., and a day of films on Friday, Oct. 8, featuring classic Hollywood and award-winning independent films screening from 3 p.m. to 9 p.m. Events both days will be free. Schedules for opening performances, screenings and exhibitions are available at
culvercenter.ucr.edu
; click on "Gala Opening."
The gala reception on Saturday, Oct. 9, will feature special entertainment and food from 6 to 9 p.m. Tickets are $150 per person. The center will be closed to the public on that day. A downloadable order form is available online at
culvercenter.ucr.edu
. For information call (951) 827-4290.
The long-anticipated center joins the UCR/California Museum of Photography in the UCR ARTSblock, located in the 3800 block of Main Street. It will provide space for public performances and film screenings as well as dance and digital studios for faculty, students and community members.
When the two, side-by-side buildings that house the California Museum of Photography, the Sweeney Art Gallery and the Culver Center of the Arts are considered collectively, they constitute the third-largest arts organization in the University of California system after Berkeley Art Museum and UCLA's Hammer Museum, according to Jonathan Green, ARTSblock executive director. Additionally, in all of California's 10-campus UC system, 23-campus California State University system, and more than 100 community colleges, the ARTSblock represents one of the few museums that is located off-campus, which places it in a unique position in the arts and in the community, he said.
Reflecting the multidisciplinary nature of the Culver Center, and Sweeney's new location within it, Tyler Stallings now wears two hats. Along with continuing to be the director of Sweeney Art Gallery, he will also be the artistic director for the Culver Center.
"I'm looking forward to continuing the exciting program that was done at Sweeney when it was in the Walling Building, just two doors down," he said. "But now we can build even more on being a bridge between the community and campus with the expanded facilities. The Culver Center will be a true gathering spot in Riverside where the most current art, in all its forms, can be experienced."
The Culver Center accomplishes what only unexpected, exceptional architecture can achieve, Green said. "It turns physical space into metaphysical space. It transforms static into dynamic. It turns functional into essential."
As a new building in 1895 the Rouse department store sat at the intersection of past and present, Green said, noting that its revival style derives from Spanish Renaissance architecture: an interior courtyard, baroque columns and capitals, elegant arched staircase, all further heightened by G. Stanley Wilson's balconied, Moorish tile façade of 1924.
The building was a symbol of cosmopolitanism, he said. "Today it is a symbol of a new cosmopolitanism that embraces the future as well as the past: a contemporary arts laboratory, art gallery, dance studio, film studio, film theater, museum archive, performance space, and cafe. Culver is an unprecedented mix of private research spaces and public galleries and facilities."
The project won 2010 Historic Preservation Award for Adaptive Reuse from The Old Riverside Foundation for Historic Preservation, Louden said.
Preserving historic buildings is important because it supports historical continuity in a community, is sustainable and thus is better for the environment, said David Richards, principal for executive architect Harley Ellis Devereaux Corp.
"It's important that a community have an accurate sense of itself, where it came from and where it's going," he said. "Otherwise, people get detached from their environment and their history, and that is a bad thing."
The first challenge that faced the design team was the lack of complete drawings of the historic building, so there were many unforeseeable conditions, particularly in a structure that actually was two buildings side-by-side, including a basement that had been added during one modernization attempt, Richards said. Many existing structural conditions were not detectible until after construction began. The entire building, made of unreinforced masonry, had to be seismically retrofitted as well.
Architect Annie Chu said the restoration project follows restoration and preservation standards for historic buildings set by the U.S. Secretary of the Interior. One of the design challenges, she said, was to preserve architectural features from the building's "period of significance" – such as the second-story, exterior glazed tiles and brick and the spectacular atrium – while being sensitive to the flavor of the pedestrian mall.
"When we looked at historic photographs, one thing that was missing was the storefront windows," Chu said. "We brought a contemporary version back. Because of the plethora of styles on the mall itself, our responsibility was to create a design that is of our time, but is aware and appropriate for the historic context of the building."
One of the most difficult design challenges was "shoehorning all of the modern systems into a building that never anticipated massive ductwork" and creating performance, exhibition and creative laboratory spaces in a structure that was not designed for such programs, she said.
For example, the hanging trusses added across the atrium provides opportunities to suspend art installations – such as the "Vehicles of Imagination" exhibit of pedal cars from the David Whitmire Hearst Jr. Foundation Collection, which will be featured in Culver's Atrium Gallery along with the grand re-opening of the Sweeney Art Gallery and its inaugural exhibition in its new location, "Re:Cycle – Bike Culture in Southern California."
The trusses are an example of adaptive reuse, said Richards, whose firm also was executive architect for the preservation and renovation of the El Capitan Theater in Hollywood. The diverse program required the addition of other new design elements, he said, such as sprung wood floors in the dance studio, special wall systems for displaying art, soundproofing in the recording studio, and lighting, sound and projection systems in the screening room.
Externally, "the café element on the corner is designed to relate to the pedestrian mall and foster traffic," Richards said. "I like the fact that this building will create more liveliness in downtown Riverside. It's a nice complement to the photography museum next door."
Louden said the distinctive historical building once gain has great potential as a "center of life on Main Street."
Among the center's features are: first floor – a 75-seat film and video screening room, atrium gallery for installation, music and performance, and the Sweeney Art Gallery; second floor – the Culver Arts Research Lab (CARL) for university-based projects that advance artistic, cultural and performative research and study at UCR; and basement – facilities devoted to exhibition and performance support and collections, including seismically stable facilities to store the world-renown Keystone-Mast collection of stereoscopic glass negatives.
Renovation of the two-story, 44,000-square-foot Rouse Building cost $18 million and was funded through a combination of private and public money.
The University of California, Riverside (www.ucr.edu) is a doctoral research university, a living laboratory for groundbreaking exploration of issues critical to Inland Southern California, the state and communities around the world. Reflecting California's diverse culture, UCR's enrollment has exceeded 21,000 students. The campus opened a medical school in 2013 and has reached the heart of the Coachella Valley by way of the UCR Palm Desert Center. The campus has an annual statewide economic impact of more than $1 billion.
A broadcast studio with fiber cable to the AT&T Hollywood hub is available for live or taped interviews. UCR also has ISDN for radio interviews. To learn more, call (951) UCR-NEWS.