Art Film Series Launched
---
UC Riverside Launches Art Film Series
The fall program at the Culver Center of the Arts features 25 films from 18 countries.
(October 7, 2010)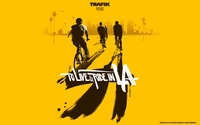 Enlarge
"To Live and Ride in LA"
RIVERSIDE, Calif. – A series of 25 films embracing alternative, experimental, foreign, Hollywood and documentary styles of movie-making debuts this month in UC Riverside's Barbara and Art Culver Center of the Arts in downtown Riverside.
The films come from 18 countries and embody 23 languages, providing the Inland region with the opportunity to view the best and most provocative films from around the world without having to drive to art theaters in Los Angeles, said Jonathan Green, executive director of UCR ARTSblock.
"Film is not only the most popular art form of our time, but perhaps our most incisive commentator and our collective consciousness," Green said. "Film touches all aspects of human thought, actions, endeavors, terrors, and aspirations; it meddles in, exacerbates, and sometimes even defines our art, culture, morality, and politics. It is now the world's most perfect mirror of the human condition."
Two films – "Louder than a Bomb" and "American Graffiti" – kick off the series as part of the grand opening celebration of the Culver Center. Admission to those screenings on Friday, Oct. 8, is free. The remaining films will screen at 7 p.m. on Friday and Saturday nights. Admission is $9.99. Tickets may be purchased online at
culvercenter.ucr.edu/film/landing.php
.
The Culver Center, with its 75-seat screening room, is located at 3834 Main St. The Culver, which now houses the Sweeney Art Gallery, joins the California Museum of Photography in the UCR ARTSblock on the downtown Riverside pedestrian mall.
From its inception, the Culver Center has been committed to bringing to UCR and to Riverside a rich program of cinema, Green said. The film program will frequently augment the screenings with presentations by directors, actors, writers, and filmmakers. For example, the grand opening celebration screening of "American Graffiti" will include a question-and-answer period with screenwriters Willard Huyck and Gloria Katz. At times the films will also comment on current projects in the Culver Center and the California Museum of Photography. This fall three films – "The Bicycle Thief," "To Live and Ride in LA" and "The Triplets of Belleville" – look at issues related to the Sweeney Gallery's exhibition "Re:Cycle: Bike Culture in Southern California."
"The Culver Center of the Arts was conceived as an art center committed to the most progressive presentations in exhibitions, installations, performances, public readings, and symposia," Green said. "Film rightly deserves a prominent place next to these endeavors. Culver is an enterprise that sits at the meeting points of popular culture and high art, art and technology, and the aesthetic and the political. As the building itself is an expression of the architectural styles at the end of the 19th century that defined the world of Southern California, so Culver's screening room programs will explore alternative, experimental, foreign, Hollywood, and documentary films that define our 21st century existence."
As it matures, the Culver Center film programs will also showcase local and student filmmakers, Green said. Inland residents have already been involved in the program. The inaugural films were chosen with the help of a committee made up of community participants. Suggestions for future films or series of films are welcome, he said. "We want this program to serve the community and reflect their interests and passions."
Following is the schedule of films through the end of December:
Oct. 8, 3 p.m. – "Louder than a Bomb," directed by Greg Jacobs. Admission is free.
Oct. 8, 6 p.m. – "American Graffiti," directed by George Lucas. Admission is free.
Oct. 15 – "Winter's Bone," directed by Debra Granik.
Oct. 16 – Double feature: "The Bicycle Thief," directed by Vittorio De Sica, and "To Live and Ride in LA," directed by David Rowe.
Oct. 22 – "The White Ribbon," directed by Michael Haneke.
Oct. 23 – "El Secreto de sus Ojos (The Secret in Their Eyes)," directed by Juan José Camanella.
Oct. 29 – "Hausu/House," directed by Nobuhiko Obayashi.
Oct. 30 – "Død Snø / Dead Snow," directed by Tommy Wirkola.
Nov. 5 – "Todo Sobre Mi Madre (All About My Mother)," directed by Pedro Almodóvar.
Nov. 6 – "The Triplets of Belleville," directed by Sylvain Chomet.
Nov. 12 – "Lebanon," directed by Samuel Maoz.
Nov. 13 – "Restrepo," directed by Sebastian Junger.
Nov. 20 – "El Violin (The Violin)," directed by Francisco Vargas.
Nov. 26 – "Women Without Men," directed by Shirin Neshat.
Nov. 27 – "The Edge of Heaven," directed by Faith Akin.
Dec. 3 – "The Art of the Steal," directed by Don Argott.
Dec. 4 – "Nightwatching," directed by Peter Greenaway.
Dec. 10 – "Milk of Sorrow," directed by Claudia Llosa.
Dec. 11 – "L'affaire Farewell/The Farewell Affair," directed by Christian Carion.
Dec. 17 – "Alamar," directed by Pedro Gonzalez-Rubio.
Dec. 17 – "9 Meses 9 Dias (9 Months 9 Days)," directed by Ozcar Ramirez.
Dec. 18 – "Madeo (Mother)," directed by Bong Joon-ho.
Dec. 31 – Double feature: "I am Love," directed by Luca Guadagnino, and "Superman of Malegaon," directed by Faiza Ahmad Khan.
The University of California, Riverside (www.ucr.edu) is a doctoral research university, a living laboratory for groundbreaking exploration of issues critical to Inland Southern California, the state and communities around the world. Reflecting California's diverse culture, UCR's enrollment has exceeded 21,000 students. The campus opened a medical school in 2013 and has reached the heart of the Coachella Valley by way of the UCR Palm Desert Center. The campus has an annual statewide economic impact of more than $1 billion.
A broadcast studio with fiber cable to the AT&T Hollywood hub is available for live or taped interviews. UCR also has ISDN for radio interviews. To learn more, call (951) UCR-NEWS.