Secular Songs of Southern California Indians Studied
---
Secular Songs of Southern California Indians Studied

Interviews and recordings by UC Riverside researchers comprise first DVD of creation, family and other stories.

(November 4, 2010)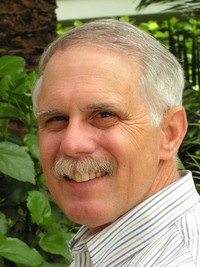 Enlarge
Cliff Trafzer
RIVERSIDE, Calif. – The first DVD of secular songs that recall creation, family and other stories of Native American cultures in Southern California has been completed by researchers at the University of California, Riverside.
Funded by a $10,000 grant from the California Council for the Humanities, researchers on "The Music of Indigenous California Project" spent 18 months recording songs and interviews with 10 tribal leaders and teachers. Conducting the on-going project are Cliff Trafzer, professor of history and Costo Chair in Native American History; Jonathan Ritter, associate professor of music and an ethnomusicologist; and William Madrigal, a Cahuilla who graduated from UC Riverside in anthropology this year.
The resulting 40-minute DVD – titled "Keeping the Songs Alive" – has been presented at several schools and gatherings of Native Americans, and is available to the public. More than 40 hours of videotaped interviews and songs are archived at UCR's California Center for Native Nations and Special Collections & Archives of the UCR Libraries.
"Songs are central to Native American culture, and remain central to the lives of many Indians," Trafzer said. "These are songs that tell creation stories, talk about family, or are verbal 'maps' that identify important places, such as where to find water. Some elders also shared information about important spiritual songs."
UC Riverside researchers conducted interviews with elders from the Chemehuevi/Southern Paiute, Cahuilla, Serrano, Kumeyaay, Luiseño and Fort Sill Apache tribes. Preservation of these songs is important to tribal elders, many of whom are encouraging younger members to learn the songs, Trafzer said. There also is a rich tradition of new songs that reflect the challenges of contemporary life.
"Some elders said they were pessimistic about the preservation of songs by young people, while others were positive that young people living today would keep the songs alive and create their own," the researchers wrote in their report to the California Council for the Humanities.
Tribal leaders agreed to participate hoping that the project will engender better understanding of Native Americans, past and present, Trafzer said.
Although bird songs are better known among Southern California tribes, the variety of secular songs that remain central to their culture became apparent, Trafzer said.
Mountain sheep and deer songs, for example, connect with Indian medicine and well-being. Others, such as salt songs of the Southern Paiute, describe the journeys of ancestors to historic, spiritual and sacred sites.
"Native Americans participate in many musical traditions and genre, including rock and roll, classical, pop, rap, folk and Christian," Trafzer said.
The research team was struck by comments from Indians and non-Indians who have viewed the documentary and did not know that contemporary Native Americans sing about coyotes, bighorn sheep, salt, gaming and other topics, or that they continue to create songs that deal with contemporary society, he wrote in the report.
"There is an interconnectedness in these songs," Trafzer said. "They represent a circular history that reconnects people with the ancient past, the creative past. From these songs you learn about positive and negative behavior."
Below: Watch a brief excerpt from the interview with Pauline Murillo of the San Manuel Band of Serrano Mission Indians.
Your Adobe Flash Player is missing or out of date or you do not have Javascript enabled in your browser.

Install the latest Flash Player.
RELATED LINKS
ADDITIONAL CONTACTS
The University of California, Riverside (www.ucr.edu) is a doctoral research university, a living laboratory for groundbreaking exploration of issues critical to Inland Southern California, the state and communities around the world. Reflecting California's diverse culture, UCR's enrollment has exceeded 21,000 students. The campus opened a medical school in 2013 and has reached the heart of the Coachella Valley by way of the UCR Palm Desert Center. The campus has an annual statewide economic impact of more than $1 billion.
A broadcast studio with fiber cable to the AT&T Hollywood hub is available for live or taped interviews. UCR also has ISDN for radio interviews. To learn more, call (951) UCR-NEWS.