Cornel West Exhorts, Inspires in UCR Lecture
---
Cornel West Exhorts, Inspires in UCR Lecture

The outspoken intellectual encourages students to be courageous, noncomformist and maladjusted to injustice.

(November 8, 2010)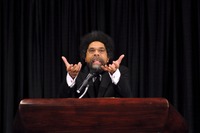 Enlarge
Cornel West
Photo by Carlos Puma
RIVERSIDE, Calif. – America should be thankful for its black citizens, Princeton professor and public intellectual Cornel West told an overflow crowd at the University of California, Riverside on Nov. 5.
"What is it about these people … who are obsessed with the love ethic?" West asked, recalling civil rights leaders from the time of Frederick Douglass to the Rev. Dr. Martin Luther King Jr. who argued for "freedom for everybody," not revenge or rights for African Americans only.
"Justice is what love looks like in public," he said. "Black folk have a history. At our best we are a great people. The Black agenda is talked about like another special interest group, but it has always been about justice for all, concerned about principles and vision. … Black people understand that democracy must embrace all people."
West, the Class of 1943 Professor at Princeton University's Center for African American Studies and a regular commentator on "The Tavis Smiley Show" from Public Radio International, spoke at UC Riverside and Riverside Community College in appearances sponsored by Mutiviation Youth Services and the Eddie Hart All In One Foundation.
UC Riverside Chancellor Timothy P. White presented West with a photo of the campus shot by renowned photographer Ansel Adams in 1966. Members of the Alpha Phi Alpha fraternity presented West the 2010 Highlander Community Builder Award.
West told the crowd of about 850 that his Christian faith obligates him to love everyone, starting with poor people. "In the last election, where was the talk about poor people?" he asked.
Government leaders who argued for bailing out investment banks said those institutions were "too big to fail," West noted. "Does that mean poor people are too small to rescue? … When you really love folk, you give them high priority."
Economic recovery "has taken place on Wall Street, not Main Street," he said.
West urged students in the audience to heed the admonition of Socrates that "the unexamined life is not worth living."
"In the Black tradition, the examined life is painful," said the author of the bestselling book "Race Matters," an analysis of racism in American democracy. "Young folk, I want you to take Socrates seriously. What does it mean to be human? That's a terrifying question to ask in a market-driven economy. … You have to have courage to examine who you are and have courage to think critically against the grain." He exhorted them to be courageous, nonconformist and "maladjusted to injustice."
Responding to questions after his lecture, West denounced the demonization of teachers and teacher unions in policy debates about what is wrong with America's public schools. He noted the education system in Finland – which he said attains the highest educational achievement in the world – where most teachers belong to a union, there are no standardized tests, and classes are very small.
West also referred to the "hyper-incarceration of poor people" and called on celebrities to protest the "prison-industrial complex. When it comes to the Afghan war and prisons, they (the government) always find the money. When it comes to education, all they have is crumbs."
Jasmine Wilson, a fourth-year ethnic and women studies major who plans to become a teacher, was one of about 20 UC Riverside students who met with West before his formal presentation. He "lived up to what I imagined," she said. "He was very inspirational," especially in his comments about engaging students in the classroom and the importance of providing attention and care to students.
Christopher Webb, a fifth-year mechanical engineering major, said his question about the use of the "N word" elicited a far more thoughtful response than he expected. "He talked about the roots of the word from the time of slavery and how it is still oppressed on us," Webb said. "His way of expressing himself is so fluid, and so wonderful."
Your Adobe Flash Player is missing or out of date or you do not have Javascript enabled in your browser.

Install the latest Flash Player.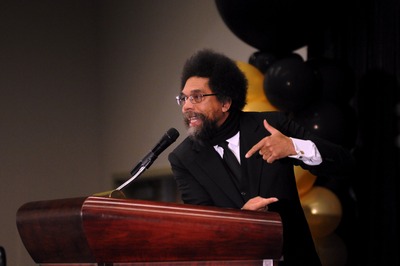 Enlarge
Cornel West exhorts and inspires a UC Riverside crowd.
Photos by Carlos Puma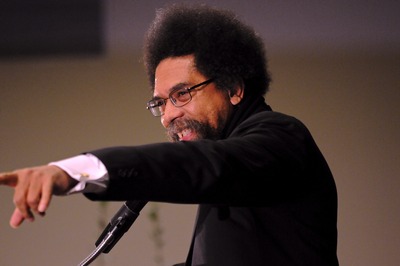 Enlarge
West takes a question.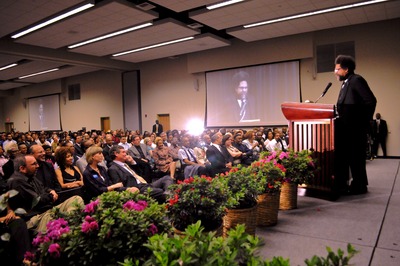 Enlarge
Cornel West drew a crowd of about 850 community residents and UCR students, faculty and staff.

The University of California, Riverside (www.ucr.edu) is a doctoral research university, a living laboratory for groundbreaking exploration of issues critical to Inland Southern California, the state and communities around the world. Reflecting California's diverse culture, UCR's enrollment has exceeded 21,000 students. The campus opened a medical school in 2013 and has reached the heart of the Coachella Valley by way of the UCR Palm Desert Center. The campus has an annual statewide economic impact of more than $1 billion.
A broadcast studio with fiber cable to the AT&T Hollywood hub is available for live or taped interviews. UCR also has ISDN for radio interviews. To learn more, call (951) UCR-NEWS.