Professor Receives Grant to Fight Malaria
---
UC Riverside Receives $100,000 Grand Challenges Explorations Grant for Innovative Global Health Research
Professor will use grant from Gates Foundation to design ultra-cheap sensors that could help fight malaria
(November 9, 2010)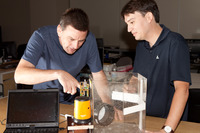 Enlarge
Eamonn Keogh, left, and Gustavo Batista demonstrate a sensor they built that they believe could help fight malaria.
RIVERSIDE, Calif. (www.ucr.edu) – The University of California, Riverside announced today that it has received a $100,000 Grand Challenges Explorations grant from the
Bill & Melinda Gates Foundation
. The grant will support an innovative global health research project conducted by
Eamonn Keogh
, a professor of computer science and engineering in the
Bourns College of Engineering
, titled "Counting and classifying insects with ultra-cheap sensors."
Keogh's project is one of 65 grants announced by the Gates Foundation in the fifth funding round of Grand Challenge Explorations, an initiative to help scientists around the world explore bold and largely unproven ways to improve health in developing countries. The grants were provided to scientists in 16 countries on five continents.
"These are bold ideas from innovative thinkers, which is exactly what we need in global health research right now," said Dr. Tachi Yamada, president of the Gates Foundation's Global Health Program. "I'm excited to see some of these daring projects develop into life-saving breakthroughs for those who need them the most."
To receive funding, Keogh showed in a two-page application how his idea falls outside current scientific paradigms and might lead to significant advances in global health. The initiative is highly competitive, receiving more than 2,400 proposals in this round.
Through the grant, Keogh aims to further understand the movement of mosquitos to help scientists combat malaria, a disease that kills nearly one million people worldwide each year. Since the disease is carried by mosquitoes, many scientists are attempting to create models that show how malaria spreads in a region, and how it responds to suppression programs. To build such models, the movements of mosquitoes in a space and over time must be understood, Keogh said.
Insect counts are currently achieved by placing traps in an area, and counting the number of target species caught in a time frame. This is expensive in terms of materials and human time, and creates a lag between the time the trap is placed and inspected. Thus, there is a need for accurate automatic sensors to detect, differentiate and count insects and immediately transmit the data wirelessly.
Working with his post-doctoral student, Gustavo Batista, an assistant professor at the University of São Paulo in Brazil and Agenor Mafra-Neto, CEO/president of ISCA Technologies, a commercial entomology company in Riverside, Keogh has shown that simple sensors, made from modified laser pointers purchased at a 99 cent store, can measure insects wing beat frequency from a distance, and this information can be used to distinguish at least some insects species. The grant will fund further work that will allow more species of insects to be classified from a greater distance.
About Grand Challenges Explorations
Grand Challenges Exploration is a five-year, $100 million initiative of the Gates Foundation to promote innovation in global health. The program uses an agile, streamlined grant process – applications are limited to two pages, and preliminary data are not required. Proposals are reviewed and selected by a committee of foundation staff and external experts, and grant decisions are made within approximately three months of the close of the funding round.
The next round of Grand Challenges Explorations will open in March 2011. More information, including grant application instructions and a list of topics for which proposals will be accepted, will be available at www.grandchallenges.org/explorations.
About Eamonn Keogh
At 15, Keogh dropped out of high school in Dublin, Ireland and worked painting cars. Four years later, he won a visa lottery and came to the United States. While working full time at various mechanical jobs, including building and designing mountain bikes, restoring vintage cars, and painting carousel horses, he worked his way through MiraCosta Community College, California State University, San Marcos and the University of California, Irvine, where he received his Ph.D. in computer science in 2001. He then joined UC Riverside, where he has done highly interdisciplinary work with anthropologists, cardiologists, nematologists, herpetologists, astronomers and entomologists. He focuses on data mining, the science of extracting information from large datasets, and he has worked with data as diverse as 15th-century historical manuscripts, primate skulls, graffiti, and medical data.
The University of California, Riverside (www.ucr.edu) is a doctoral research university, a living laboratory for groundbreaking exploration of issues critical to Inland Southern California, the state and communities around the world. Reflecting California's diverse culture, UCR's enrollment has exceeded 21,000 students. The campus opened a medical school in 2013 and has reached the heart of the Coachella Valley by way of the UCR Palm Desert Center. The campus has an annual statewide economic impact of more than $1 billion.
A broadcast studio with fiber cable to the AT&T Hollywood hub is available for live or taped interviews. UCR also has ISDN for radio interviews. To learn more, call (951) UCR-NEWS.