Sustainability Coordinator Hits Ground Running
---
New Sustainability Coordinator: Everything Affects Everything Else
Efforts to make the campus green will require a big picture view of how all projects and all people contribute to the problem and most importantly, the solution, says John Cook.
(December 3, 2010)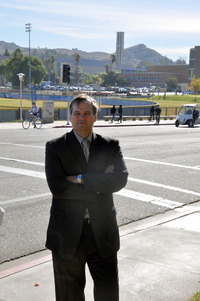 Enlarge
John Cook
By Kim Lane
RIVERSIDE, Calif. – UCR Sustainability Coordinator John Cook's career path has taken him far.
A Fulbright scholar who received his Ph.D. in performance studies from Northwestern University, he worked for more than a decade at the Bogaziçi and Koç universities in Istanbul, Turkey; Northwestern University; Ohio University; and Columbia College in Chicago.
A few years ago his career path took a turn for the green when he decided that his true calling was working in the world of sustainability.
"As a teacher I changed the way my students saw the world," said Cook. "But I decided I needed to change the world itself."
So he left his role as teacher to pursue an M.B.A. degree in sustainable management from the Presidio Graduate School in San Francisco. For the past several years he has worked in the area of sustainability in Chicago and Washington, D.C.
He arrived at UCR on Nov. 8 and hit the ground running, bringing a we-are-all-in-this-together approach to his work.
"Sustainability relies on whole-system thinking," he said. "Whether it's the departments of dance or chemistry, a professor, staff or student, a building project or a parking lot, everything affects everything else. There is no point on campus that sustainability doesn't have an impact in a multiplicity of ways."
Cook has already met with student leaders to discuss the Green Campus Action Plan (GCAP), a student-approved referendum that is funded with a per-student per-quarter $2.50 fee. GCAP will pay for the placement of solar panels on the Highlander Union Building (HUB) and on Lot 30, and will also fund three internships and competitive grants for student-initiated green projects.
Interns will work on campus Leadership in Energy and Environmental Design (LEED) projects, will help develop content for the sustainability website and will assist in collecting data for the campus' Green House Gases (GHG) inventory. Cook will serve as the mentor for the projects, which will take place on campus facilities and property, including CE-CERT or Culver Center.
Cook will also work closely with Chancellor White as he carries out his commitments as a co-chair on the steering committee of the American College and University Presidents' Climate Commitment (ACUPCC), a high-visibility nationwide network of colleges and university leaders. Each has made it a priority to eliminate GHG to net zero by the year 2050 and to promote sustainability research and educational efforts on their campuses.
"The campus will benefit from this commitment on many levels: better environments to study and work in, cleaner air, reduced operational costs, more attractive grounds and buildings that are better suited to our natural environment," said Cook. "In addition, more and more students, faculty, staff, donors and parents are attracted to institutions that demonstrate responsible environmental, social and economic stewardship."
Cook is also hard at work on the Climate Action Plan (CAP). The first phase of CAP was submitted in January 2010. Phase 2 will be submitted this month. CAP, a requirement of UC, is prepared by Physical Planning and the Office of the Vice Chancellor ODC, Campus Architect. Representatives from housing, dining, transportation, energy, sustainability and the Office of the Chancellor are part of the process.
"CAP will address how we will reduce, and over what time frame, our GHG emissions to meet our established goals and our ACUPCC commitment."
Cook said he looks forward to working with the community in the pursuit of becoming a greener campus.
"My most important job it to make people aware of the efforts and their role in making this a greener campus," he said. "It's not just about green buildings, organic foods or reducing emissions. It's about all of it together and how we can all be better stewards of our campus, our resources and our community."
RELATED LINKS
ADDITIONAL CONTACTS
The University of California, Riverside (www.ucr.edu) is a doctoral research university, a living laboratory for groundbreaking exploration of issues critical to Inland Southern California, the state and communities around the world. Reflecting California's diverse culture, UCR's enrollment has exceeded 21,000 students. The campus opened a medical school in 2013 and has reached the heart of the Coachella Valley by way of the UCR Palm Desert Center. The campus has an annual statewide economic impact of more than $1 billion.
A broadcast studio with fiber cable to the AT&T Hollywood hub is available for live or taped interviews. UCR also has ISDN for radio interviews. To learn more, call (951) UCR-NEWS.